China has grown to become the largest global containerboard producer since 2008 as regional capacity expansion continues to rise year after year. However, since the start of 2022, there has been almost twice the amount of capacity added to the market by the second largest containerboard producer – the United States.
In response, we have seen some big companies announce plans to reduce capacity by shutting down machines in turns over the course of several days to a month. Based on Fisher's analysis, there have been six Chinese companies so far that have announced capacity reductions, totaling around 408,000 tons of combined lost capacity just in August.
China Containerboard Capacity Lost in August 2022

This wave of shutdowns fully reflects the low demand for finished paper as corrugated plants are hesitant to purchase the finished paper, which has made the inventory in paper mills higher than usual.
If we take a look back at the history of China's containerboard industry, the segment started to boom in 2016 when the national supply-side reform began, kickstarting a sharp rise in profitability which drove a new round of capacity expansion. However, after the announcement of the nation's recycled paper ban in 2017 – in combination with various challenges such as the China-US trade conflict, the global Covid-19 pandemic, "Dual-Control" energy consumption regulations, geopolitical tensions and softening demand – overproduction and surplus worries became a serious concern, and companies faced huge operating pressures.
Since May 2022, the price of both OCC and finished paper have significantly decreased, almost reaching the lowest level within two years. Given prices in other commodities markets such as chemicals, energy and labor, we could see profit reaching the lowest level we've seen within two years. Big players have announced a huge profit decrease in their 1H annual report. Lee & Man, for example, has announced that its gross profit has decreased 50.4% and net profit 56.9%. Shanying has forecasted a net profit decrease of 86.06% to 88.05%, and Jingxing forecasted a decrease between 43.37% and 58.47%.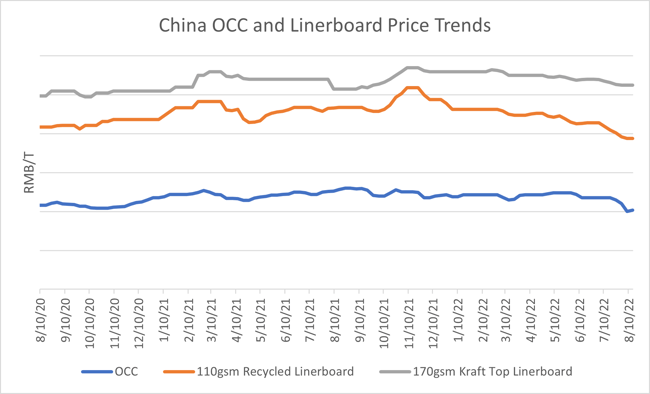 Source: OilChem
However, shutting down machines is not a viable long-term solution, as there are new capacity waves that are expected to kick off in the next two years. This does lead us to wonder:
Will it be possible to export the extra capacity?

With China's recycled fiber price decreasing and Europe's energy prices skyrocketing, will it be possible for China to gain cost advantage and grab a chunk of the export market?

What does this mean for containerboard demand trends in the future?

Which company has a higher cost advantage and which country will make a viable destination?
To take advantage of competitive dynamics at the right time, global manufacturers need to have a sound understanding of end-user trends that drive demand for pulp and paper products. More importantly, they need to have the flexibility to quickly react to market and regulatory signals in a global economy that is constantly changing. Talk with an expert at Fisher International who can help your business formulate an actionable plan with a high degree of accuracy.