At the beginning of December, Apple accelerated plans to shift some of its production outside of China. According to the Wall Street Journal, Apple is telling suppliers to plan more actively for assembling Apple products elsewhere in Asia, specifically India and Vietnam. They are also looking to reduce dependence on Taiwanese assemblers led by Foxconn Technology Group – one of the company's top suppliers and operator of the world's largest iPhone factory in China.
There are several factors that have contributed to this decision. Shifting Covid-19 policies that first began to threaten production earlier this year initially propelled Apple into action. Others include the reduced risk to the supply chain that comes with moving production as Covid showed the risks of having too many factories in one location. Additionally, increases in wages in China have made it challenging to recruit employees at Foxconn.
However, the protests that have been swelling as of recent over the country's strict zero-Covid policies has been one of the largest factors affecting Apple's decision. The policies have heavily hindered production and pushed Apple to expedite its pivot.
In November 2022, the area known as "iPhone City" erupted into violent protests among employees over withheld pay and the zero-Covid policies that prompted a lockdown in Zhengzhou. These protests have led to significant supply chain issues and shortages of Apple iPhone products. This was only exacerbated by the holiday season. According to Forbes, the company is expected to have a shortfall of 6 million iPhone Pros alone as a result.
Why Is This Important?
This a significant announcement considering the economic power and force of Apple. Apple sells roughly 250 million iPhones a year, and its new strategy to adjust to 'China +' – where surrounding countries will supplement China's primary production– could create several impacts.
The transfer of Apple's supply chain to foreign companies will ultimately come down to how the ratio of benefits measures out. Western manufacturers will only shift its supply chain when China's production costs and efficiency are lower than those of neighboring countries.
This may come when China's population ages and a serious shortage of labor force comes about. Or it may come after India has formed a mature and stable manufacturing environment similar to China. In any case, we don't believe these things will happen any time in the near-term.
However, Apple has started to ask suppliers to build backup capacity overseas. And converting companies such as Yuto Packaging and Shenzhen MYS have started to build plans in Southeast Asia already.
Apple possesses a very high standard for its iPhone boxes, which are mainly made from virgin cartonboard. Some questions that arise regarding the new building plans by said converting companies include:
Will Yuto or MYS continue to depend on China producers and import the board to Vietnam or India? Or will they look further for an alternative solution?

Does their quality of paperboard meet Apple's requirement?
If we take a look at virgin cartonboard production in China, India and Vietnam, we can see in Figure 1 that China is the largest producer and occupies more than 90% of the total capacity. There is zero capacity in Vietnam.
Figure 1: Virgin Cartonboard Capacity Market Share in China, India and Vietnam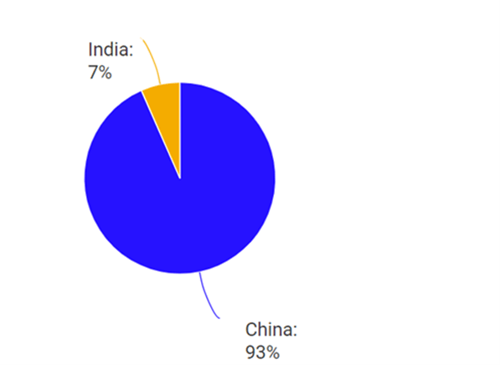 Source: FisherSolve
There appears to be no doubt that even from a capacity perspective, the only solution is to import cartonboard from elsewhere.
If we take a closer look at the cost to transport paperboard to Ho Chi Minh City, Vietnam, we can see in Figure 2 that China has an overwhelming advantage in cost. This is probably why, as illustrated in Figure 3, China producers are expanding production in virgin cartonboard with great enthusiasm, especially in Guangxi Province – Vietnam's border.
Figure 2: Asia Virgin Cartonboard Transportation Cost to Ho Chi Minh City, Vietnam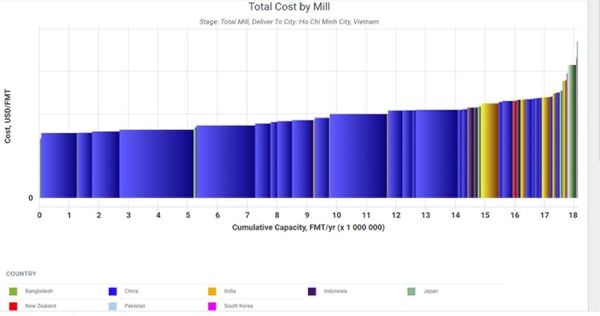 Source: FisherSolve
Image 3: New Virgin Cartonboard Capacity Growth in China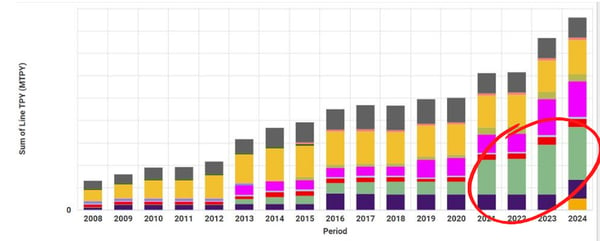 Source: FisherSolve
With the possibility of such a massive change on the horizon, some important questions to keep in mind include:
What companies are poised to take advantage of this change?

Can India's paper market absorb the new demand?

How might fiber demand change?

Does it make sense to import wood chips to China to make paper for packaging plants in India or Vietnam? How does this compare to domestic production?

How does carbon of local FBB and packaging producers in SEA compare to imports? It's important to note that Apple has a net zero goal by 2030.
In such a volatile global economy, it's important to access robust datasets and practical insights to anticipate market shifts.
For further insight into these questions and others, Fisher International offers unparalleled business intelligence and consulting services that allow innovative and forward-looking companies to identify new opportunities that drive business success. Talk with one of our experts today.