In recent months, as a result of the Covid-19 pandemic, the demand for home deliveries has increased significantly. In order to continue to meet its ambitious sustainability targets, Delhaize worked in collaboration with DS Smith's team of circular design experts to reimagine its e-commerce packaging and cut delivery volumes. To respond to increasing demand, an automated box erecting machine was introduced to ensure efficient delivery to homes and shops across Belgium.
The newly designed Direct Box is made from 100% recycled cardboard, which is also fully recyclable after use. As a result of the redesign, a total of 160 tons of packaging material will be saved on an annual basis. This also means there will be 32 fewer trucks required in the supply chain and the need for storage space will be reduced by over 1,000 pallets. A global cut of no less than 87,2 tons of CO2.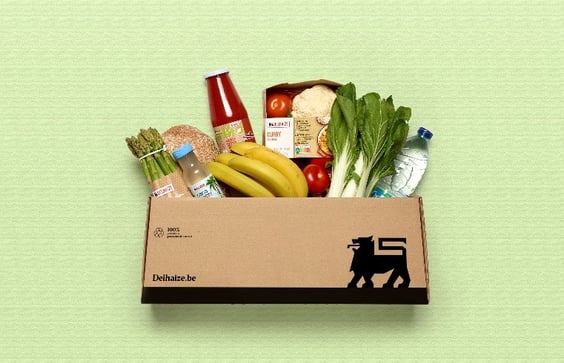 Photo Credit: DS Smith
A commissioners majority agreed Wednesday to a seven-year property tax exemption as an incentive to try to lure a proposed cardboard and paper recycling plant to land at Port Tampa Bay. The approval came after a hearing on the proposed tax exemption drew no public comment.
Celadon Development Corp. sought the tax break as it decides where to locate its planned $160 million plant. It is expected to create 96 new jobs paying an average yearly salary of $55,675, slightly above the average annual private-sector wage in Hillsborough County.
The tax break would begin in 2025 and be worth $346,000 annually for each of the seven years for a total exemption of $2.4 million
Japanese renewable power producer Renova Inc (TYO:9519) has closed the financing for the 74.95-MW Sendai-Gamo Biomass Power Plant project located in Miyagi prefecture.
The company said that it made a final investment decision for the project and signed a financing agreement with a group of lenders. Sumitomo Mitsui Trust Bank Ltd and Resona Bank Ltd acted as lead arrangers, while JA Mitsui Leasing Ltd served as mezzanine lender.
The plant will use wood pellets and palm kernel shells (PKS) as a fuel source. Its annual output is estimated at about 553,300 MWh, or enough to meet consumption needs of approximately 170,000 households each year. Commissioning is planned for November 2023.
The secret behind the power of the Reusable Paper bag is the raw material called FibreForm®"RPET, fabric or PP reusable bags have long been available for consumers but can now be replaced by a Reusable bag made of FibreForm®, says Veronica Fylkner, Sales Manager, Formable Solutions at BillerudKorsnäs.
"FibreForm® is one of the strongest kraft papers in the world. It's been on the market for a while and we are still exploring its full potential. We see several new applications we can develop with FibreForm® and we are eager to replace less sustainable materials and solutions. It is a journey that we are pleased to be on as we can help decrease the amount of plastics and aluminum in different applications on the market" says Veronica Fylkner.
Today AB Group Packaging who manufactures in Ireland, the UK and Spain, is offering the ultra-strong paper bag to several major supermarkets in the United Kingdom. Compared to several other European countries, paper bags have not been an option in most UK retail stores, until recently.
The reason behind this have been due to cost, strong plastic industry and some misperceptions that papers are weak and have higher climate impact. With good virgin paper from integrated paper mills you actually can crush both of those myths.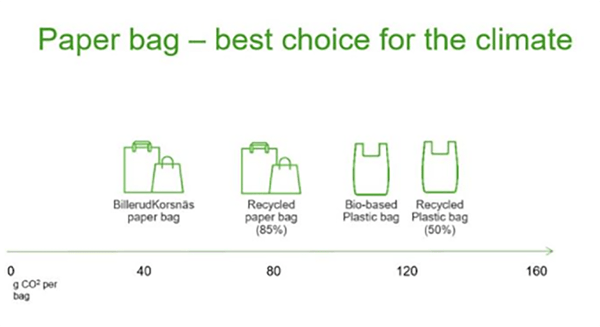 Photo Credit: BillerudKorsnäs
Licella Pulp Joint Venture is a strategic relationship between the two companies that will investigate opportunities to integrate Licella's unique Catalytic Hydrothermal Reactor (Cat-HTR) upgrading platform into Canfor Pulp's kraft and mechanical pulp mills to economically convert biomass, including wood residues from Canfor Pulp's kraft pulping processes, into biocrude oil, to produce next generation biofuels and biochemicals. This additional residue stream refining would allow Canfor Pulp to further optimize their pulp production capacity. Upon successful integration of the Cat-HTR technology, the Licella Pulp Joint Venture would look towards offering this solution to other third-party Kraft and mechanical pulp mills.
"Biofuels and biochemicals represent the next frontier in the utilization of sustainable wood fibre to produce green energy and chemicals," said Don Kayne, CEO of CPPI. "This initiative underscores Canfor Pulp's commitment to innovation and the importance of green energy and chemicals in our future product mix, and we look forward to developing this potentially transforming technology with Licella."
Bacardi, the world's largest family-owned spirits company, has made a giant leap forward in the fight against climate change and plastic pollution today, as it unveils plans to put the world's most sustainable spirits bottle on shelf by 2023.
The new 100% biodegradable bottle will replace 80 Million plastic bottles – 3,000 tons of plastic – currently produced by Bacardi across its portfolio of brands every year.
This revolutionary move by Bacardi is possible thanks to its close collaboration with Danimer Scientific, a leading developer and manufacturer of biodegradable products. Petroleum-based plastics used by Bacardi today will be replaced by Danimer Scientific's Nodax™ PHA, a biopolymer which derives from the natural oils of plant seeds such as palm, canola and soy. While a regular plastic bottle takes over 400 years to decompose, the new spirits bottle made from Nodax™ PHA will biodegrade in a wide range of environments, including compost, soil, freshwater and sea water, and after 18 months disappear without leaving behind harmful microplastics.
The Forests Act provides for and defines the powers to establish regulations related to forestry and allows for the approval of the right to harvest Crown timber or forest tenure.
This legislative and regulatory framework enables the competitive conditions that attract and retain forest industry investment in Alberta and protects the value of our province's natural resources for the benefit of all Albertans.
Key priorities include:
Enhancing the responsiveness and transparency of timber dues to support the competitiveness of Alberta's forest industry.

Enhancing timber supply access and the timber quota system to support long-term supply, continuing sustainable forest management practices and reducing the regulatory burden.

Cutting unnecessary red tape for long-term forest tenure to support a more streamlined regulatory framework.
Accelerated by recent events, e-commerce sales continue to boom as today's consumers purchase more of the products they use every day online — from the clothes they wear to the meals they eat. Unfortunately, this has increased concerns about unnecessary packaging waste and ever-greater levels of plastic pollution. Enter the paper freezer pack, which may one day replace plastic freezer packs for use in shipping refrigerated products.
Domtar's Catapult team, which includes individuals from market development and new technology innovation process, focuses on uncovering, tracking and evaluating the attractiveness of emerging market opportunities. The team recently revealed its paper freezer pack, an internally-developed potential solution to the issues posed by conventional cold chain offerings. Not only does the pack reduce plastic use, but it also capitalizes on mounting public interest in products made from sustainable wood fiber.
The majority of this revolutionary paper freezer pack is made of forest-derived fiber, including paper, tissue and fluff pulp. It also includes a small amount of superabsorbent polymer, which absorbs and retain water that, once frozen, provides cooling properties.