Earlier this year, the American Forest & Paper Association (AF&PA) released its preliminary 2021 data from US paper and paperboard mills. According to this report, total containerboard production in 2021 increased 5.6 percent compared to 2020 – the ninth increase in the past 10 years.
"Paper products and materials like containerboard help to meet the needs of consumers seeking sustainable choices. These are some of the most-recycled materials in the US – in fact, more paper by weight is recycled from municipal waste streams than plastic, glass, steel and aluminum combined," AF&PA President and CEO Heidi Brock stated. "Consumer demand is growing for sustainable paper products, and our industry is investing to meet evolving customer and consumer needs."
Paper recycling rates have consistently increased with each year: 2021, for example, exceeded 2009 rates by nearly 63%. As a result, and in alignment with the paper industry's commitment to sustainability, the industry has completed or announced around $5 billion in manufacturing infrastructure investments from 2019-2023 with the goal of maximizing recycled fiber usage in pulp and paper products. These investments will help increase the amount of recovered paper used by US paper and paperboard mills by approximately 8 million tons – a 25% increase over 2020 levels.
Another factor that has contributed to the growth in containerboard demand and capacity is the popularity of online shopping, which has emerged as a structural consumer change that was accelerated by the pandemic. As a result, containerboard (corrugated medium and linerboard – the papers used in producing boxes) demand and capacity was impacted greatly, and e-commerce were the primary drivers behind most of the gains that have occurred since 1Q2020.
The evolving dynamic between the increasing momentum of sustainability-related initiatives and the growth in demand for packaging and corrugated has created a huge opportunity for the containerboard sector. The chart below shows current and announced capacity increases. Capacity within the US containerboard sector is expected to continue growing as producers work to meet demand in response to companies looking for ways in which they can respond to the booming e-commerce supply chain while adhering to certain sustainability goals.
Figure 1: US Containerboard Capacity (TPY)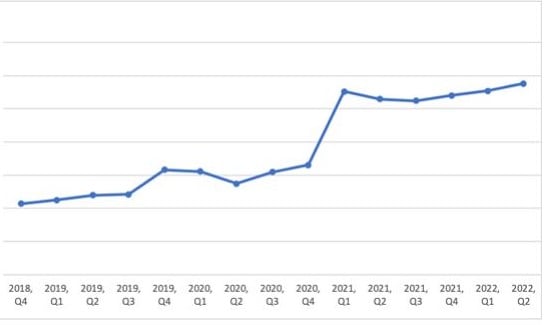 Source: FisherSolve Next
In addition to increases in demand, the industry has also seen increases in prices for raw material fiber, particularly recovered fiber sources. Figure 2 illustrates the different types of raw material fiber used to produce containerboard and the price change that each one has experienced.
Figure 2: Price Change, 4Q2020-4Q2021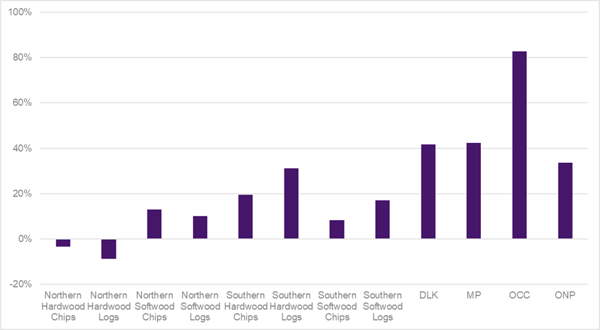 Source: FisherSolve Next
These two factors are ultimately driving containerboard prices higher. In Figure 3, we can see the trend of trade derived domestic prices for corrugated medium and linerboard. Over the course of 2021, prices for both products rose steadily reaching $910 USD/ton for linerboard and $791 USD/ton for corrugated medium – about a 26% and 32% increase respectively compared to 4Q2020.
Figure 3: US Containerboard Price (USD/ton)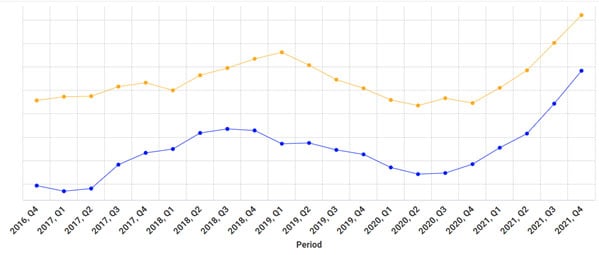 Source: FisherSolve Next
After analyzing these trends and thinking forward, participants in the containerboard segment have a few important questions to consider:
How will the price of OCC change going forward?

What will the supply/demand balance for containerboard look like in the near term?

Which mills are most likely to make investments and product transitions?

Will the price of containerboard continue to rise?
For a deeper look into answering the questions above, talk with an expert at Fisher International who can help your business formulate an actionable plan with a high degree of accuracy. Fisher customers also have access to Fisher International's business intelligence system, FisherSolve Next, which provides detailed information on every paper and pulp mill in the world.