2019 was a banner year for pulp and paper and the entire forest products industry.
According to the American Forest and Paper Association (AF&PA), which cited U.S. Census Bureau data, paper and wood products industry operating profits in the United States totaled about $17.7 billion in 2019, the second highest on record after $19.4 billion in 2018. The paper segment of the industry recorded 2019 operating profits of $10.7 billion, while the wood side of the industry netted $7 billion.
The data also revealed the paper and wood products industry contributed $99.6 billion to the total US manufacturing Gross Domestic Product (GDP). The pulp and paper sector accounted for $58.2 billion and the wood products sector provided $41.4 billion. Those numbers combined to account for 4.2 percent of the US manufacturing GDP.
As for employment, the forest products industry (paper, wood, and logging) directly employed roughly 945,000 people:
Pulp, paper, paperboard mills – 96,500
Paper and paperboard converting plants – 268,800
Lumber and wood panel facilities – 409,000
Logging operations – 50,800
Wood kitchen cabinet plants –119,900
Though the report didn't include wage data for 2019, employee compensation paid by the forest products industry in 2018 totaled $56.5 billion — $30.9 billion for the paper industry, $23.5 billion for the wood products industry and $2.2 billion for the logging industry (according to government data).
AF&PA's report noted:
Data compiled by the Bureau of Economic Analysis indicate that earnings of paper industry employees averaged $69,000 in 2018, which was 19 percent above the national average earnings of all non-farm private sector employees. In the Southeast, which is the leading US region for paper production, paper industry employees earned 41 percent more than their private sector counterparts.
The latest earnings reports provided by the U.S. Bureau of Statistics show average hourly earnings for paper and paper products employees have increased steadily over the last 20 months, from $26.29 in January 2018 to $27.55 in July 2020.
As detailed by AF&PA, those earning are vital to supporting rural communities.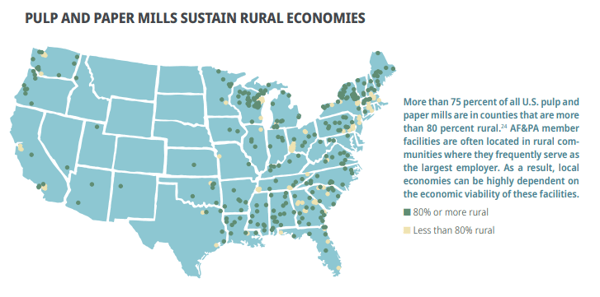 Now, the questions looming over the forest products industry focus on COVID-19 and its impact on product demand and the overall health of the US economy. According to AF&PA President and CEO Heidi Brock, the sector is in good shape.
"The pandemic has reinforced the role our industry plays in producing essential products for safe and healthy living," Brock said in AF&PA's 2020 Sustainability Report. "Our employees maintain an essential position, manufacturing items of critical need. And our member companies remain an essential part of our nation's economy. They also are helping to respond and support others, donating supplies to communities greatly affected by COVID-19."
In a Q&A with the Society of American Foresters , Fisher International and Forest2Market CEO Pete Stewart weighed in on the topic.
"The forest industry is subject to some of the vulnerabilities that come with being global in nature, but its supply chains are stable, its markets are entrenched, and demand for forest raw materials is very strong," Stewart said. "While the fear right now is palpable and the adjustments will be temporarily painful, the COVID-19 situation has been a catalyst for the forest industry to rationalize production in the current market. And this is a sign of industry health! Many other industries have not been so fortunate. There are tremendous opportunities on the horizon."
If 2018 and 2019 are any indication, the paper and forest products industries are in great shape and poised for many more positive, profitable years ahead.