Sustainability initiatives have become common as global companies and industries look to address concerns about climate change – and the Pulp and Paper industry is helping lead the way with various initiatives. We wanted to share a few of the most exciting developments in this monthly roundup of industry sustainability projects that are making headlines as we close out the first month of a new year.
Maison Perrier-Jouët and James Cropper Create an Eco-Designed Gift Box That Marries Beauty with Environmental Commitment
Maison Perrier- Jouët, one of France's most historic and distinctive champagne houses, has partnered with sustainable packaging brand, COLOURFORM by James Cropper, to challenge the norms of luxury. Together they have created an eco-designed gift box that marries beauty with environmental commitment seamlessly in the luxury market.
Crafted from paper pulp and vine shoots, the Belle Epoque Cocoon has been designed for the champagne house's vintage cuvees Perrier-Jouët Belle Epoque and Perrier-Jouët Belle Epoque Rosé. It is designed with only two natural materials, paper pulp prepared from FSC® approved sustainably managed forests and vine shoots from France.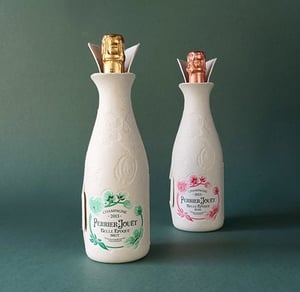 Paper Producers Pledge to Step up Investment in Technologies to Recycle Paper Waste in Taiwan
Local paper producers have pledged to step up investment in the research and development of technologies that could enable Taiwan to fully recycle its paper waste of 140,000 tons per year. Taiwanese use about 8 billion paper containers per year, and many people assume that they can be fully recycled, the Environmental Protection Administration said.
Despite government efforts to raise awareness about the correct disposal of garbage, 12 to 15 percent of items collected for paper recycling are not suitable, according to the companies involved in the effort, which include Cheng Loong Corp and Chung Hwa Pulp Corp. Corporate representatives said that laminated and non-laminated paper items must be recycled separately, adding that only the latter can be recycled into containers for food.
Mondi Expands Range of FunctionalBarrier Papers with High Barrier Packaging Solution
Thanks to Mondi's extensive research and development activities, expertise in both paper and plastic as well as investments in new technology and increased capacity, the company has further evolved its portfolio and now offers a full range of FunctionalBarrier Papers to customers. By applying different barrier technologies, such as extrusion coatings, aqueous coatings and other very high barriers, this range of paper-based packaging solutions is fit for purpose and can be used for a variety of applications.
Mondi's Functional Barrier Paper is a range of paper-based packaging with tailored barrier properties that reduces the amount of plastic used and provides moisture and vapor-proof packaging. The range is designed to be recyclable in paper streams across Europe and is made from responsibly sourced base paper. The barrier levels are customized to the product requirements.
Smurfit Kappa Repackages Walkers Crisps Multi-Packs in Cardboard Box to Cut Down on Plastics
Smurfit Kappa has worked alongside PepsiCo to replace the plastic outer packaging of its Walkers crisps brand multi-packs with a cardboard alternative, aiming to eliminate 250 tons of plastic from its supply chain every year.
According to Smurfit Kappa's SupplySmart supply chain analysis service, the switch in packaging for the 22 and 24 multi-packs will increase pallet load and optimize supply chain efficiency, alongside its positive impact on the brand's use of plastic. It is also expected to contribute towards Walkers' overall aim to reduce its annual production of 660 million plastic bags.
Additionally, the cardboard alternative – reportedly 100% paper-based – is thought to have improved Walkers' brand appeal by meeting the demands of environmentally conscious consumers and resulting in a new, visually appealing pack.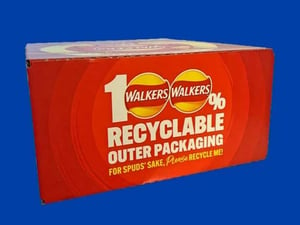 Sappi Partners with EcoVadis to Assess Suppliers' Sustainability Performance
Sappi Limited has partnered with EcoVadis, a global leader in third-party evaluations of business sustainability performance, to benchmark and assess the sustainability practices of Sappi's suppliers and encourage their commitment to the United Nations Sustainable Development Goals.
"By working together in partnership with EcoVadis and our valued suppliers, we can better identify risk, assess social and environmental performance, and encourage commitment to sustainable choices and the Sustainable Development Goals throughout our value chain," says Tracy Wessels, General Manager, Group Head of Sustainability, Sappi Limited. "This partnership reinforces the expectations we set out in our supplier code of conduct and provides a platform to build transparency and collaborate."
Södra in Major International Carbon Removal Initiative
Södra, the largest forest-owner association in Sweden, is now taking a new step to create added value from its members' raw material. In partnership with companies Verdane and Equinor, Södra is exploring opportunities to build a complete value chain for bioenergy carbon capture and storage. This unique collaboration, called Njord Carbon, will help to strengthen Södra's profitability and contribution to the climate.
The aim ahead is to capture CO₂ as soon as it is released from industrial smokestacks by separating the CO₂ from flue gases and condensing it into liquid form. The liquid CO₂ can then be stored safely and permanently, but it is also possible that it can be used circularly in the future to make new products.
Korea Research Institute Develops Eco-Friendly Paper Straws
Korea Research Institute of Chemical Technology (KRICT) has developed 100% biodegradable, eco-friendly paper straws that do not become soggy. The joint research team of Dr. Oh Dongyeop and Dr. Kwak Hojung of KRICT and Professor Park Jeyoung of Sogang University have developed eco-friendly paper straws that are 100% biodegradable, perform better than conventional paper straws, and can be easily mass-produced.
Using their technology, the research team synthesized a well-known biodegradable plastic, polybutylene succinate (PBS), by adding a small amount of cellulose nanocrystals to create a coating material. The added cellulose nanocrystals are the same material as the main component of paper, and this allows the biodegradable plastic to firmly attach to the paper surface during the coating process.
Cascades Launches New Eco-Friendly Packaging for Fresh Fruits and Vegetables
Cascades is proud to announce the launch of a new closed basket made of recycled and recyclable corrugated cardboard for the produce sector. An alternative to food packaging that is difficult to recycle, this new product is the latest addition to Cascades' line of eco-friendly packaging.
Designed using recognized eco-design principles, this product is in keeping with a circular economy approach. By using recycled corrugated cardboard in its design, Cascades is supporting its customers efforts to reduce their environmental impact while meeting consumer demand for increasingly eco–friendly packaging.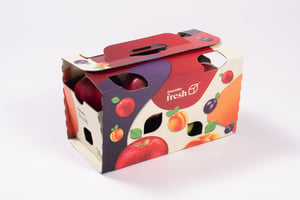 Sofidel in the Top 1% of Companies Rated by Ecovadis for Sustainability in the Tissue Paper Industry
Sofidel, one of the world's leading paper groups for the production of paper for hygienic and domestic use known particularly in Italy and Europe for its Regina brand, has again this year received Platinum recognition from EcoVadis for its approach to sustainability and therefore confirming its place among the top 1% of companies in its sector worldwide.
On the environmental front, Sofidel is committed to reducing the impact of its activities on natural capital by encouraging the transition to a low-carbon, renewable energy-oriented economy. The Group's 2030 emission reduction targets of -40% per ton of paper by 2030 compared to the 2018 base year were approved by Science Based Targets (SBTi) as consistent with the reduction standards required by the Paris Agreement to limit global warming to well below 2°C.