In late October, New York reinstated a statewide plastic ban that prevents any business or reseller (specifically those required to collect sales tax) from distributing plastic carryout bags to customers unless the bags are exempt. Some exempt bags include produce bags, bags prepackaged for sale to a customer, and bags used solely to contain or wrap uncooked meat, fish, or poultry. Customers must bring their own reusable bags or pay a five-cent fee for a paper bag.
The ban originally went into effect at the beginning of March but was halted due to a lawsuit regarding health risks associated with customers bringing in their own bags during the peak of the COVID-19 pandemic.
If businesses violate the ban, there will be a warning notice for the first offense, followed by a civil penalty of $250 for the first infraction after the warning. Any subsequent violation in the same calendar year will result in a $500 fine.
The growing anti-plastics movement continues to gain momentum at both the national and state levels. New York's new bag waste reduction law is being issued with the intent to help improve the environment and promote sustainability. According to the New York State Department of Environmental Conservation (DEC), more than 23 billion plastic bags are typically used in the state each year, and approximately 85 percent of these bags are found in landfills, waterways, and streets.
Making the switch from plastic to paper-based goods is imperative for not only environmental purposes, but for human health as well. Every year, about 8 million metric tons of plastic litter ends up in the ocean where it can harm fish and wildlife, and eventually human health once it enters the food chain.


The Future is Sustainable
Not only is paper the most recycled material in North America, but even if a paper bag were to be negligently discarded, its natural fiber makeup will decompose quickly in the environment — unlike plastic, which can take up to 1,000 years to decompose.
Additional environmental benefits also include responsible long-term forest growth and carbon sequestration from using wood fiber from sustainably managed forests. Between 1990 and 2015, the United States' forest area expanded from 746 to 766 million acres. In the pulp and paper sector specifically, nearly 67 percent of energy demand is generated using renewable biomass, which can help reduce greenhouse gas emissions (GHG).
The NY DEC has been encouraging citizens to use reusable bags no matter where they are shopping with the #BYOBagNY campaign. The agency has provided posters, frequently asked questions, and tips for keeping reusable bags clean on the DEC website to promote their bag waste reduction campaign.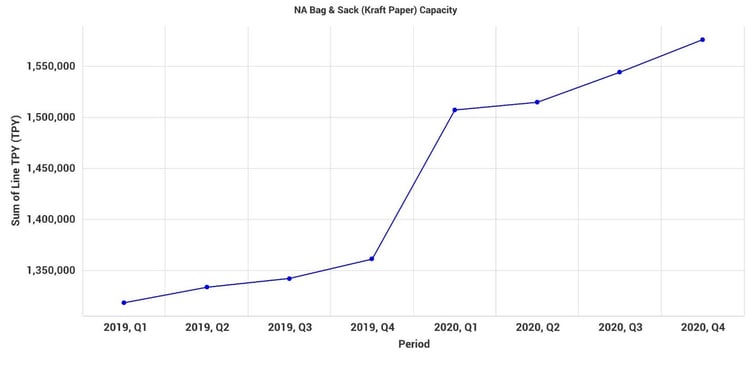 Since 1Q2019, there has been a 20 percent increase in kraft bag and sack capacity in North America, and the trend has even increased since the COVID-inspired lockdowns that took effect in 2Q2020. This data suggests that as more companies reduce their reliance on plastic bags, the pulp and paper industry is poised to capture market share in this space with fiber-based products being a more attractive alternative.
While many store owners are embracing this change, there are still groups of grocers and business owners who are fighting the ban in court; the next hearing is scheduled for November 4.