The papermaking process and technology is uniform all over the world, so benchmarking against similar paper mills in other countries helps to identify areas of improvement and opportunity. Many paper mills have significant potential to improve their energy efficiency, and various small and large initiatives to reduce energy usage have been identified and implemented over the years by papermakers all over the world.
In 2019, the Finnish Forest Industries Federation and Motiva commissioned a study on the overall energy efficiency of the country's vibrant pulp and paper industry, which also compared Finnish wood products manufacturers to their peers in different EU countries. The study was designed to help understand variability in efficiencies, pinpoint where energy efficiency indicators differ from each other, and identify new challenges and opportunities for the future.
The report examined assessments made by a number of independent researchers, including the International Energy Agency (IEA), the European Commission's Joint Research Center (JRC) and the EU's H2020-funded ODYSSEE-Mure project. Fisher International also played a pivotal role in the study by providing detailed data for every pulp and paper mill in the EU, as well as simulation results.
The energy consumption numbers in the report are based on Fisher's energy benchmarking model, which are based on the mass-energy balance of each mill producing over 50 tons per day (t/d). The energy balance is calculated separately for pulp production (slush pulp) and paper and market pulp production (paper machine or pulp dryer).
Fisher Insights from the Study
Finnish pulp and paper mills are large, efficient and modern in comparison to their peers in other EU countries. Production profiles in Finland and Sweden differ considerably from other EU countries, as the majority of the EU's kraft pulp is produced in Finland and Sweden. Virgin fiber is used extensively as a raw material input in Finland and Sweden, while most EU countries use recycled fiber.


Key Finding #1
In general, the energy efficiency of Finnish mills is equal to, or better than, comparable mills in the EU. Finnish mills do a good job of utilizing co-produced electricity and steam, which improves the energy efficiency of the entire facility. In some mill comparisons for producers of packaging and fine paper grade, Finland's energy consumption per ton is higher than the EU average due to differences in furnish and finished product properties.
Finland produces a larger share of high-value end products
Market pulp production in Finland is the most energy efficient in the EU
New, modernized mills produce an energy surplus and a variety of peripheral products


Key Finding #2
In terms of total energy use, Finland is close to the EU average in each major grade produced. Finland produces a significant amount of steam from combined heat and power plants (CHP), and the large share of direct fuel use in Finland for market pulp comes mainly from pulp flash dryers producing specialty pulp grades.
In terms of steam use per ton of paper produced in the market segments of communications, market pulp and tissue and towel, Finland outperforms its EU neighbors. However, in packaging and specialty grades, Finland's steam consumption is higher than the EU average.
Steam Consumption of Communications, Market Pulp, Tissue & Towel in 2019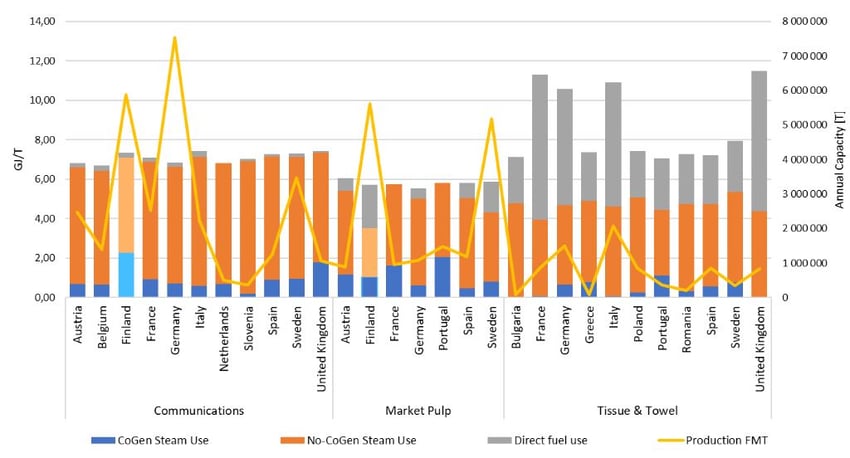 Steam Consumption of Packaging and Specialties in 2019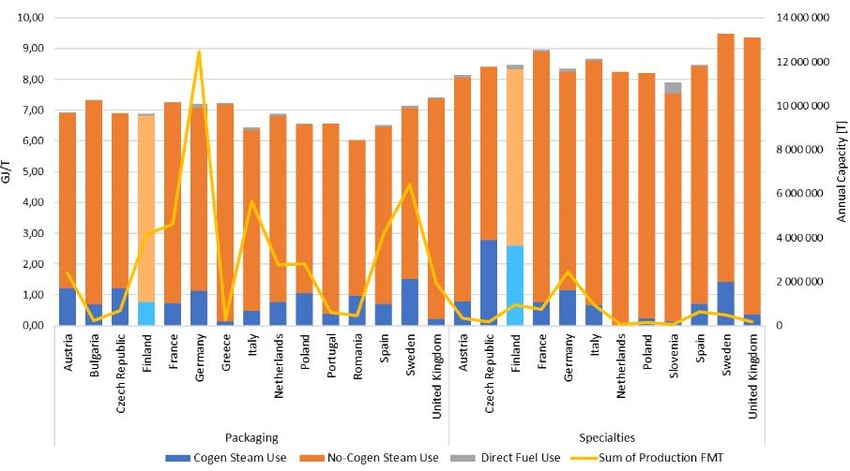 Heating buildings, processing incoming logs and treating water have a significant impact on energy consumption in the northern hemisphere. In fact, heating water in kraft paper mills has the single largest effect on mill energy balance. Kraft mills in Finland use on average 10% of their total net steam production on water heating, whereas mills in Portugal use only 4%. Finland's energy consumption in semi-chemical grades is below the EU average, but above the average for mechanical pulp.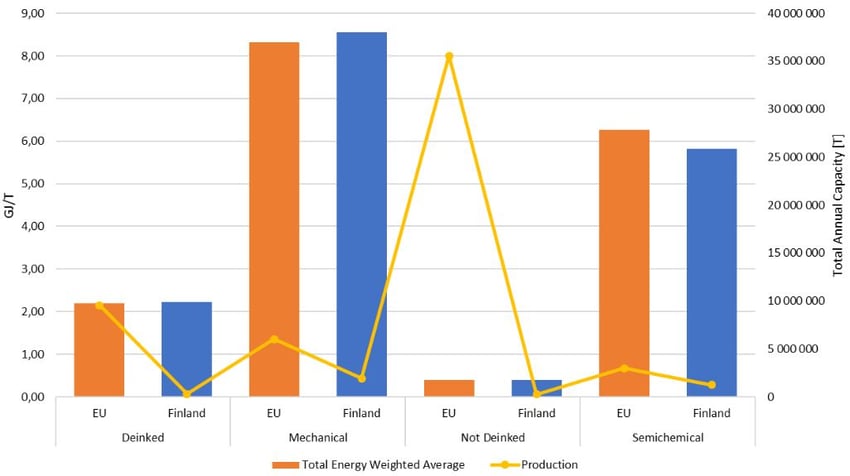 Key Finding #3
With the reduction in recovered steam from the energy consumption of mechanical pulp (as should be calculated), Sweden's pulp and paper sector exhibits the lowest energy use and Finland is the second lowest. Differences in energy consumption are largely explained by differences in finished product quality. In modern mechanical pulp facilities, steam is recovered from the refiners and utilized at the paper machine. This is extensively done in Finland and Sweden, where 25% and 50%, respectively, of electricity use is recovered as steam.
Analysis
This type of analysis is important not only for pulp and paper sectors by country or region, but it can also be performed on a company basis to identify energy usage trends and opportunities for improvement. Paper mills are large consumers of thermal and electrical energy, and the efficient use of energy is certainly an integral part of good paper mill operation.
Fisher's data and insights allow us to separate energy flows to the unit process level and define the system boundaries based on the unique needs and criteria of each individual customer. In the example below, we were able to identify the energy system wall based on particular requests from a customer. While this approach was tailored to those specific needs, Fisher has the flexibility to set the calculation principles and energy system wall criteria based on individual customer needs and the standards they want to use.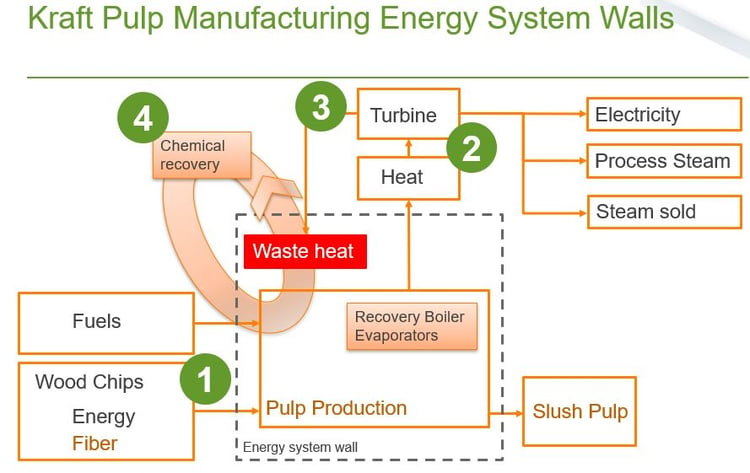 Greenhouse gas emissions (GHG) are closely linked to overall energy usage, but also depend upon types of fuels used. Reduction in GHG emission is good for the earth, but it can also be good for the paper mill's bottom line if the results come via improvement in energy efficiency. Based on the data Fisher used to help the Finnish Forest Industries Federation and Motiva better understand the overall energy efficiency its pulp and paper industry, it is clear that Finland is a leader in maximizing energy usage while producing very high-quality finished products for the global market.