AICC, The Independent Packaging Association's 2021 Spring Meeting was recently held in Amelia Island, FL, and included a presentation from Fisher's Matt Elhardt, Vice President, Global Sales. The theme of this year's meeting was "A Brave Independent World: Customers, Creativity, Confidence."
AICC represents and protects the business interests of members in the independent sector of the corrugated, folding carton, and rigid box industries.Matt's presentation titled "The State of US Containerboard – Post COVID" covered three trends driving that will influence containerboard.
E-Commerce
Work from Home
Environmental, Social, and Corporate Governance (ESG) Initiatives


Matt's presentation addressed important questions related to possible future developments, including:
What will happen as e-commerce becomes an increasingly larger share of containerboard demand, AND its packaging gets optimized?
E-commerce packaging will become more efficient, lower cost, and in some cases, do the work of both consumer and industrial packaging. How much of the innovation will the industry drive?
Carbon and other ESG costs are coming. How can producers prepare for both traditional and environmental costs? How can our industry use this new trend to their advantage?


COVID has unexpectedly increased demand for packaging. Fisher is anticipating that the corrugated industry will race to catch up, meaning that the next couple of years will see significant investment and production across the industry, across the value chain.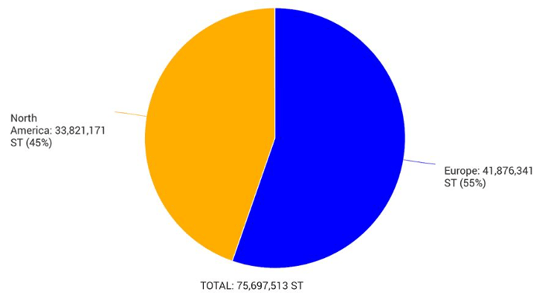 Source: FisherSolveTM Next 2021 Fisher International, Inc.
Is the global corrugator and containerboard industry prepared to meet this new unprecedented demand? Fisher International has the tools necessary for suppliers in the corrugated industry to better understand the directional trends in the market and their unique place within it. The FisherSolve business intelligence platform contains highly detailed and complete information on every pulp and paper mill in the world. It describes the assets, production, operations, environmental flows, costs-of-production, long-term viability, carbon footprint and more for all pulp and paper mills producing 50+ TPD.
Our breakthrough analysis tool for corrugators describes every integrated and independent corrugator in the US and Canada, including:
Plants
Location & Ownership
Corrugator Widths & Speeds
Suppliers & Viability Ranking
Production & Operations
Production Costs and MSF by:
Number of Walls & Fluting Types
Number of Shifts
Rates
Contacts
Names & Titles
Functions
Surface and Email Addresses
Telephone Numbers
Whether you provide equipment, consumables, chemicals, paper or anything else, FisherSolve can provide you with highly detailed and complete information that will give you the competitive advantage you need to succeed in this segment undergoing rapid growth.