Indonesia was once thought of as the Asian tiger of the paper industry as North American producers considered it a major threat with its low-cost tissue products using plantation-grown Acacia hardwood pulp.
Those effects never materialized, and China's paper business development over the last 10-15 years became the focus of the world's attention.
However, Indonesia's paper industry has enjoyed rapid development over the past quarter-century, particularly on low-cost exports, using its extensive undeveloped forested regions.
Using the FisherSolve Next™ digital platform, let's take a deep dive into the current state of Indonesia's pulp and paper sector.
Strong Economic Growth
Indonesia has experienced relatively strong economic recovery during the past decade.
The graph below is drawn by the new Market Trends module in FisherSolve Next™ to show the growth of Gross Domestic Product (GDP) per capita versus the consumer price index (CPI). There has been steady improvement in GDP per capita (blue bars) for all years shown, except 2009. The CPI growth rate increased in 2015 and 2016 but returned to mid-2014 levels in 2018.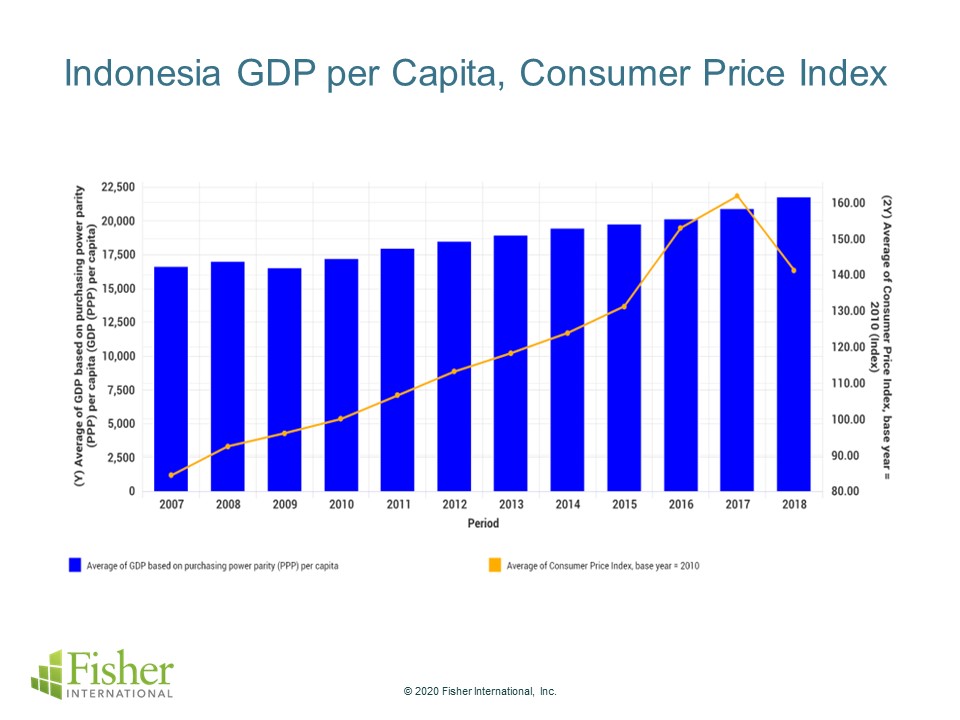 Another economic strength of Indonesia is its continuing population growth, which stands in contrast to areas such as Japan and Western Europe where population growth has stalled.
The line in the following graph illustrates the decline in unemployment since 2012. Increasing population and GDP per capita combined with lower unemployment and a pause in inflation provide a strong base to support domestic paper consumption growth.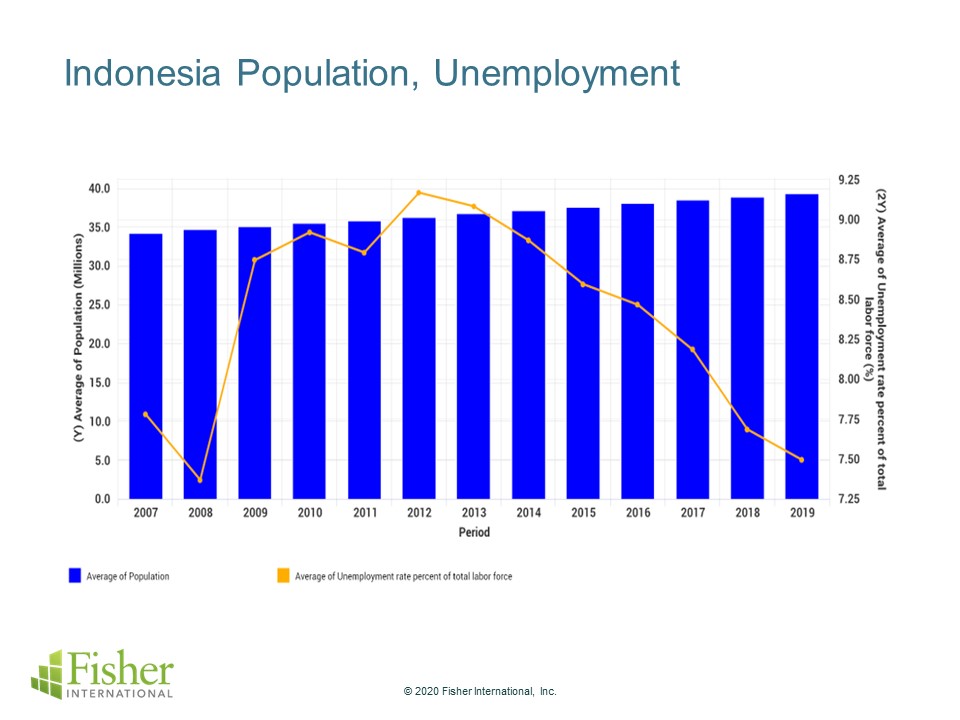 Increase in exports, imports
The Market Trends module also examines Indonesia's paper industry export and import trends during the last eight years.
The graph below breaks down Indonesia's global exports by major grade. Market Pulp and Printing and Writing grades make up most of the exports. Market Pulp is growing, but Printing and Writing volume is static and comprises a smaller portion of the total with time. Tissue and Towel is growing but is still a very small percentage of exports.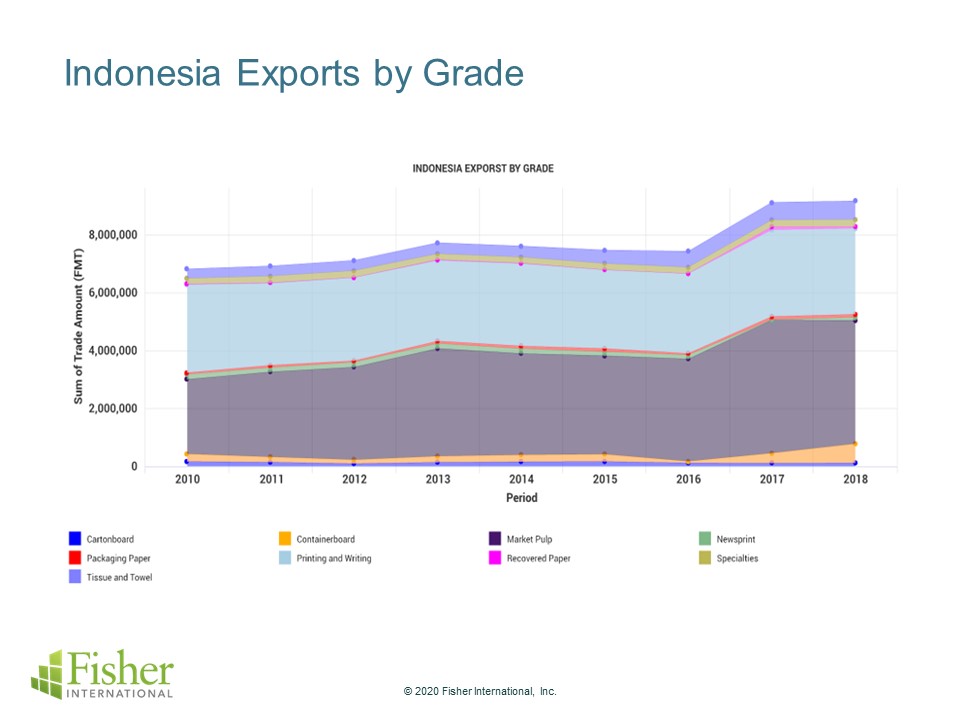 Indonesia is also importing large quanpaper products with North America and Europe the major contributors. Tissue products are a notable component of those imports.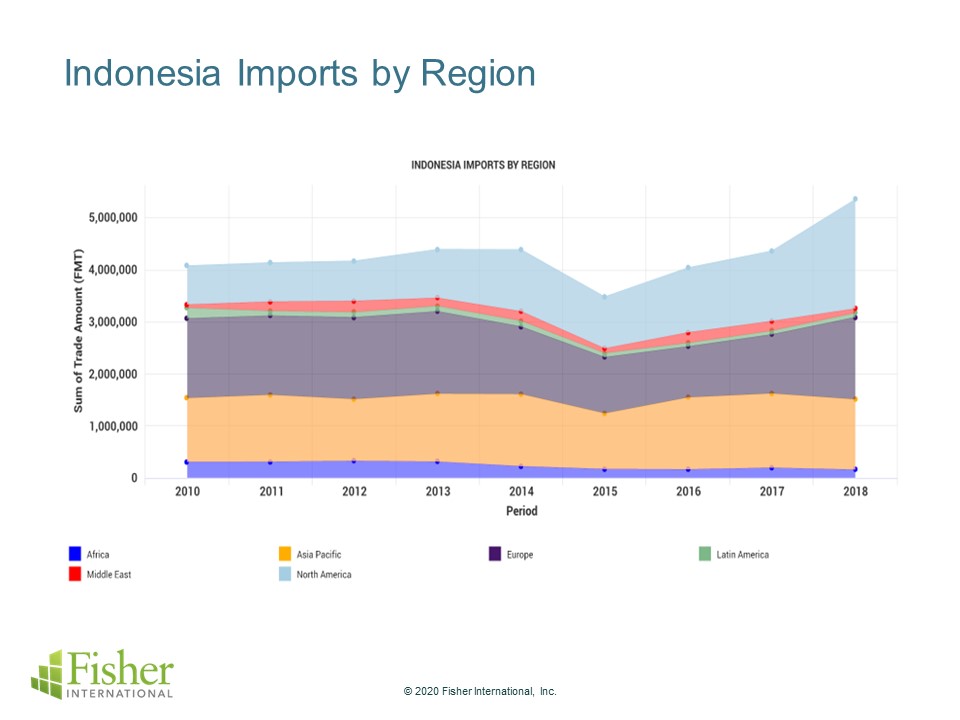 Dominant companies, hardwoods
Indonesia's pulp and paper business is dominated by APP with a 68 percent share of total capacity, followed by APRIL with 10 percent. The remainder of the producers all retain a 1-2 percent share. This represents a significant concentration in ownership and likely accounts for some stress in the separation between government and corporate interests.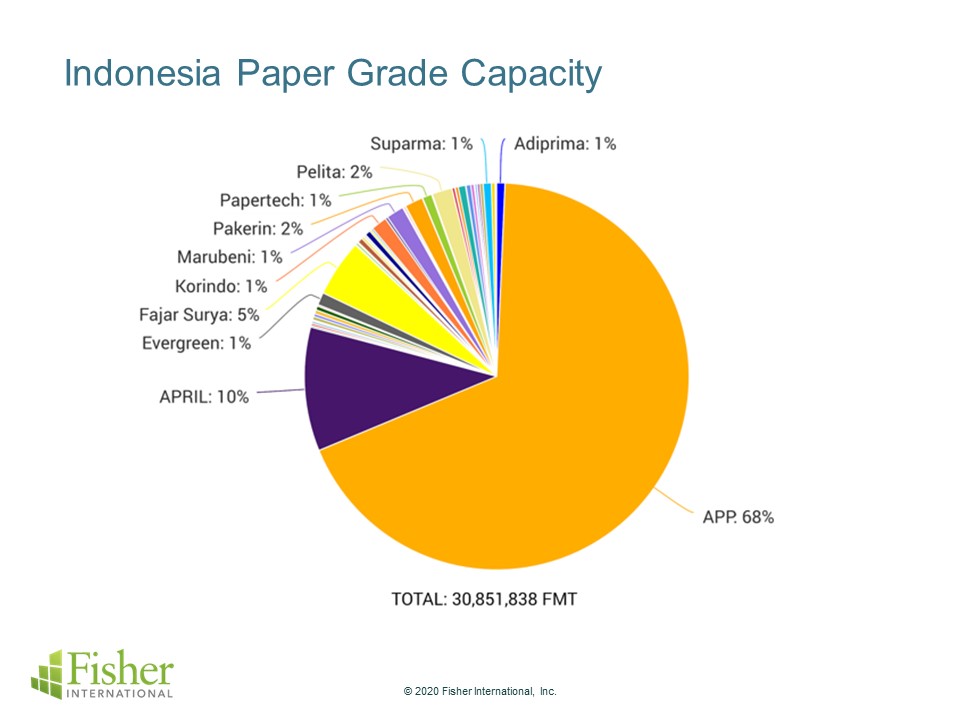 Local hardwood is the major fiber source for Market Pulp, Printing and Writing, Tissue and Towel, and Specialties. These are the grades that may see consumer push back in exports due to forest resource concerns. However, recovered papers are a major source of fiber for Cartonboard, Containerboard and Packaging Paper.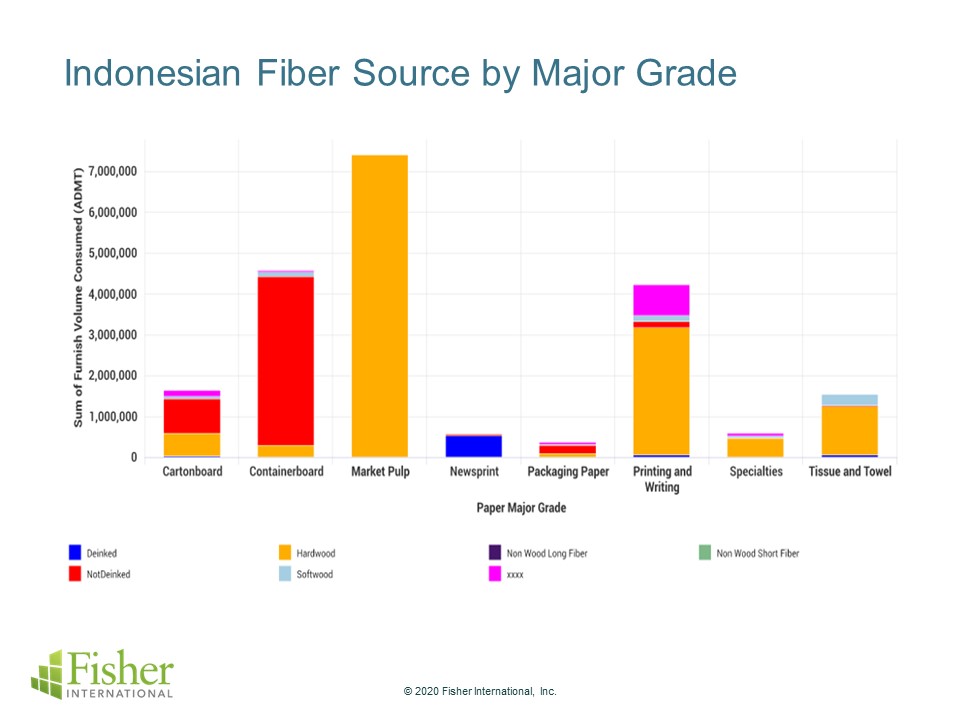 Heavy investment in Tissue and Towel products
The quality of Indonesian pulp and paper assets by grade is shown in the graph below.
The pulp mills are relatively new and large. While a noticeable number of machines are clustered in the 20-35-year technical age range, there are newer Printing and Writing, Containerboard, and Tissue and Towel machines. Tissue and Towel Machines are always much smaller capacity, but the continued year-over-year investment can be seen in the last 15 years.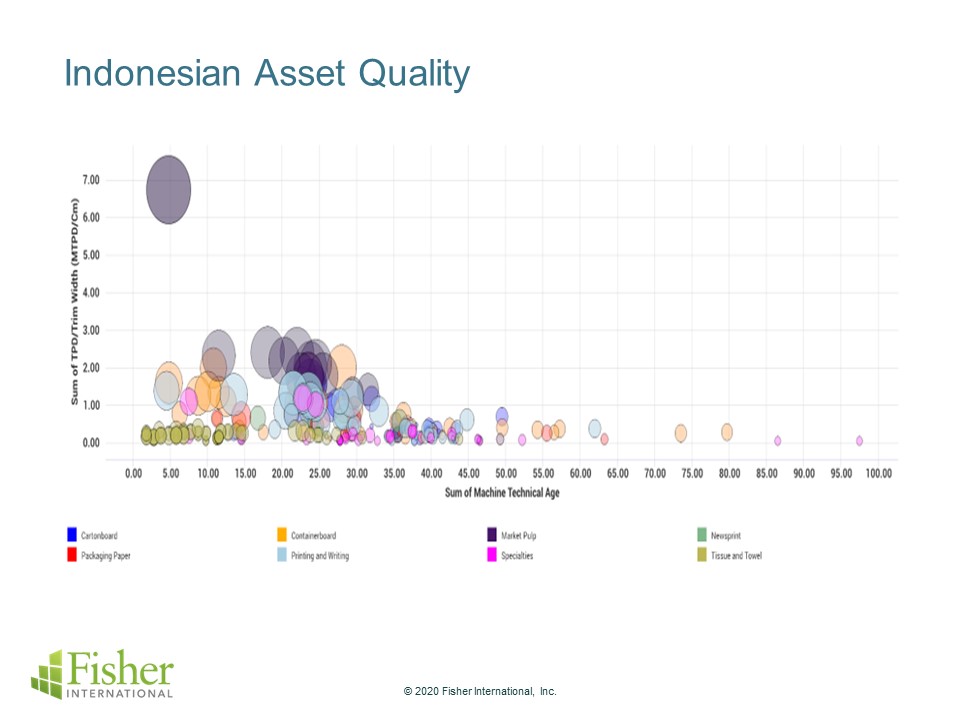 The next two graphs illustrate that Tissue and Towel and Specialties are the most viable production lines in Indonesia followed by Market Pulp. The Carton and Containerboard grades are older and less viable but could be the next area for investment.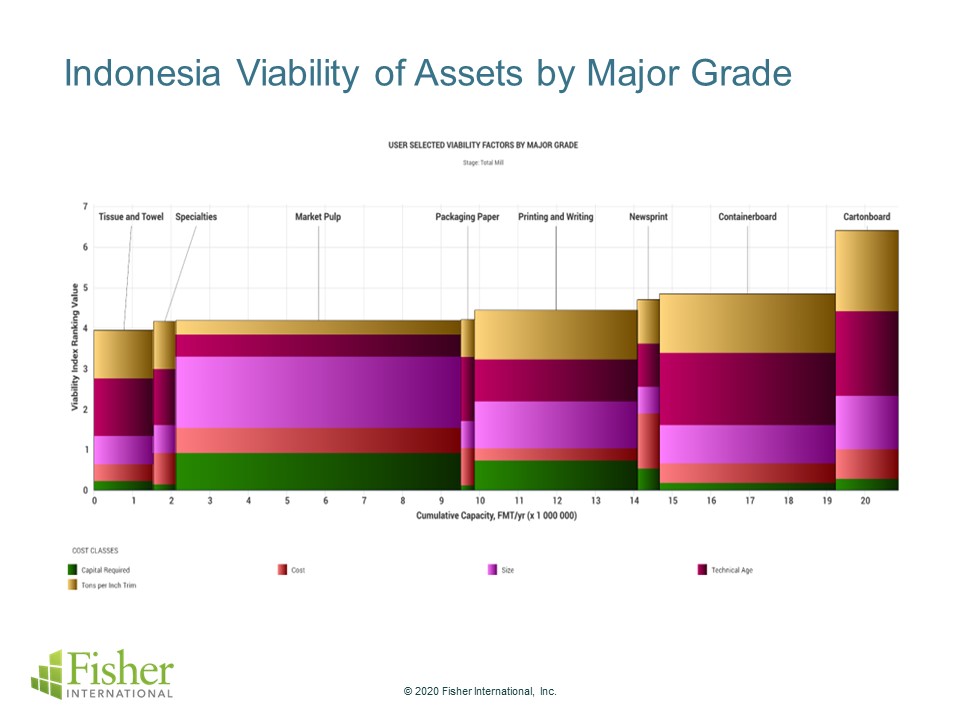 This report used averages of assets and cost positions. Any investment decisions should use data detailed by specific grades and assets compared to specific alternatives. Please contact a Fisher representative to learn more about performing this type of analysis in FisherSolve Next™ or for more detailed information.