The U.S. Department of Commerce will conduct an anti-dumping investigation on thermal paper from Germany, Japan, South Korea and Spain, which occurred from October 1, 2019 to September 20, 2020. This investigation will include large thermal paper rolls of various weights and converted rolls with widths and weights of less than 4.5 feet and 70 grams. Thermal paper manufacturers in the United States filed an application for the investigation in October, claiming that the imported thermal paper was being sold in the United States at a price below fair value.
In 2019, thermal paper imports from the countries under investigation were:
Germany: $127.3 million
Japan: $31.7 million
Korea: $133.6 million
Spain: $29.3 million
The European Commission recently announced a 15.8% anti-dumping duty on Korea's high basis weight thermal paper, which primarily involved 65g+ and 20cm+ wide rolls, or 40cm+ diameter and 50kg+ rolls. In August 2019, the European Thermal Paper Association filed the anti-dumping investigation with the European Commission.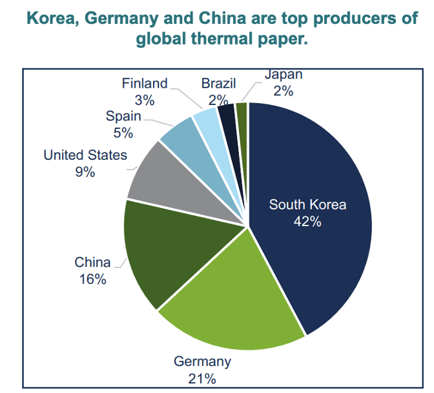 Since the Trump administration was elected in 2016, US trade policy has been shifting. The US Department of Commerce launched roughly 271 anti-dumping and countervailing investigations over the last four years, which represents an increase of 271% compared to the previous presidential term (US Commerce Department data).
According to Fisher data in 2020, the total production capacity of global thermal paper reached about 18 million tons. The main production countries included South Korea, China, Japan and Germany, which collectively accounted for 80% of global production. From a demand perspective, Europe and the United States are the main consumers, accounting for more than 50% of global consumption. There are now three domestic manufacturers in the United States. It is worth noting that China's thermal paper industry experienced anti-dumping and countervailing duties by the U.S. Department of Commerce as early as 2008. Since then, the two Sunset Reviews in 2014 and 2020 maintained the anti-dumping and countervailing trials.
The cost position of Korean enterprises is much more competitive than the few producers in the US. Since anti-dumping duties have been confirmed on Korean enterprises doing business in Europe, additional anti-dumping duties from the United States will add significant pressure to South Korean producers who will be forced to seek new export destinations.
As a result, this development could impact the Chinese market due to its geographic proximity to South Korea. However, compared to South Korean producers, Chinese producers have a cost advantage. This could lead to increased market competition and a drop in prices in China depending on how South Korean producers react to the anti-dumping situation.