US forest industry and manufacturing performance in October and November was recently reported by both the US government and the Institute for Supply Management.
Total industrial production (IP) rose 1.1 percent in October (-5.3 percent YoY). The index has recovered much of its 16.5 percent February-to-April decline, but output in October was still 5.6 percent lower than its pre-pandemic February level. After edging up 0.1 percent in September, manufacturing output accelerated to 1.0 percent in October; even so, it was about 5 percent lower than in February.
New orders increased by 1.0 percent in October. Excluding transportation, new orders also rose by 1.0 percent (-2.6 percent YoY). At +0.8 percent (+5.6 percent YoY), business investment spending was slightly stronger than expected.
The Institute for Supply Management's (ISM) monthly sentiment survey showed US manufacturing expanding more slowly during November. The PMI registered 57.5 percent, down 1.8PP from the October reading. (50 percent is the breakpoint between contraction and expansion.) The sub-indexes reflected that deceleration, including new orders (-2.8PP), production (-2.2PP), and employment (-4.8PP, dropping into contraction); input prices remained elevated (-0.1PP, to 65.4).
The services sector also expanded at a marginally slower rate (-0.7PP, to 55.9 percent). The most noteworthy changes in the services PMI sub-indexes included a drop in inventories (-3.8PP) and order backlogs (-3.7PP), and a jump in input prices (+2.2PP).
Findings of IHS Markit's November survey results were again more positive than their ISM counterparts. Per Markit, manufacturing saw "the steepest improvement in operating conditions since September 2014," while services reported the "sharpest increase in activity since March 2015." The two organizations agreed on higher input prices, however.
"The manufacturing recovery kicked up a gear in November, with production growth accelerating to the highest for over six years," Markit's Chris Williamson wrote. "Although demand for consumer goods remained somewhat subdued, mainly reflecting rising virus infection rates, demand for investment goods such as business equipment and machinery rose especially sharply.
"The rise in investment spending sends a welcome signal that companies have become more optimistic about longer term prospects, something that was reinforced by a surge in firms' expectations about production in the year ahead—even in consumer-facing sectors—to the highest since early 2015.
"Confidence was boosted by encouraging vaccine news during the month, auguring well for life returning to normal at some point in the coming year, as well as hopes of increased stimulus spending and infrastructure investment following the election," Williamson concluded.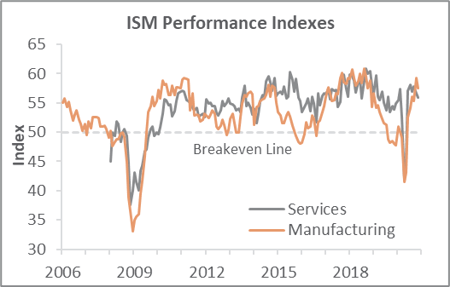 Offsetting increases and decreases among the component indexes left the consumer price index (CPI) unchanged in October (+1.2 percent YoY). Meanwhile, the producer price index (PPI) advanced 0.3 percent (+0.5 percent YoY). Nearly 60 percent of October's MoM rise in the final-demand index can be traced to a 0.5 percent increase in prices for final demand goods—especially a 2.4 percent jump in the food index. The index for final-demand services moved up 0.2 percent, mainly in transportation and warehousing services.
In the forest products sector, index performance included:
Pulp, Paper & Allied Products: +0.3 percent (+1.9 percent YoY)
Lumber & Wood Products: -1.0 percent (+19.3 percent YoY)
Softwood Lumber: -8.0 percent (+68.7 percent YoY)
Wood Fiber: +2.8 percent (+2.6 percent YoY)