Call it Sales 101: To better serve your market, recognizing and addressing your customers' unserved needs while understanding direct and indirect competition is crucial to business success. Comprehending the implications of physical locations in comparison to the larger market can also provide pulp and paper producers and suppliers insights to inform their sales and marketing initiatives.
The coated freesheet paper market has declined in recent years due to the replacement of electronic media, oversupply, changes in consumption patterns and paper machine conversions around the world. Many companies have seen their profit margins decrease to levels at which they have to decide whether they should continue pursuing a specific business area or try to develop new products to differentiate themselves from the competition. Some have had partial success, but others have been forced out of the market.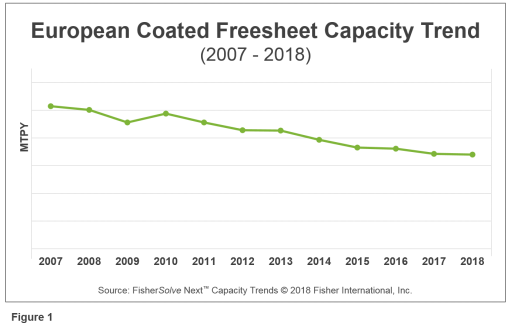 Differentiation among coated freesheet products has almost disappeared in recent years, which has led to easy product substitutions among suppliers. Traditionally, a large portion of the coated freesheet paper market has been serviced through merchants in Europe. Many paper manufacturers have themselves looked at different options and strategies where they have found solutions in dealing directly with their customers, taking over many of the primary functions of the paper merchants.
These functions primarily consist of physical warehousing, deliveries, managing small-quantity availability, marketing, and credit control and invoicing to the local customer base. But the decrease in demand has been accompanied by a diminishing number of prints per object, meaning that larger printed runs (catalogs, magazines, etc.) have decreased or disappeared altogether.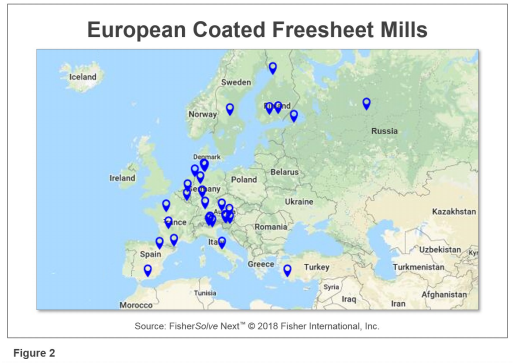 Looking at the various competitive mill sites in Figure 2 and their physical locations, we can see if these mills are located along main transport routes. If they are, there is a high probability that they have better leverage in finding transportation solutions quicker and at more competitive rates. Ideally, if customers are located in an area within 200-300 km from a mill site, the cost to provide a high level of service for logistics and handling will likely be far less.
However, in most cases this is not the situation, and considerable efforts must be taken to establish a logistics and service system at a reasonable cost to the supplying mill or company.
We must also ask whether it makes sense to deliver from a faraway location, or if it is better to stay local to maximize sales and profit. Some companies have several mills that serve strategically in different regions or markets due to this reality. Looking at the cost curve of the various coated freesheet mills in Europe, we can see that the low-cost mills are in a better position to deliver to places further away, meaning that they can absorb higher logistics expenses in their total product mix (Figure 3).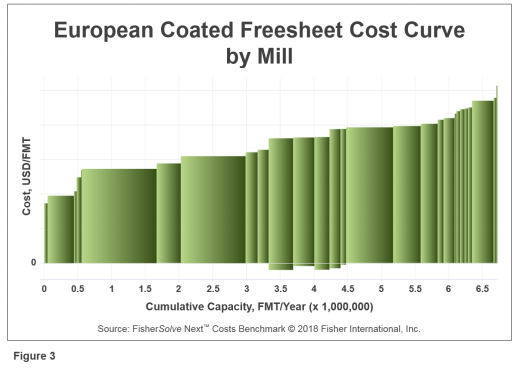 High cost basis mills, however, cannot absorb excess logistics costs before the situation begins to erode profit margins or forces the manufacturer to even sell at a loss.
Paper market price modeling has many factors that contribute to establishing a suitable market price for a product. One important aspect of this process is for a manufacturer to analyze the cost structure of the industry and compare it their own. High cost manufacturers have more difficulty absorbing higher logistics costs. In these cases, one can assume that their focus would be on closer regional markets. On the other hand, lower cost manufacturers can expand beyond their traditional regional or local markets.
Understanding Market Competition
One way to understand market competitors is to analyze their production and manufacturing capabilities together with their physical locations and viability compared to the rest of the industry. Does the competition have certain technological advantages that make them better? Is there a threat from indirect competition which we are not aware of? Where are the potential threats located?
Understanding the viability of each mill as a competitor provides the tools to make better long-term marketing and sales-related decisions. For example, an ideally-located mill with poor viability does not guarantee that it will be successful. By using FisherSolve Next's Viability Benchmark, we can produce a comparison chart that shows all the main coated freesheet mills in Europe and their viability ranking in 2018 (Figure 4).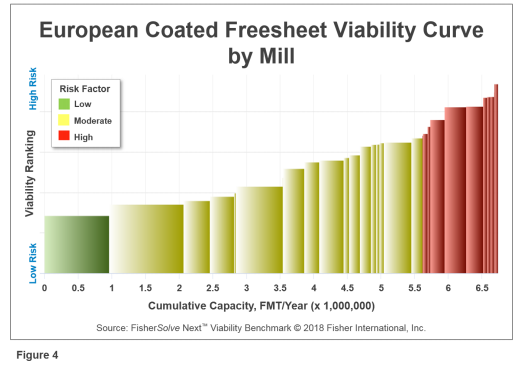 Looking at the viability comparison, location and cost curve of the various coated freesheet producers, a competitive mill can develop the best possible strategies regarding what and where to sell, as well as which customers to focus on.
As a paper manufacturer in a dynamic market, some key questions that need to be answered include:
What is being produced and are there plans to convert lines in the future?
How much do you know about the competitive market in terms of location, production volumes and finished product type? What about your current customers?
How do you stay on top of market intelligence to ensure your strategies are playing out as planned?
Fisher International specializes in helping participants in the pulp and paper supply chain answer these questions, which will invariably impact your near- and long-term success. For more insight into this specific issue, download the Fisher white paper titled "Global or Local – Does Paper Mill Location Really Make a Difference?" by clicking here.