2020 will go down as a year defined by a series of unusual and unprecedented events — from the rapid spread of the COVID-19 pandemic (and the regulations and adjustments implemented following it) to the devastating winter freeze Texas experienced in February. This past year will definitely be one that will pique the interest of historians for decades to come.
With these unparalleled events have come unexpected outcomes in a number of manufacturing industries across the globe. For example, due to the scarcity of intermediate chemicals such as nylon 6 and nylon 66 — also referred to as polyamide 6 (PA 6) and polyamide 66 (PA 66) — as a result of a combination of strong demand for nylon products in all regions coupled with the recent deep freeze in Texas and effects created by the pandemic, already strained supply chains were exacerbated. This has created supply shortages in the market, which is applying upward price pressure on nylon and related materials.
Nylon 6 and 66 are used worldwide to make automotive parts, cable ties, power tools, fabrics, fasteners, and in numerous industrial applications to provide the best mix of process-ability, performance and value. In the paper industry, nylon 6 and nylon 66 are most commonly used in the production of paper machine clothing, which, as many know, is crucial to machine performance and paper quality. Prices for caprolactam, the key precursor of nylon 6, have increased 40% in Asia during the past month.
Meanwhile, supplies of adiponitrile, the key precursor for nylon 66, have become critically scarce in North America and Europe. Nylon producers have been forced to cut production, even though global demand has been strong for several months. Market data from our partners at Tecnon OrbiChem confirms that Chinese buyers re-entered the market with stronger than expected demand in 3Q and 4Q2020, and global suppliers have struggled to keep the pace up.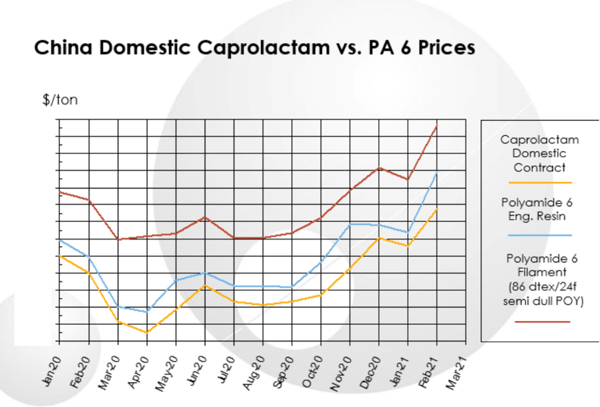 Source: Tecnon OrbiChem
This is crucial to the paper industry because nylon is a major raw material input for numerous materials used within the papermaking process (paper machine clothing). Nylon is also used in textiles, some of which (mainly athleisure and sportswear) compete with wood-fiber based textiles made from dissolving pulps.
When it comes to paper machine clothing, most clothing includes polyamides (nylons for wear resistance). Some paper machine clothing manufacturers buy the fibers needed to produce their fabrics, while others are integrated and produce the needed fibers as well.
Simply put, paper machines need clothing and there's no running without it. If paper machine clothing prices increase due to the current supply shortage of nylon 6 and nylon 66, this also means that paper mills are likely going to have to absorb whatever pricing increases come their way. There is little room for paper mill operations to manage their machine clothing differently. Running a single piece of machine clothing longer means the performance of the clothing will inevitably begin to decline, which can also mean higher costs for drying and other runnability and quality issues. In other words, trying to reduce costs with fewer machine clothing changes can ultimately result in poor performance and runnability, which contributes to higher costs in different areas.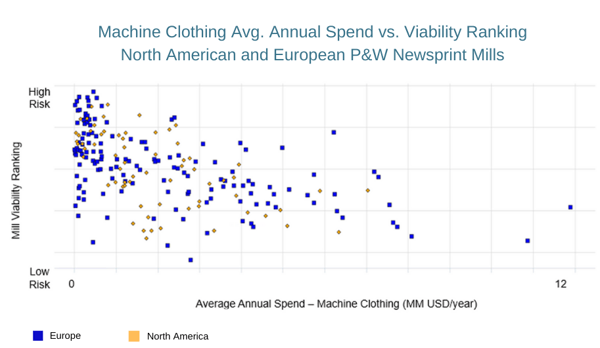 Source: FisherSolve Next
Those familiar with paper mill operations know that paper machine clothing is not inexpensive. If prices go up, mills will have to be forced to cut costs in other areas or make decisions differently. For mills making grades that have already been hit hard during the COVID pandemic, this is one more pressure that they don't need.
For paper machine clothing suppliers, the balance will be in determining what or how much of a price increase to pass along, as certainly no one is anxious to see more mill or machine shutdowns occur after having weathered 2020.
So, the questions we need to be asking are: Will this nylon 6 and nylon 66 supply/demand issue be resolved in the shorter term, or is it one that is here to stay for a while? Should machine clothing manufacturers be concerned about the availability of these raw materials? Is any new nylon 6 or nylon 66 production expected to come online to help level the supply and demand? And will there be a drive to find other fiber sources, particularly for the apparel industry, if nylon prices and the shortage continue, which could have rippling impacts into the dissolving pulp market?
To get answers to these questions, you can talk with an expert at Fisher International who can help your business formulate an actionable plan with a high degree of accuracy that will provide the reassurance and confidence needed to optimize decision-making.
---
About the Author: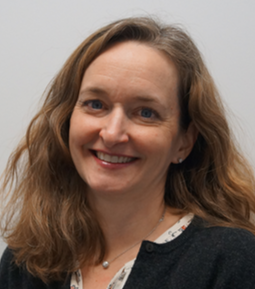 Joanna's experience in providing project management guidance and leadership for cross-functional and cross-division projects makes her a strong asset to the Fisher team. She balances diverse competencies including manufacturing processes, audit and metrics tracking, needs assessment, training, and team-building with a keen ability to meet or exceed budget and cost-saving goals on the various projects with which she is involved.
With over 20 years of paper industry experience, Joanna Wilhelm brings exceptional project management and operational leadership skills to her position as Senior Consultant.