Earlier this year, we speculated where the printing and writing segment was headed post-COVID and discussed the anticipated "short-term bump" in demand as we've been experiencing economic recovery and relaxation of COVID restrictions. Recently, Domtar announced plans to restart its Ashdown mill in response to increasing customer demand, signaling the beginning of this short-term bump. The mill is expected to resume full operation in January 2022, at which time it will add approximately 185,000 tons of uncoated freesheet to the market.
As vaccine distribution increases and we see more people returning to in-person schooling and work, there has been an uptick in demand in Printing and Writing grades. While this demand could continue to rise as return plans are implemented, it is unlikely that it will exceed pre-pandemic levels. Employees and higher-education students alike have become more comfortable with online communication, digital workspaces, and cloud storage systems that will continue to replace paper in their daily routines.
Facilities like Ashdown are strong candidates for restarting or increasing production due to the flexibility of the asset base and Domtar's overall position in the Printing and Writing market. In North America, Domtar is the largest manufacturer of printing and writing grades and specializes in the uncoated freesheet markets.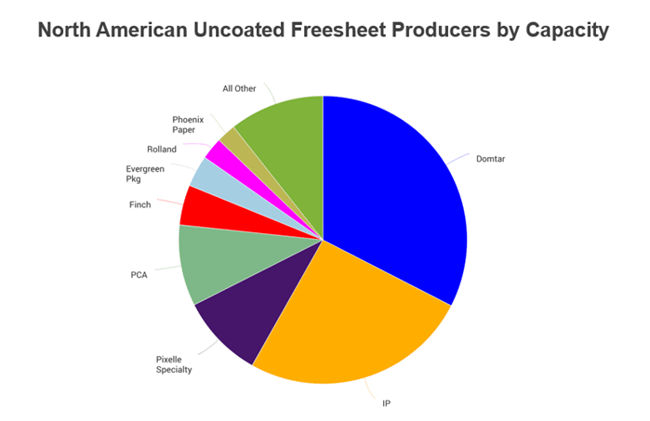 Source: FisherSolve™ Next
However, now many are left wondering who else can or will jump in to also add supply to match the relatively short-term demand uptick? The recent trend for P&W machines has been announcements of conversions as producers look to other markets with better long-term growth outlook. This is evidenced by both the Jackson PCA mill and the Domtar location in Kingsport, which are both undergoing conversions from uncoated freesheet to containerboard. While International Paper's subsidiary Sylvamo will likely stay in the P&W space after its spinoff later this year, but what happens from there remains to be seen. In addition, Appvion's closure of Roaring Springs has taken that mill out of the mix, leaving fewer major producers overall in North America that have the capabilities needed to address the changing market conditions.
When considering the global picture and whether capacity elsewhere might fill demand here, uncoated freesheet capacity has historically remained relatively flat in the Asia Pacific region and declined at a much slower rate in Europe and Latin America.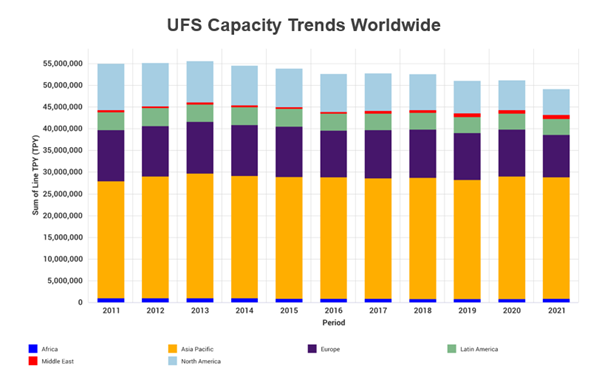 Source: FisherSolve™ Next
That said, European uncoated freesheet producers are looking towards other markets as well. Recently, despite seeing positive recovery in uncoated freesheet, Navigator announced they intend to move two of their paper machines towards producing packaging products in a phased approach, citing the growing demand to replace single-use plastics.
As economic recovery continues to evolve globally during the ongoing COVID-19 pandemic, it's important to consider questions such as:
Who might fill this temporary demand gap?

Of the remaining uncoated freesheet producers, which organizations are able to flex the production of their assets?

Which producers have other Printing and Writing assets that could easily address this gap?

Although uncoated freesheet imports have been minimal over the last decade, is it possible that there is uncoated freesheet capacity in other regions globally that could supplement North American production?
In this dynamic and fast-paced industry, it's important to take into account what your company's next step will be in response to the industry's fluctuating trends. Fisher International has tools and resources available to help you assess your position in the market and create a strategic plan that will help improve your company's profitability.