"Strong demand is a good problem to have, but that demand is increasingly straining manufacturers' ability to keep pace," said Jim Baird, chief investment officer at Plante Moran Financial Advisors.
This refrain isn't unique to one single sector. It's an increasingly common challenge for employers throughout the entire economy in 2Q2021, as supply chain bottlenecks, labor shortages and soaring costs continue to pinch everyone from manufacturers to retailers, to the service and hospitality industries. And with rising fuel prices and inflationary pressures, there's no light at the end of the tunnel.
Per a recent story from Reuters, fresh data from The Institute for Supply Management (ISM) found that a number of companies and their suppliers "continue to struggle to meet increasing levels of demand," noting that "record-long lead times, wide-scale shortages of critical basic materials, rising commodities prices and difficulties in transporting products are continuing to affect all segments" of manufacturing.
Ongoing Labor Challenges
The Bureau of Labor Statistics' (BLS) establishment survey showed non-farm employers added a disappointing 559,000 jobs in May (below consensus expectations of 671,000). Adding insult to injury, April's revised 278,000 figure was abysmal and came on the heels of February and March employment changes that were revised down by a combined 78,000.
Meanwhile, the unemployment rate (based upon the BLS's household survey) ticked down fractionally from 6.1% to 5.8%. However, the dip in the jobless rate also occurred alongside an unexpected drop in labor force participation, which inched down to 61.6% from 61.7%, suggesting that a smaller share of out-of-work Americans returned to the workforce.
For context, overall employment is now more than 8 million short of its pre-pandemic level; job losses during the Great Recession were 8.6 million. The chart below is especially telling. Notice the trend reversal in full-time and part-time employment that occurred in the wake of the Great Recession in 2008, then look at the even more extreme reversal that struck in 2Q2020.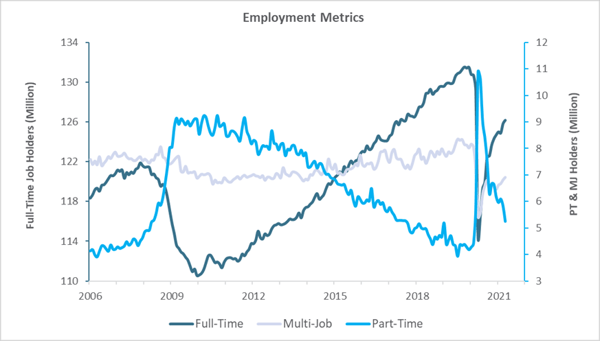 Lingering impacts from the COVID-19 pandemic are still very much in play. Per the most recent data from BLS, "Among those not in the labor force in May, 2.5 million persons were prevented from looking for work due to the pandemic. This measure is down from 2.8 million the month before. (To be counted as unemployed, by definition, individuals must be either actively looking for work or on temporary layoff.)"
"We expect that in the coming months there will be a significant rise in the labor force participation rate because several factors point in that direction," said UBS economist Pablo Villanueva. "Schools are reopening, COVID risks are diminishing, and in many states unemployment benefits are coming down."
"It is difficult to identify the impact of each of these policies on supply but they all point towards more people joining the labor force. All in all, our view on the labor market is one of underlying strength during the coming months but with abnormally high levels of noise," Villanueva added.
Goods-producing industries were up just slightly in May after falling by 36,000 in April. However, some of the current data suggests a connection to the shortages that seem to be intensifying lingering supply chain stresses.
Manufacturing employment rose by 23,000 in May, but employment in manufacturing is down by 509,000 from its level in February 2020.


Transportation and warehousing added 23,000 jobs in May. Employment increased in support activities for transportation (+10,000) and in air transportation (+9,000). Since February 2020, employment in transportation and warehousing is down by 100,000.


Employment in wholesale trade increased by 20,000 in May, mostly in the durable goods component (+14,000). Employment in wholesale trade is down by 211,000 since February 2020.


Construction employment edged down in May (-20,000), reflecting a job loss in nonresidential specialty trade contractors (-17,000). Employment in construction is 225,000 lower than in February 2020.
While employment in retail trade changed slightly in May (-6,000), employment in food and beverage stores decreased by 26,000, following a decline of 47,000 in April. Employment in retail trade is now 411,000 below its February 2020 level. These year-over-year job losses (highlighted in bold above) equate to the removal of a significant amount of manpower from the manufacturing, transportation and construction sectors. It would seem this scarcity of labor is contributing to the ongoing problem of backorders, bottlenecked supply chains and trucking shortages.
With job openings at a record high, something has to give.
A recent piece via the Wall Street Journal notes that congressional lawmakers from both parties are considering incentives such as "providing federal funding to pay for hiring bonuses for workers and expanded tax credits for employers. A handful of states are moving to implement such programs on their own, without waiting for action from Washington."
At this point, we have all heard at least anecdotal stories about government incentives keeping millions of potential employees on the sidelines. The WSJ piece goes on to add that "Some economists, Republican lawmakers and business owners say enhanced federal unemployment benefits are contributing to the labor shortage, because many workers receive more in government aid than they would get on the job. Those benefits—$300 a week on top of regular state payments—are due to expire after Labor Day."
The paradox, now, is this: Federal payments have provided a necessary lifeline to many families during the peak uncertainty of the last year—especially lower-income families who have been disproportionately impacted—while in turn channeling money back into the economy. However, many economists are expecting a struggling engine to just restart itself after near-catastrophic failure last year. "Economists have been a little overly optimistic about the pace of which we're moving here. It takes a while for people to get jobs," said Kathy Jones, Head of Fixed Income at Charles Schwab.
While there is truth in both statements, there is general consensus that the current paradigm is simply unsustainable. And in the meantime, the American manufacturing, transportation and construction segments will continue the struggle to keep up pace while desperately attempting to fill open positions.
What's the labor situation look like in your business, region, and sector of the industry? Are you experiencing tight labor conditions that are impacting your performance?