Mirroring China's larger economy, the country's pulp and paper industry boomed from 2000 to 2018. While packaging production has remained stable over the last 18 months, total growth in the larger P&P segment has slowed since last year.
The primary reason for this shift in production is rooted, paradoxically, in the tremendous growth of China's economy: As its economy has flourished, the overall standard of living has increased and driven wages higher.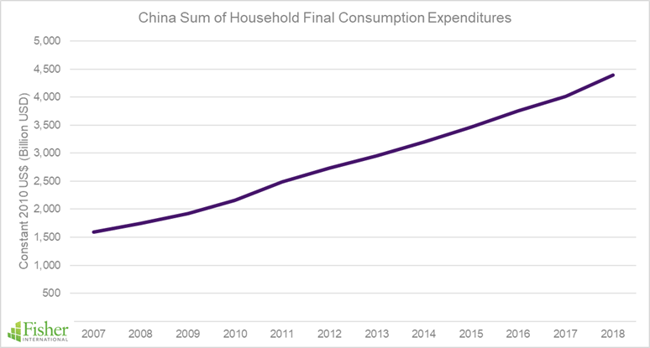 As a result, the establishment of a much broader middle class has, in part, prompted some paper manufacturers—and components of the manufacturing supply chain—to move to lower-cost countries. The central government's ban on imported recycled paper has forced many producers in this space to relocate and, in certain cases unique to the P&P industry, the paper mills are themselves moving so they can also be closer to end customers.
In 2017, affected by the clean energy alternative policy of Shanghai's municipal government, Taiwanese producer Cheng Loong shut down its Zhonglong Paper facility located in Shanghai. Its production capacity moved to Vietnam.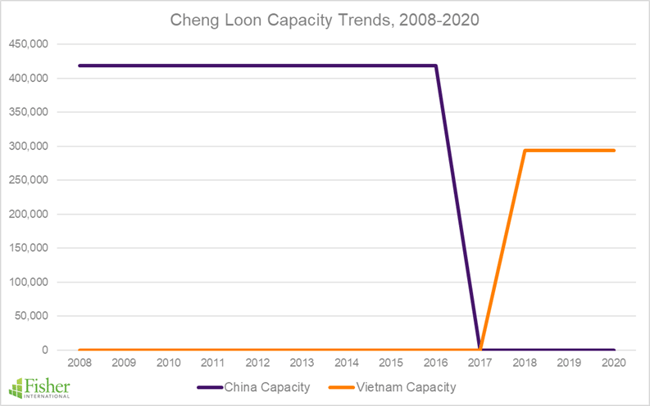 In 2017-2019, the city of Fuyang—home to Xinshengda and lots of other coated/uncoated recycled board producers (around 4-5 million tons capacity)—implemented a policy to shut down all paper-making capacity. As a result, Xinshengda relocated to Malaysia and its new capacity is 700,000 MT of CRB in phase 1, which will be released by the end of 2020.


Jingxing has established a new project in Malaysia producing 800,000 tons/year of RCF pulp sheet and 600,000 tons/year of containerboard as a consequence of the recovered paper policy noted above.
According to Fisher data, eight leading Chinese paper companies have announced investment projects overseas with combined capacities of around 20 million tons/year. Of these, the projects by Nine Dragons, Shanying, Sun, Lee & Man, Xinshengda, Jingxing and Chunhui have either been brought into operation or are on schedule, while APP has no definitive timeline for its project.


While the cases above suggest that diversification is taking place in some sectors due to regulatory issues, key Chinese paper producers are also making new in-country investments. In the near term, however, Fisher believes that some of these projects may be postponed due to the impact of the pandemic.
As the pandemic continues to reshape global supply chains, the manufacturers are now asking the same question: What locations will become hotspots for manufacturing in the future?
This is a difficult question to answer, as the geopolitical landscape is shifting rapidly. Global trade flows are now not only subject to revisions made to trade/tariff agreements, but they are also impacted by COVID-related restrictions, which will likely be applicable for at least the next 12-18 months. That said, manufacturers seeking new places to establish operations will require three key criteria:
Low wages
Relative ease of doing business
Access to infrastructure
To take advantage of competitive dynamics at the right time, global manufacturers need to have a sound understanding of end-user trends that drive demand for pulp and paper products. More importantly, they need to have the flexibility to quickly react to market and regulatory signals in a global economy that is accelerating at an ever-quickening pace.