The Pulp and Paper industry continues to gain recognition for its sustainability-related advancements and achievements through new innovations and related initiatives. Each month, we continue to see progression towards a greener economy that is made possible in many cases by participants across the global pulp and paper value chain. To that end, we've included some of the top stories recently highlighting these innovations and initiatives.
No More Rolling in Plastic – Megaflex Schaumstoff Switches to Mondi's Paper Solution for Rollpacking Mattresses
Mondi, a global leader in sustainable packaging and paper, has created Protector Bag ExpandForm, a paperbag solution with an expandable feature to safely rollpack mattresses. Protector Bag ExpandForm replaces the current plastic packaging with a flexible and recyclable alternative. The solution is also customizable and can expand to different sizes while holding the mattress securely. The packaging is made with Mondi's kraft paper, which is responsibly sourced and renewable and can be recycled, contributing to a circular economy.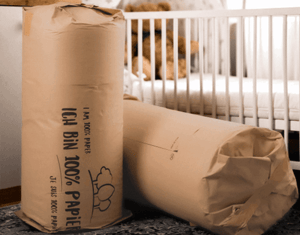 Nordic Paper Lowers GHG Emissions by 8.9% in 1Q2023
Nordic Paper's fossil greenhouse gas emissions amounted to 35,000 tonnes in the first quarter of 2023, which is a reduction of 8.9% compared to 1Q2022. The reduction is due to the decreased impact from purchased goods and services. Of the total 35,000 tonnes of emissions, 10% were direct emissions from Nordic Paper's operations (Scope 1), 51% were indirect emissions from purchased energy (Scope 2) and the remaining 39% were other indirect emissions from purchased goods and services (Scope 3).
Metsä Group Plans to Launch New Forest Management Model to Boost Forest Biodiversity
Metsä Group aims to make Finnish forests increasingly vibrant and diverse. To achieve this, the company launched its regenerative forestry principles in March 2023. The goal is to help Finnish forests become more diverse and vibrant year by year. Metsä Group Plus, a new forest management model which will be introduced in June 2023, is one of the key practical measures for achieving this target. The model pays closer attention than ever to forest biodiversity and forest nature in the implementation of forest work.
What makes Metsä Group's goal significant is that the company's owner-members manage approximately half of Finland's private forest assets. Metsä Group has long encouraged forest owners to adopt sustainable forestry, and in recent years, it has carried out numerous measures to improve ecological resilience. Currently, around 90% of the wood purchased by Metsä Group comes from forests managed in accordance with international forest certificates.
Flawless Vodka Launches Flavored Vodka in Paper Bottles
Flawless Vodka has joined hands with Hensol Castle Distillery to launch flavored vodka in paper 'Frugal Bottles'. Made of 94% recycled paperboard with a food grade pouch to contain the vodka, the bottles are filled at nearby Hensol Castle Distillery, which has launched a new contract packing service for paper bottles to help other brands looking to reduce their carbon footprint. The two Flawless Vodka flavors in paper bottles are Raspberry Ripple and Yuzu & Blood Orange. These are available in 124 Tesco stores in Wales.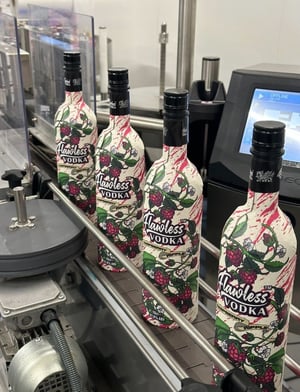 Huhtamaki Launches Sustainable Flexible Packaging in Three Material Solutions
Huhtamaki has redefined the possible by using science to develop groundbreaking mono-material technology. Its innovative and sustainable flexible packaging, in Paper, PE and PP Retort, is transformational and meets the demands of both its customers and their consumers. With a mono-material share of up to 95% for PE, and at least 90% for PAPER and PP, these new solutions are unique. There is no compromise in protection barriers, recyclability and affordability. The amount of material used has been minimized for increased resource efficiency. Huhtamaki has invested in new production technologies across its production footprint, building a global supply capacity for the new innovations.
International Paper Focused on Improving Work on Climate Impact
International Paper has reduced their GHG emissions by 20% between 2010 and 2020, while cutting down on the use of coal and fuel oil in half. Currently, 70% of the energy used in mills is derived from carbon-neutral biomass residuals. It is working on further capital investments to substantially reduce Scope 1 GHG emissions over the next decade. It is also working on reducing its Scope 2 GHG emissions through participation in renewable power development. It is exploring mechanisms such as virtual power purchase agreements, which support renewable energy suppliers and the "greening" of the electricity grid. The company reported little net change in combined Scope 1 and Scope 2 emissions from 2019 to 2021. This is largely due to increased mill production over this period. The Scope 3 work is closely linked to its goal for renewable solutions, the company noted.
Breakfast Cereals Manufacturer OneDayMore Switches to Sonoco's Paper-Bottom Packaging Solution
Breakfast cereals manufacturer OneDayMore has successfully converted its packaging to a more sustainable solution, manufactured by Sonoco.
OneDayMore strives to help people take care of their health – and the planet – with its natural, nutritious, and easy-to-prepare breakfast products, including muesli, granola and porridge. The company said the next, obvious path for its development was a move towards more sustainable packaging – and Sonoco helped it to achieve this goal by replacing its current packaging with EnviroCan™. Its end goal is to have converted all of its packaging to paper by the end of 2024.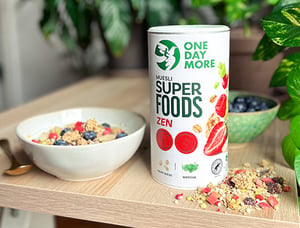 Monadnock Paper Mills Launches New Un-plastic and Sustainable Boulevard™ & Pavilion™ PC 100 Wide Format and Signage Media
Monadnock Paper Mills, Inc., the oldest continuously operating paper mill in the United States, demonstrates yet again that it's keeping up with the times by introducing its newest "Un-Plastic®" and sustainable wide format and signage materials.
"For Brands and retailers that are looking to fulfill their sustainability commitments without compromising durability, printability, and, of course, great style – the search ends here with Monadnock and our two newest product lines" said Lisa Taylor, Vice President Sales and Marketing.
Boulevard is an uncompromising moisture-resistant durable poster paper that is suitable for both indoor and short-term outdoor applications. Pavilion PC 100 is made with 100% post-consumer recycled waste fiber, satisfying the demand for more sustainable paper choices. It's the go-to paper stock for all indoor poster needs.
Kimberly-Clark's Three Hydrogen Projects Find Place on UK Government's Shortlist
Three green hydrogen projects that Kimberly-Clark is developing with energy industry partners have won places on the UK Government's Hydrogen Business Model Strategy (HBMS) shortlist.
The scheme will kickstart the UK's low carbon hydrogen economy by funding a first-round allocation of 250MW of electrolytic hydrogen projects across England, Scotland and Wales. Kimberly-Clark, the parent company of leading household brands including Andrex®, Kleenex®, Huggies®, WypAll® and Scott®, expects to reduce its natural gas consumption in the UK by 61% when these three projects are operational at the end of 2025, subject to final government contract.
New Packaging Tape with Paper Backing and 92% Bio-Based Carbon Content
tesa is launching another innovative packaging tape. The new tesa® 60408 includes a robust, responsibly sourced paper backing and a natural rubber adhesive, with a 100% bio-based resin. With a total bio-based carbon content of 92%, the tape has been awarded with the highest biocarbon content rating from DIN CERTCO (> 85%).
For many industries, including food & beverage and pharmaceutical manufacturing, or the logistics, warehousing, and supply chain sectors, tesa® 60408 offers an alternative to conventional packaging tapes. The tape is ideal for light and medium weight packaging up to 20 kg.