It's hard to argue there's a need to be filled in the thriving North American corrugator market, but one major European producer believes a presence in the United States could prove beneficial.
Spain-based Saica Group, the third-largest European producer of recycled paper for corrugated packaging, announced last week its plan to build a $72 million packaging plant outside of Cincinnati, Ohio.
The 350,000-square-foot facility, Saica's first in the United States, is expected to finish construction in 18 months and will add 64 jobs to its workforce that includes more than 10,000 across Europe.
Saica is the latest international player to move into the US. London-based DS Smith, Ireland's Smurfit Kappa and Australia's Pratt Industries all have a strong presence in North America. However, Saica's timing and destination are certainly interesting.
Let's take a deeper look into this move by Saica:
Who is Saica Group?
As mentioned earlier, FisherSolveTM Next shows Saica is the third-largest containerboard producer in Europe behind Smurfit Kappa and DS Smith (Figure 1).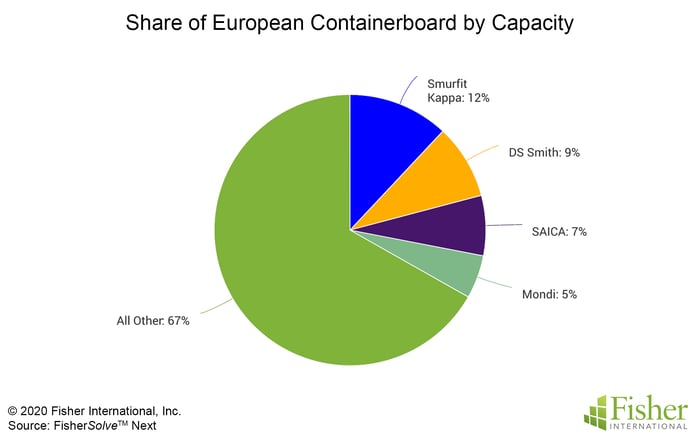 Figure 1
What makes Saica unique from its competitors is it focuses solely on containerboard; the company doesn't produce printing and writing products, newsprint, or anything else. More specifically, Saica produces containerboard made from 100% recycled fiber (Figure 2). The company says its specialty in innovative, sustainable packaging will flourish in the Western Hemisphere.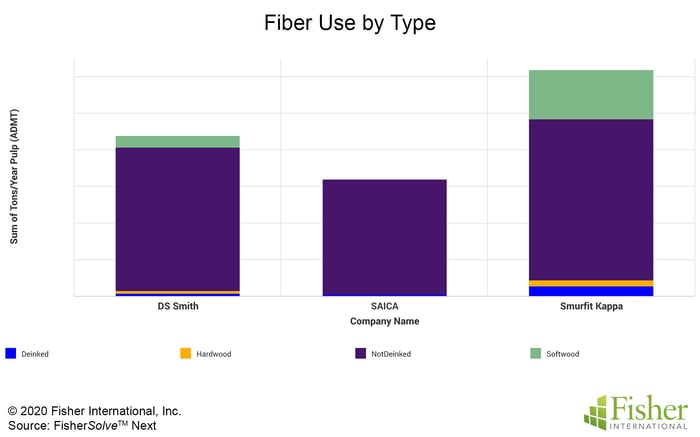 Figure 2*
"Saica is well known throughout Europe as a company with an environmentally conscious approach to business," Ramon Alejandro, Chairman of Saica Group, said in a press release. "Saica Group's know-how and experience in the production of lighter weight containerboard and corrugated packaging will bring high performance packaging and reduced materials use to the US market."
At Saica Group, the #CircularEconomy is part of our DNA. Our goal is to maximise the use of all resources, reduce waste generation and re-use waste as a secondary raw material for its subsequent re-introduction into the production cycle https://t.co/xAmBTt4uCH pic.twitter.com/xj7RC2BeZ5

— Saica Group (ENG) (@SaicaGroup_en) June 23, 2020
Why did Saica choose Cincinnati?
Saica's new facility will be built in Hamilton, Ohio, roughly 30 miles north of Cincinnati. Alejandro said the company targeted locations in the Midwest "since the beginning" of its search citing the "experience and talent of the workforce, the concentration of manufacturing and proximity to potential clients." Jody Gunderson, director of economic development for the City of Hamilton added Saica "will pay homage to Hamilton's rich history of paper manufacturing."
That rich history Gunderson mentioned includes the former Champion Paper Mill, which employed more than 4,000 people in its heyday of the 1930's (according to the Journal-News) and roughly 200 when it shuttered its doors in 2012 (according to the Dayton Daily News). An additional 200 paper industry employees in Hamilton were left jobless from 2011-2012 when Franklin Boxboard and Mohawk Papers both closed operations in the city.
"Ohio's supply chain, infrastructure and talent make it the premier destination for Saica's first North American manufacturing facility," said JobsOhio president and CEO J.P. Nauseef. "Saica's confidence in choosing Hamilton for this new facility is more evidence that Ohio's economy and its people are resilient and agile."
A dive into FisherSolveTM Next's corrugators module (which serves corrugated producers, suppliers, and box producers business intelligence in to navigate packaging markets) shows the Cincinnati area is an attractive destination for international investment for multiple reasons.
Figure 3 shows Ohio is a top-four state in corrugated production at more than 1.5 million metric tons per year, and Figure * shows the state ranks sixth in total number of 110-inch and 132-inch corrugators. These together show that Ohio is an important state for corrugated production and has seen some investment in larger corrugators to support increasing production needs.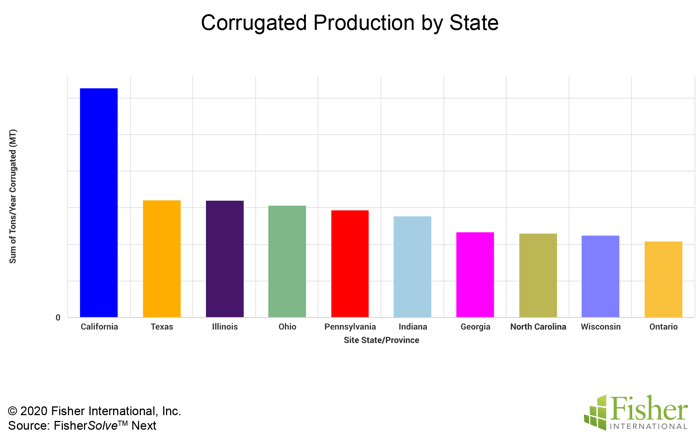 Figure 3*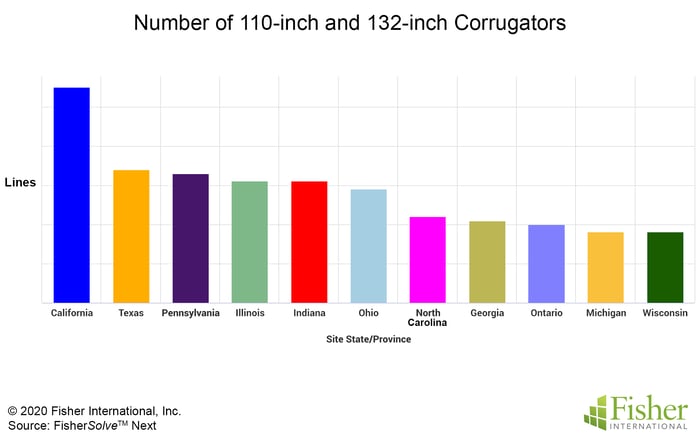 Figure 4*
However, a deeper look reveals Ohio's corrugated lines have an average production less than 19 North American states and/or Provinces (Figure 5). The state's fleet is also aging with more than one-third of its machines carrying a technical age of more than 30 years (Figure 6).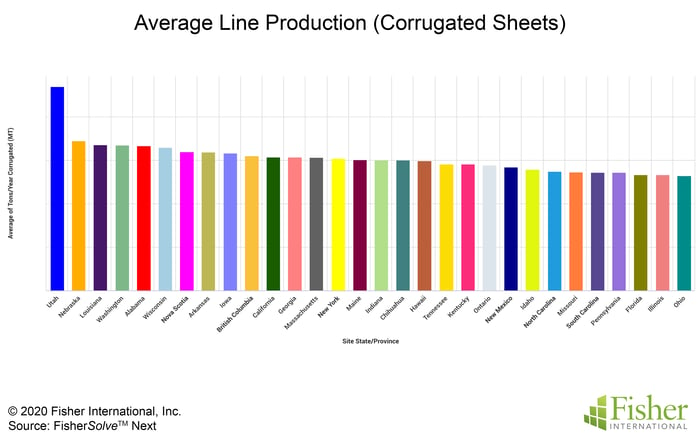 Figure 5*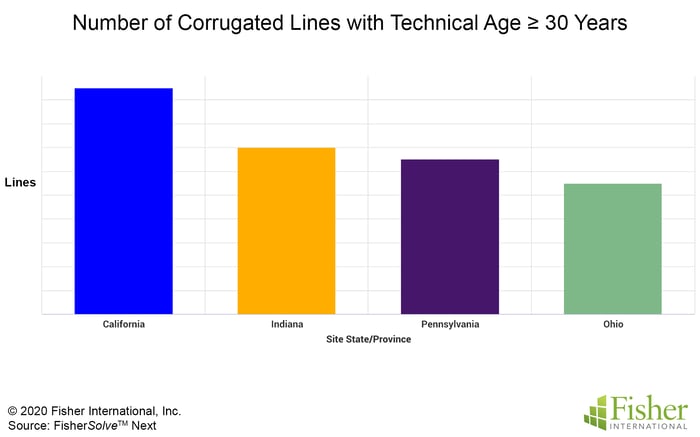 Figure 6*
This tells us that even though Ohio is a top state for total corrugated production, its machines are older and less productive, making it a destination for newer, larger, more productive lines that can service nearby major markets like Chicago, Indianapolis, St. Louis, Pittsburgh and Cleveland.
Who does this mean for the corrugated market?
One box plant is unlikely to shift the corrugated landscape in North America, but it's a symbol of continued international interest in the US market.
Corrugated demand has remained stable throughout the COVID-19 pandemic in the US, but one big question is looming over the industry: Will eCommerce be able to support the box market enough to offset recession-based consumerist declines that may be on the horizon?
Aside from the potential fallout from COVID-19, Saica's focus on and dedication to lightweight, fully recycled offerings could play well in a North American market that's becoming more aware and rewarding of sustainable practices in packaging.
The success of Saica's newest venture will likely influence the company's continued investment in the market, and potentially invite new global corrugated players to venture onto US soil.
* Y-axis figures redacted