The push for a more sustainable planet continues to drive innovations in nearly every business sector across the globe, and the forest industry is helping to lead the way. We wanted to share a few of the most exciting developments in this monthly roundup of sustainability projects that are making headlines.
Beverage giant Diageo has created a paper bottle it will use to package a limited edition run of Johnnie Walker whiskey. The bottle is made from sustainably sourced wood pulp and will be "fully recyclable in standard waste streams," according to a statement from Diageo.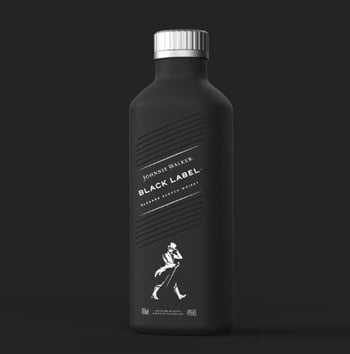 Photo Credit: Diageo
Diageo has forged a partnership with venture management company Pilot Lite to launch a new business aimed at sustainable packaging development for major food and drinks manufacturers, called Pulpex Limited. Diageo said it is the first drinks group to develop a recyclable paper spirits bottle, but companies all over the world have been toying with eco-friendly packaging for some time, including Frugalpac:
British sustainable packaging company Frugalpac has launched a wine bottle made from 94% recycled paperboard, which it said has a carbon footprint 84% less than that of glass. The bottle uses just 15g of plastic, 77% less than a recycled plastic bottle. It is currently being used by Umbrian producer Cantina Goccia for its 3Q Sangiovese, Merlot and Cabernet Sauvignon blend.
Frugalpac said the 75cl bottle, which is up to five times lighter than a glass bottle, also has a carbon footprint over a third lower than a bottle made from recycled plastic. In addition, its water footprint is also at least four times lower than glass. The bottle, which can be refrigerated, is easy to recycle, according to Frugalpac, which states that the paperboard can easily be separated from the liner.
In terms of production cost, the bottle is "comparable" to a labeled glass bottle, but the Ipswich-based creator points out that the bottle offers the option for 360-degree branding. The bottle can be produced at a winery on-site, which Frugalpac says offers "complete freedom on design and print" and makes it "more cost effective to transport."
The American Forest & Paper Association (AF&PA) recently released new industry guidance that aims to clear up consumer confusion regarding the recyclability of pizza boxes. The guidance resulted from a study conducted by WestRock – an AF&PA member company – that found the presence of grease and cheese at levels typically found on pizza boxes does not impact manufacturing in a negative way.
"Corrugated pizza boxes are successfully recycled every day at paper mills throughout the country, yet consumers remain confused by mixed messages suggesting that some boxes should not be put in the recycle bin," said AF&PA President and CEO Heidi Brock. "So, let's be clear: pizza boxes are recyclable. Consumers should not be concerned about grease or cheese – simply remove any leftover pizza and place the box in the recycle bin. We encourage communities to update their residential recycling programs guidelines to explicitly accept pizza boxes that are free of food."
"TAPPI is proud to join with AF&PA to clarify the facts on recycling pizza boxes," said TAPPI President and CEO Larry N. Montague. "Billions of pizzas are sold in the U.S. every year, which means a lot of pizza boxes need to be recycled. Corrugated pizza boxes are a great fiber source for feedstock in many of our mills today."
Two Sides North America has launched Love Paper, a new campaign designed to raise consumer awareness of the sustainable characteristics of print, paper and paper-based packaging. The centerpiece of the campaign is a consumer-friendly website, lovepaperna.org, which reveals facts about how print and paper products contribute to a sustainable future.
Consumers underestimate sustainability
Many North American consumers significantly underestimate how sustainable print and paper products truly are. Print and paper products are an important part of a circular economy where resources are used as productively and efficiently as possible. They are made with renewable raw materials, are recyclable and in North America are manufactured using mostly renewable, carbon-neutral energy, making them an environmentally sound choice for reading materials, communications and packaging solutions.
For example, in Canada, only 21 percent of consumers think the recycling rate for paper and paper-based packaging exceeds 60 per cent. In reality, the Canadian recycling rate is among the highest in the world at 70 per cent, according to the Forest Products Association of Canada.
A 2019 survey commissioned by Two Sides found that 58 percent of consumers believe US forests are shrinking. In fact, the U.N. Food and Agriculture Organization estimates these forests, which supply the fresh wood fiber used by the US pulp and paper industry, grew by a net area equivalent to more than 1,600 NFL football fields per day between 1990 and 2015.
North American finished lumber prices have skyrocketed since the COVID-19 pandemic gripped the global economy in March, and market analysts are taking notice. A recent episode of the nationally syndicated radio show Marketplace, which airs daily in many National Public Radio (NPR) markets, tackled the subject by interviewing Greg Kuta, a lumber futures trader, and Forest2Market CEO Pete Stewart.
As the host of Marketplace notes in the radio segment, the perception of surging demand for wood products may cause some to worry about deforestation. But these fears are largely reactionary and overblown. Stewart adds, "In the U.S., we're growing 15% to 20% more trees than we are consuming, which is good for the environment, good for everything."
In fact, statistics on forest health prove that America's working forests have never been more vibrant.
Forest2Market has demonstrated through its independent analytical work that economic and environmental interests tend to work in concert more often than not. Our policy support work has shown direct statistical correlations between healthy commercial markets for wood products and an increase in forest inventory and carbon sequestration, not the opposite.
As scientists continue to warn about projected climate change on a heating planet, others are taking steps in their own realms to mitigate the damage in innovative ways. A recent webinar hosted by Grow Smart Rhode Island illustrated the connection between forest health and new wood-construction technologies in a combination that can significantly reduce carbon emissions.
Presentations by Frank Lowenstein, deputy director of the nonprofit New England Forestry Foundation (NEFF), and David Odeh, principal at North Providence-based Odeh Engineers Inc., highlighted the "We Need the Forest to Fight Climate Change" discussion. While they provided different areas of expertise, they connected on the central issue: Proper forest management and innovative construction using new wood products will lessen carbon emissions.
Kimberly-Clark recently announced its new 2030 sustainability strategy and goals, aimed at addressing the social and environmental challenges of the next decade, with commitments to improve the lives and wellbeing of one billion people in underserved communities around the world with the smallest environmental footprint. The hygiene products giant is committed to reducing the carbon footprint of its operations and supply chain by 50% for Scope 1 and Scope 2 greenhouse gas emissions and a 20% reduction in Scope 3 greenhouse gas emissions, based on 2015 levels.
Kimberly-Clark wants to reduce its natural forest fiber footprint by 50% by 2025 and increase its use of environmentally preferred fibers. By 2030, the company intends to reduce its water footprint by 50% in water-stressed regions and reduce its use of fossil-fuel based plastics by 50%.
International Paper has reported the progress made in 2019 against its 2020 goals and outlined its approach to sustainability across its value chain. In the 2019 Global Citizenship Report, it says it has reduced GHG emissions by 22% (scope 1 & 2) since 2010. It noted a 47% increase in certified fiber volume since 2010, a 63% increase in the recovery of old corrugated containers (OCC) for recycling, and a 28% decrease in oxygen-depleting substances in its mill water discharges.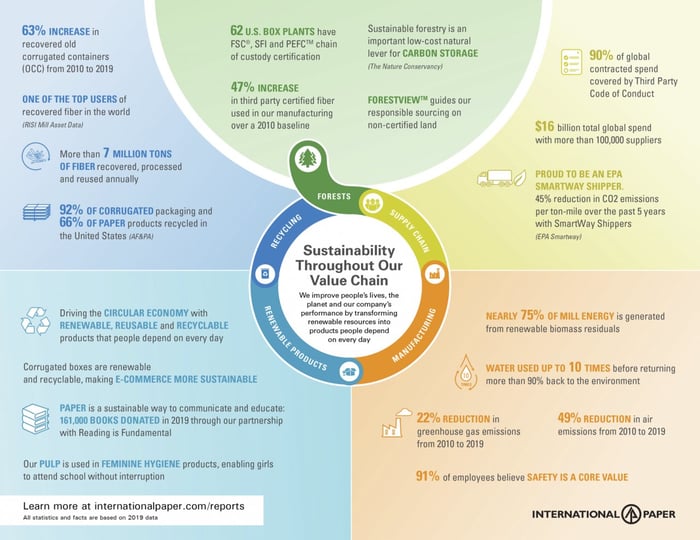 "2019 was a pivotal year for us, as we finalized our next generation of goals and focused our attention on outlining a sustainable path to 2030," said International Paper Chairman and CEO, Mark Sutton, in the report. "It was important to us that our goals were focused, ambitious and moved the needle on both environmental and social challenges. We aimed for goals that establish us as an industry leader in sustainability and push us to drive significant progress in the circular economy."
"As a global leader in the forest products industry, International Paper strives to be a leader in environmental stewardship and to strengthen our people and communities. Our customers, investors and employees depend on it," said International Paper Chief Sustainability Officer, Sophie Beckham.
Solenis is participating in the "Piloting alternatives for plastics" project, a global initiative to help develop the next generation of fiber-based materials to replace plastics used in food packaging, filters, hygiene products and other goods.
The project will run for 30 months, during which Solenis and more than 50 other companies will work to identify materials and manufacturing methods best suited for full-scale development. The project will focus on several technical areas, including the development of technologies to reduce energy and water used in papermaking, and cellulose-based wipes, ways to replace petroleum-based nonwovens and to improve water resistance.
"Solenis is focused on driving sustainable solutions for the paper industry by developing and commercializing renewable, reusable fiber-based alternatives to plastics," said Richard Brooks, Global Marketing Director, Packaging. "By working together on these significant initiatives, we can deliver bio-based solutions faster to meet the increasing worldwide demand for sustainable products."
Westbury Packaging, a UK-based corrugated cardboard packaging manufacturer, has achieved carbon neutrality. It has made a number of changes, including setting up environmental policy to cover everything from energy, recycling, fuel, vehicles, lighting, office/factory temperatures, travel, employee behavior and more.
Currently, Westbury is sourcing electricity from sustainable sources, while the hybrid vehicles used by the company are giving way to an electric fleet. The facility is using LED lighting. The waste from the manufacturing processes is baled in-house and recycled back into the supply chain.
"We don't plan to rest on our laurels now though," said Ben Tupman, Managing Director of Westbury Packaging. "We're always planning and designing more ways of improving our workplace so that it reduces the impact on the environment. I am proud of the team for achieving Carbon Neutrality and we are all committed to continuing this journey."