From new Olympic beds to boxes made from tomato stems, we've seen an exciting variety of projects announced from the Pulp and Paper industry over the last month. Sustainability trends present new opportunities for the industry, and we've broken down some of the projects and initiatives companies are now embarking on.
Emerging Brand Debuts First 100% Recyclable Ice Cream Carton
Sacred Serve, a four-year-old company producing handcrafted, plant-based gelato, is on a mission to prove that "all food can, and should, be more healing than harmful to both our bodies as well as the planet." As part of its credo to protect Mother Nature, the company is extremely conscious of the environmental impact of the packaging it uses as well. In February, Sacred Serve became the first to offer a 100%-recyclable, plastic-free ice cream carton that is also biodegradable and compostable.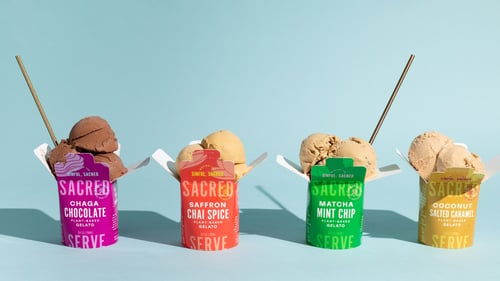 Mondi Rolls Out Its Range of Sustainable Corrugated Packaging Solutions for Growing Online Grocery Delivery Services Across Central Europe
Mondi, a leading global packaging and paper manufacturer, is rolling out a comprehensive portfolio of corrugated packaging solutions for the online grocery market across Central Europe. Using its wealth of experience in e-commerce packaging, Mondi has created clever new solutions for the diverse needs of grocery retailers who can now deliver a variety of goods, from perishable food to wine bottles in fit-for-purpose packaging. All boxes in the eGrocery portfolio are fully recyclable and meet customers' requirements of sustainability, cost efficiency and product protection.
Mondi's latest eGrocery packaging solutions follow the successful introduction of its BCoolBox in March and its VinoBoxes in May.
Carbon Neutral Britain verified this achievement in 2021 and neutralized the carbon that was not offset at source using Verified Carbon Credits.
The business said the upcoming movement into a new state-of-the-art site will make the business capable of championing further eco-friendly initiatives with uncapped creativity. The building will be entirely carbon neutral through solar technology, with the potential to be carbon negative.
Kite said it has been committed to protecting the environment since its founding in 2001. Stocking specialist enviro-products, establishing a Compliance Scheme to help companies fund their recycling of plastic waste in the UK and launching a Plastic Reduction Campaign in 2019, achieving carbon neutrality was the natural next step.
Talabat to Pilot 100% Sustainable Packaging in UAE
Talabat has announced the launch of its Sustainable Packaging Program to reduce plastic waste and carbon emissions across the region, starting with pilot operations in the UAE and Qatar.
The launch is part of Delivery Hero's, Talabat's parent company, global roll-out of the program, across eight markets. Talabat's new packaging, which will be available for select restaurant partners and vendors, is 100 percent plant-based and contains no perfluoroalkoxy-alkanes (PFA), which are commonly known as forever chemicals that cannot be broken down by nature. The packaging has also been rigorously tested to meet food safety, quality assurance, sustainability, and ethical supply standards.
New Initiative to Educate Consumers About Paper and Sustainability
The Paper and Packaging Board's "How Life Unfolds" Campaign® is launching a new sustainability-focused effort to more appealing to young consumers.
"As our consumer audience begins to age up, we need to keep reaching out to younger generations with important sustainability messaging," explains Mary Anne Hansan, President of the Paper and Packaging Board. "They are worried about the environment, have heard stories about recycling not being worthwhile and have misperceptions about the health of U.S. forests. That's why we've created a campaign set to reach a younger audience with content that is both entertaining and educational."
Athletes at the Tokyo 2020 Olympics have been sleeping on beds made from recycled cardboard and customizable mattresses. The cardboard beds were manufactured by Japanese bedding company Airweave.
As reported in a leading daily — the bed frames, made of high-resistance cardboard, can support up to about 200 kilograms. They come with three-part polyethylene mattresses that can be mixed and matched to suit each athlete's preferred firmness for the upper, middle and lower body, according to Airweave Inc.
The idea behind cardboard beds was to be easy on the environment and commitment to sustainability. The single-bed cardboard frames would be recycled into paper after the conclusion of the games while the mattresses (not made of cardboard) will undergo recycling only to be turned into plastic products.

Solenis a leading global producer of specialty chemicals, is joining forces with Pulpex Limited and its global consortium partners to collaborate on the ongoing evolution of the Pulpex eco-friendly paper bottle.
As a technology partner, Solenis will provide chemical solutions to optimize the PET-free paper bottle, including surface treatments to enhance its functional and visual properties. The Pulpex technology allows for embossing, debossing, labeling and direct printing with food-safe colored pigments and dyes to fit brand needs.
ANDRITZ Introduces CircleToZero® – Paving the Way Towards Pulp Production with Zero Emissions and Zero Waste
The ANDRITZ A-Recovery+ program already established is a major part of CircleToZero®. It unleashes the economic potential of the many traditionally unused side streams found in the recovery island of chemical pulp mills. These include purifying raw methanol into commercial quality bio-methanol for instance, on-site production of sulfuric acid, and recovery of kraft lignin. With this newly developed technology, ANDRITZ is helping Södra Cell Mönsterås pulp mill become the first ever fossil-free biomethanol plant worldwide and also be climate-positive by the end of this decade.
CircleToZero enables customers to achieve immediate bottom-line savings, take up new business and investment opportunities and increase their ability to comply with ever tighter environmental regulations.
A Closer Look at ICP's Corrugated Cardboard Box Made from Tomato Stems
The Slovenian Pulp and Paper Institute (ICP) recently presented a corrugated cardboard pack made partly from tomato stems. The tomato stems are from locally sourced agricultural waste that has been processed into liner and fluting papers suitable for incorporation into corrugated board.
The initiative for the circular packaging solution by valorisation of the wasted tomato stems started in 2018 in cooperation with the largest tomato producer in Slovenia (trademark Lušt), based on the idea of replacing the plastic bags for their products. The chemical and morphological characterization of the tomato stems has proven that the quantity and quality of the cellulose fiber are appropriate for paper production (over 40% of fiber content, easy to fractionate with traditional kraft delignification processes).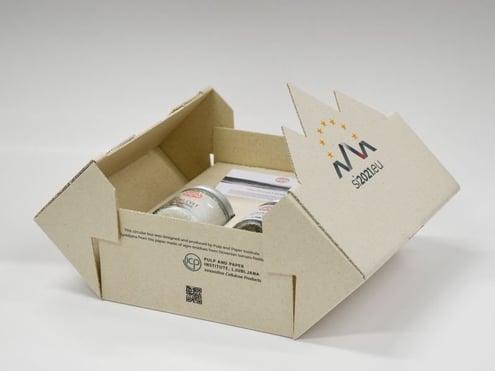 Essity Commits to Net-Zero Greenhouse Gas Emissions by 2050
The net-zero ambition means that Essity will join the U.N. Global Compact's "Business Ambition for 1.5°C" to develop targets to reach net zero emissions by 2050 for the entire value chain, in line with Science Based Targets initiative (SBTi) criteria. This includes an upgraded target in line with "Well-below 2°C" scenario and means the company commits to reducing its Scope 1 and Scope 2 emissions by 35% by 2030 from 2016 levels.
Essity will reach the net-zero target and reduce its environmental impact by increased focus on energy efficiency, removal of fossil fuels, and increased use of renewable energy.