As we enter a new quarter, participants across Pulp and Paper value chain continue to launch more sustainable replacement products and join initiatives that place the betterment of the environment at the forefront of the priority list. Each month, we see ongoing progression towards a more circular, environmentally friendly economy that is made possible in many cases by participants in the global pulp and paper industry. To that end, we've rounded up some of the top stories recently highlighting these initiatives.
P&G Beauty Launches Shampoo and Conditioner Bars in Paper Packs
Head & Shoulders, Pantene, Herbal Essences and Aussie bars will be packaged in FSC accredited recyclable paper-based packs. P&G Beauty revealed the addition to its liquid ranges at Reuters' Responsible Business Summit.
Artur Litarowicz, Head of P&G Beauty Europe said: "Not only do these innovations offer a delightful experience due to their unique formulas and shapes – but their boxes are paper-based with FSC certified paper, to further advance us on the mission to reduce virgin plastic… In Europe, 65% of consumers want to reduce the plastic they use in everyday goods and it's critical to have them on our side."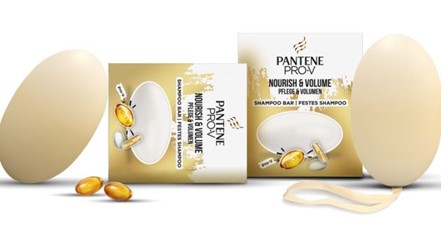 Three Scientific Studies Break Stereotypes on Reusable Packaging
It is now scientifically proven that reuse should be considered on a case-by-case basis as it is not always the best environmental option. A peer-reviewed study shows that reusable packaging has a stronger impact on climate than recyclable corrugated.
The peer-reviewed comparative life-cycle assessment compares the environmental impact of corrugated cardboard boxes and plastic crates when transporting produce over average distances in Europe. Key findings, extracted by FEFCO, show that:
The corrugated board system is more beneficial in 10 out of 15 impact categories, including climate change, total resource use including fossils, mineral and metals.

The break-even analysis shows that plastic crates would need to reach a minimum of 63 rotations to outperform corrugated boxes in the climate change impact category. According to the Life Cycle Analysis (LCA), the average reuse rate of plastic reusable crates is 24 rotations which is below the break-even.
Ben & Jerry's Joins Pack4Good Initiative
Ben & Jerry's has made a commitment to prioritize paper packaging that takes less of a toll on forests around the globe. Instead, the company says it will prioritize lower impact solutions focused on reducing waste and employing Next Generation innovation in its packaging.
Pack4Good is an initiative spearheaded by international environmental non-profit Canopy. The initiative is dedicated to shifting the global paper packaging supply chain to protect the world's most high-carbon, high-biodiversity forests. The necessary shift away from single-use plastics could put even more forests in danger, so there are increasingly loud calls for food companies to replace high-carbon, single-use tree fiber with more circular feedstocks like recycled paper or agricultural residues to make paper packaging.
AIRCARBON x Paper: Newlight Launches the World's First Plastic-Free AIRCARBON-Coated Paper Bowls and Plates
Newlight Technologies, Inc., a nature-based biotechnology company creating regenerative materials to help improve the environment, today announced the launch of the world's first plastic-free AIRCARBON®-coated paper products, advancing the company's mission to help end the accumulation of plastic and carbon in the environment.
Most paper products today are coated with plastic in order to create resistance to moisture and grease. The combined effect of coating paper with plastic is an environmentally destructive end of life, making it challenging to either recycle due to combined materials or compost due to the presence of non-environmentally-degradable plastic. To help overcome this, Newlight has introduced the world's first paper products coated with AIRCARBON, a plastic-free PHB biomaterial made using a nature-based carbon capture process, resulting in a paper product that is moisture-resistant, grease-resistant, and plastic-free.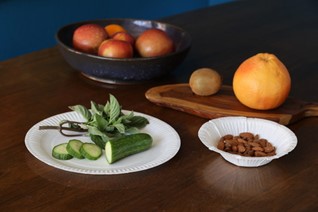 Pactiv Evergreen Introduces Its 'Zero Waste Implementation Guide' as a Resource for Foodservice Operators
Pactiv Evergreen announced the launch of its new "Zero Waste Implementation Guide" at the Green Sports Alliance Summit in Minneapolis. The Guide is a resource to help foodservice establishments improve their waste diversion rates. Recreation venues, stadiums, arenas, colleges and university foodservice programs, in particular, will benefit from this valuable resource.
Achieving zero waste is a circular solution that helps ensure a sustainable future economically, environmentally and socially. By closing the loop, operators can cut greenhouse gases, manage risk, reduce litter and pollution, reinvest resources, and create value for their operation.
Huhtamaki Fiber Solutions - The Future Redesigned
Fiber has been used in packaging for decades. Today, Huhtamaki is able to tap into its full potential by applying high-precision technology expertise to take this renewable material to surprising new levels. This innovation, combined with a high-level food-grade barrier, produces smooth molded fiber (SMF) sustainable packaging that offers superior functionality, keeps food safe, maintains its quality and eliminates the need for aluminum resulting in aluminum-zero solutions.
From ready-meal trays for Unilever, ice cream tubs for Carte d'Or, Sundae ice cream cups and lids for McDonald's, Huhtamaki has developed a wide range of novel, award-winning products to be used at larger scale by the world's favorite brands. This uptake by industry giants shows the success of smooth molded fiber packaging that offers consumers a more sustainable packaging experience while minimizing their impact on the planet.
Mondi's RetortPouch Recyclable Wins Swiss Packaging Award
Mondi, a global leader in sustainable packaging and paper, has been recognized by the Swiss Packaging Institute (SVI) for its RetortPouch Recyclable solution. The packaging won the Swiss Packaging Award for the Sustainability category and was developed for Coop's private label range of healthy pulses and grains sold in Switzerland.
RetortPouch Recyclable, made of polypropylene (PP)-based mono-material, offers exceptional shelf life and reduces potential food waste. The innovative packaging can replace complex multilayer unrecyclable packaging that uses aluminum or metallized layers to provide high barrier food protection.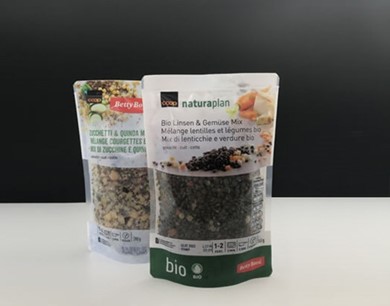 Graphic Packaging International Commitment to Sustainability Showcased in New Documentary
The commitment of Graphic Packaging International to sustainability and to supporting the circular economy is the focus of a new documentary. The short film, which was released on June 17, 2022 on reuters.com, reflects upon the leading fiber-based consumer packaging provider's ongoing involvement in an initiative called Vision 2045.
An inspirational project conceived to celebrate the centenary of the United Nations, Vision 2045 entails fifty carefully selected global businesses joining forces to leverage cutting-edge thinking and the latest technology to create world-changing outcomes. Amongst its key objectives, the project aims to demonstrate how both organizations and individuals can take collective action to ensure a better future for society and the planet.
Rottneros Collaborates with Söderberg & Partners and RISE in the Field of Circular Economy
Rottneros has started a collaborative project together with Söderberg & Partners in the area of circular economy. The aim is to achieve measurable targets as part of the Group's sustainability work and potentially increase shareholders' opportunities for returns. The project will be carried out with the help of the independent and state-owned research institute RISE (Research Institutes of Sweden), which has extensive expertise in the field of circular economy.
"The development towards increased circularity is close to our heart and we look forward to taking further steps to be among the leaders in sustainability in our industry. Rottneros' overall target is to achieve completely fossil-free production by 2030," says Lennart Eberleh, Rottneros' President and CEO.