While the first quarter of 2022 may be coming to an end, the impressive sustainability initiatives and achievements accomplished by the Pulp and Paper industry certainly is not. We've gathered some of the top sustainability projects and achievements that have occurred throughout the industry over the last few weeks and included them below.
Smurfit Kappa Recognized as Top Sustainability Performer by Sustainalytics
Smurfit Kappa has been recognized as a top ESG performer by leading research and analytics company Sustainalytics. Following analysis of more than 4,000 European-based companies, Smurfit Kappa was named a Regional Top Rated company and is ranked in the top 5 of the Paper Packaging category globally.

The ESG Regional Top Rated badge received by Smurfit Kappa covers the EMEA region and categorizes Smurfit Kappa's ESG risk rating as 'low-risk.'
Mondi's 100% Recyclable Corrugated Packaging for Warmhaus Boilers and Radiators
Mondi has created a fully recyclable packaging solution for Warmhaus, a Turkish producer of radiators and boilers for home heating. The new Monocorr Box is made of 100% recyclable corrugated board, including the inserts that cushion the packaged products. The previous Warmhaus packaging used expanded polystyrene (EPS) foam inserts, which have low recycling rates throughout Europe and generally end up in landfill or incineration facilities after disposal.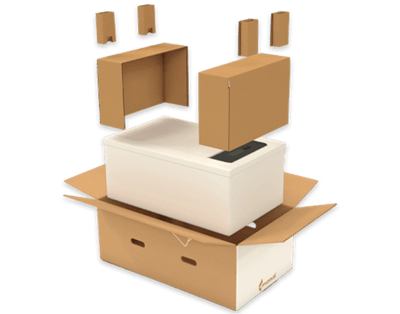 Green Bay Packaging Hits Green Goal of Achieving Net-Zero Water Validation
Green Bay Packaging says it's reached a milestone in its commitment to sustainable water use. The company says its Green Bay mill achieved Net-Zero-Water in its production of 100% recycled containerboard paper, the first-ever UL with validation of this environmental claim.
The Net Zero Water system at the Green Bay mill reduces water demand through use of reclaimed water and alternative water sources, offsetting the need for freshwater consumption. The goal in achieving "net zero water" is to transform a water-intense process into a more efficient process, returning more water to the water source than has been removed.
**Click Here to Learn More About the Importance of Achieving Net-Zero Water and How Fisher Can Help You**
GPA Global Launches Sustainable Secondary Packaging from Pulp
GPA Global has introduced Eco-Logic, a new range of sustainable, biodegradable secondary packaging. Made from molded pulp, Eco-Logic uses water-based glue and soy-based inks, as well as biodegradable finishes. The molded pulp is made from recycled paper or natural fibers blended with water and pressed into molds; these include bagasse, shredded bamboo, wheat straw, newsprint, corrugated cardboard and paper. It is also fully compostable.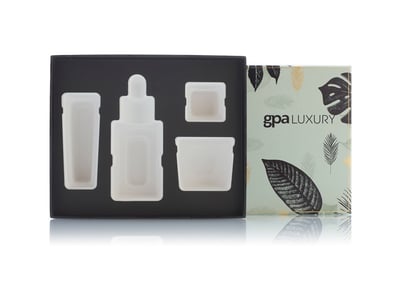 UPM Launches a New Forest Responsibility Program and Biodiversity Initiatives for Sustainable Forestry
UPM has published a new Forest Action Program, which will run until 2030. The global program steers UPM's global wood sourcing operations and covers its own forests in Finland and the United States as well as its plantations in Uruguay. The program goes beyond current standard requirements and its measures have a positive impact on the fundamental aspects of sustainable forestry: climate, biodiversity, soil, water and societal contribution.
"Climate change and the loss of biodiversity are among the greatest challenges of our time," says Jussi Pesonen, President and CEO of UPM. "For decades, we have been developing forest management based on the latest knowledge and best practices, and we have learned much along the way. Our Forest Action Program spurs us further."
Recognition for Rottneros' Sustainability Work
This year, Rottneros Bruk has been awarded gold by the analysis company EcoVadis. This means that Rottneros Bruk's sustainability work is better than 94 percent of all companies that have been audited globally.
EcoVadis has so far analyzed more than 75,000 companies worldwide and bases its evaluation on international CSR standards including the Global Reporting Initiative, the UN Global Compact and ISO 26000. This is the third year in a row that Rottneros Bruk is participating in the survey.
Scandicore Partners with Pulpac for Paper Tube Lids
Scandicore, a manufacturer of paper cores and a supplier of tubes for the consumer market, has partnered with Pulpac, a packaging manufacturer, and launched what they say is the world's first paper tube lid. According to a joint news release, the lids are made with PulPac's dry molded fiber technology. Bridge volumes will be manufactured by PulPac, and the first art print deliveries with the new lid are estimated to reach consumers this spring.
"The physical strength of the dry molded fiber products, in combination with resource efficiency, where valuable water resources and energy are saved, in addition to significant reductions of CO2, makes this a strategic investment for Scandicore," says Eva Engstrӧm, CEO at Scandicore.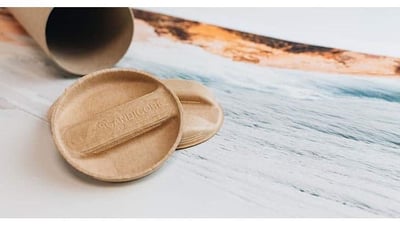 Sonoco Named to Barron's 100 Most Sustainable Companies List for Fourth Consecutive Year
Sonoco, one of the most sustainable, diversified packaging companies, has again been selected as one of Barron's 100 Most Sustainable Companies in the United States. The Company's ranking jumped significantly this year, from 91st to 56th.
"At Sonoco, we are committed to creating sustainable products, services and programs for our customers, employees and communities that support our corporate purpose of Better Packaging. Better Life," said Howard Coker, President and CEO of Sonoco.
Thailand Launches Paper Recycling Project to Make Cardboard Furniture
The Bio-Circular-Green Model mandates effective use of biological resources, re-using materials within a circular economy, and propagating a green economy to reduce impacts on the planet. A paper recycling project was launched on February 14 by the industry ministry and SCG Packaging to further drive the BCG Model.
The Ministry of Industry and 7 organizations under its jurisdiction have joined with SCG Packaging Plc. to take in 8,000 kilograms of used paper. The paper will be recycled and processed into a range of products that will be donated for public benefit. Some of the products are beds, students' desks and canteen tables made of cardboard.
Mondi & Henkel Partner to Launch Fully Recyclable Mono-Material Refill Pouch for Pril
Mondi and Henkel are helping consumers to wash dishes more sustainably by creating a completely new reuse packaging concept. The two companies worked together on a packaging solution for Henkel's hand dishwashing products that allows the refilling of plastic bottles from flexible pouches. This supports Henkel's sustainability targets of making 100% of its packaging recyclable or reusable and reducing 50% of fossil-based virgin plastic by 2025.
Since January, consumers have been able to purchase a new keep-at-home refillable pump dispenser with refills in the lightweight, mono-material pouch produced by Mondi. The flexible stand-up pouch reduces plastic by 70% every time it replaces rigid plastic bottles and is easy to recycle where existing infrastructure exists.