Brazil has been a major player in the Pulp and Paper industry for many years, but as of recent, it has taken a clear lead as the third largest pulp and paper capacity producing country in the industry – behind China and the United States. The margin between Brazil and some of the other countries, such as Japan, Germany and India, is expected to increase over the next couple of years – securing its top three leadership position for a few more years.
Brazil's pulp and paper capacity growth experienced a CAGR of 3.30 from 2014-2021 and the country currently has 303 operating sites. So, what is contributing to Brazil's growth as an industry leader?
A Quick Overview
When looking at Brazil's capacity trend over the last several years, we can clearly see a steady incline in capacity growth with a significant increase occurring in 2021 and another expected jump in growth in 2024.
Pulp & Paper Capacity in Brazil (Actual and Announced 2012-2024)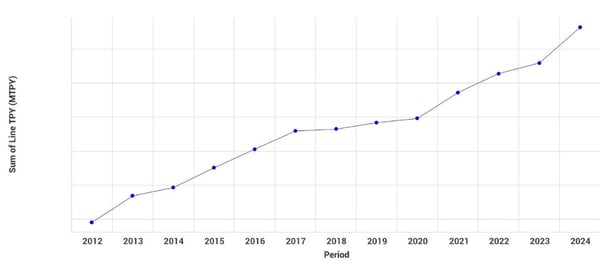 Source: FisherSolve
When we break Brazil's capacity production down by major grades, market pulp is the clear-cut leading grade produced – a trend we aren't used to seeing too much now that containerboard has taken an impressive lead as the top global major grade produced. However, at the end of 2024, there will be an expected 266% difference between market pulp capacity and containerboard capacity in Brazil.
Similar to 2022, the top two leading grades in 2023 and 2024 in this region will consist of market pulp and containerboard, with printing and writing, cartonboard, and tissue and towel vying for third. Most of the other grades are not expected to move as much over the next two years. However, it's important to note that printing and writing capacity could be reduced in the next year or so as some mills are switching its printing and writing lines to packaging paper production.
Pulp & Paper Capacity in Brazil by Major Grade (Actual and Announced 2012-2024)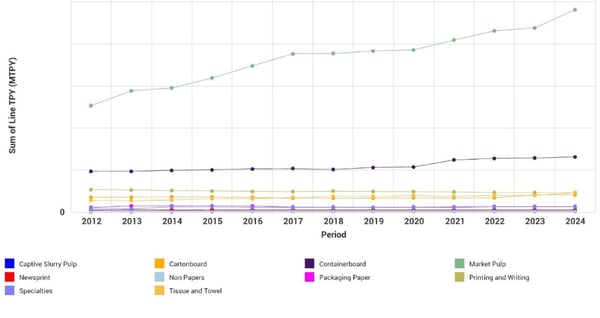 Source: FisherSolve
In fact, according to FisherSolve, Brazil was the top producer of kraft pulp in 1Q2022, producing roughly 100% more kraft pulp than the United States – the second leading kraft producer. This is not only because Brazil is able to easily acquire resources needed to produce this grade, but because of the rise of the anti-plastic sentiment and the increased demand in products that are sustainably made – something kraft pulp is able to help with.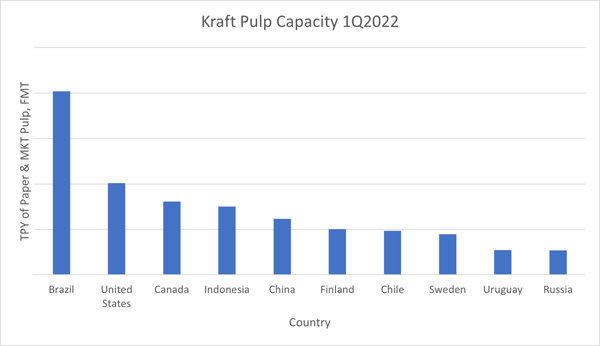 Source: FisherSolve
Factors Impacting Brazil's P&P Industry
There are a number of factors influencing Brazil's Pulp and Paper industry, but some of the most notable include:
Additionally, Bracell, one of the largest global producers of dissolving pulp and specialty pulp, recently announced that it will be acquiring four new tissue production lines from ANDRITZ for its mills located in Lençóis Paulista, São Paulo. The start-up is scheduled for 2024.
Arauco has also announced its plans to invest in Brazil. The company reached a collaboration agreement between itself and the State of Mato Grosso do Sul in Brazil. If conditions allow for it, the construction stage of this new plant could begin in 2025. The plant would have a production capacity of 2.5 million tons of hardwood pulp.
The early success of Klabin's Puma II project. After a full year of operation, Klabin's Puma II project, the biggest investment in Klabin's history, has stood out for its excellent performance and trajectory. The MP27 surpassed the mark of 330 thousand tons

of Eukaliner® and Eukaliner White® produced and sold to the domestic and foreign markets. The machine, which has the capacity to produce 450,000 tons per year, surpassed the learning curve expected for the period. Following the success of its MP27, Klabin's new MP28 is under construction and expected to start up in 2Q2023. The new machine will add 460,000 tons per year of cartonboard and containerboard capacity.
Overall, we believe that the Brazilian market will continue to grow over the next several years, positively impacting its production numbers to secure its place as the 3rd leader in the world.
For in-depth analysis backed up by real market data, please contact a Fisher professional today.