How can leaders in the pulp and paper industry (PPI) predict the next trend? The next expansion? The next recovery? Which 'crystal balls' of predictability are better than others?
The industry is complex and capital intense, with many factors impacting its various segments. As in other industries, PPI business leaders must rely on the ability to better understand and respond to the cyclical nature of the industry to make decisions that will lead to better profitability, shareholder value and longevity.
Successful businesses do not depend upon guesswork. They leverage good business intelligence based on an understanding of factors that have impacted historical performance and then use that knowledge to calculate how their segment of the industry will behave in the future.
Business Cycles De-mystified
Business cycles are driven by factors including supply, demand and industry behavior. Short cycles in the paper industry are month-to-month changes typically marked by seasonality and demand and can be impacted by factors such as growing seasons, ordering cycles, etc.
These types of cycles do not serve as predictive indicators for the industry but are important considerations for businesses dependent on cash flow. They are especially valuable when trying to optimize purchasing, based upon the order patterns of a business' customers and the seasonality of the materials the business needs to purchase.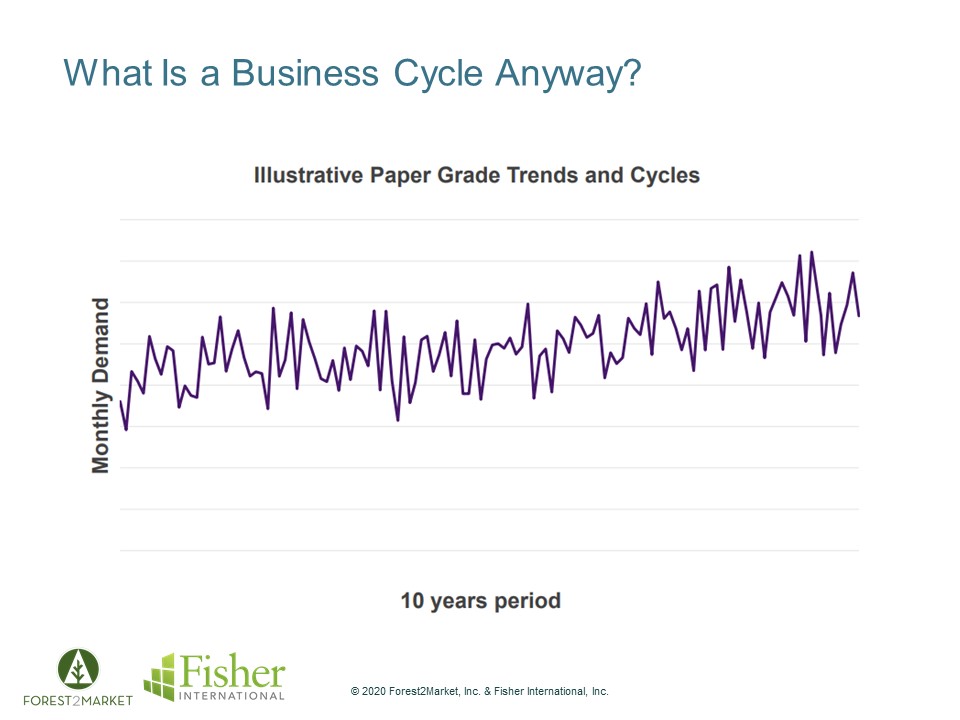 Medium cycles are viewed in three- to five-year increments driven by slower responses to industry trends such as inventory build-ups, draw-downs and capacity availability. These types of cycles can be pivotal to answering questions such as:
How should we expect the industry capacity to respond to demand cycles?
When should I plan my new capacity to come on-line?
How can I maximize profitability of my new investment?
Through a forward extrapolation of historical demand and net capacity changes, business owners can be best positioned to make the most of the demand cycle as it relates to the scale and timing of their investment.
Another factor that must be considered in terms of its impact on the profitability of any new capacity is the inter-relatedness between supply and demand, and price.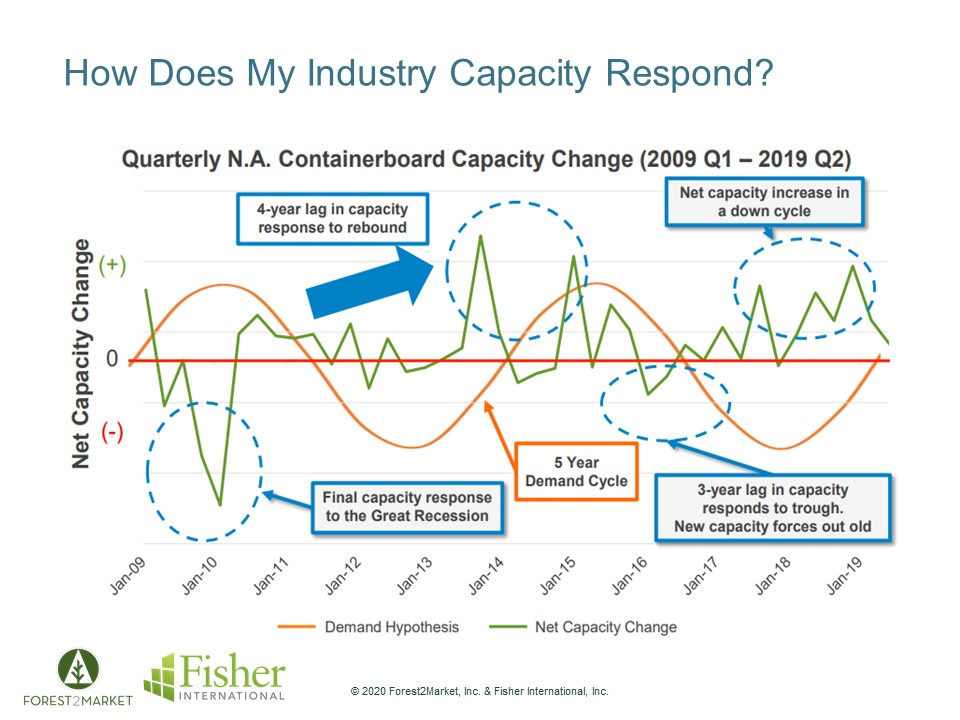 Systems mapping, market simulations and price forecasts can be used to build cycles that can be valuable tools in inspiring greater understanding of where the market will go next. But all must have their basis in the accurate data that can then build meaningful mathematical models, such as those that can be derived through FisherSolve Next™. This type of accurate forecasting:
Predicts turning points in price cycles many months out with remarkable accuracy
Explains the 'why' of price movements in ways industry professionals find useful
Allows for sensitivity analysis on marketplaces' key influences and 'what-if?' testing of companies' strategic plans
Long-term Impact on Industry Structure
Short and medium cycles are not the only factors business leaders must take into consideration when looking to maximize their strategic planning. They must also consider changes that have come from structural trends and the questions raised regarding these trends' future impact on various segments in the pulp and paper industry.
One clear example is growing anti-plastics legislation.
In 2018, the UN estimated over 150 policies have been issued worldwide regarding a levy or ban on certain types of single-use plastic, either on a national or local basis. Some businesses are responding to public sentiment even in the absence of legislation to position themselves more favorably.
This growing trend is expected to have huge ramifications in the pulp and paper industry, as companies seek innovative ways to take advantage of it – which raises critical questions:
Which types of substrates will be the ones to benefit?
What impact will that have on both producers and suppliers?
Which companies are leading the trend?
When is the best time to capitalize on these changes to realize maximum profitability?
By understanding the year-on-year trends of annual plastic waste being generated across various segments, PPI business owners can determine the potential for substitution and whether those volumes are large enough to justify a change in their production focus.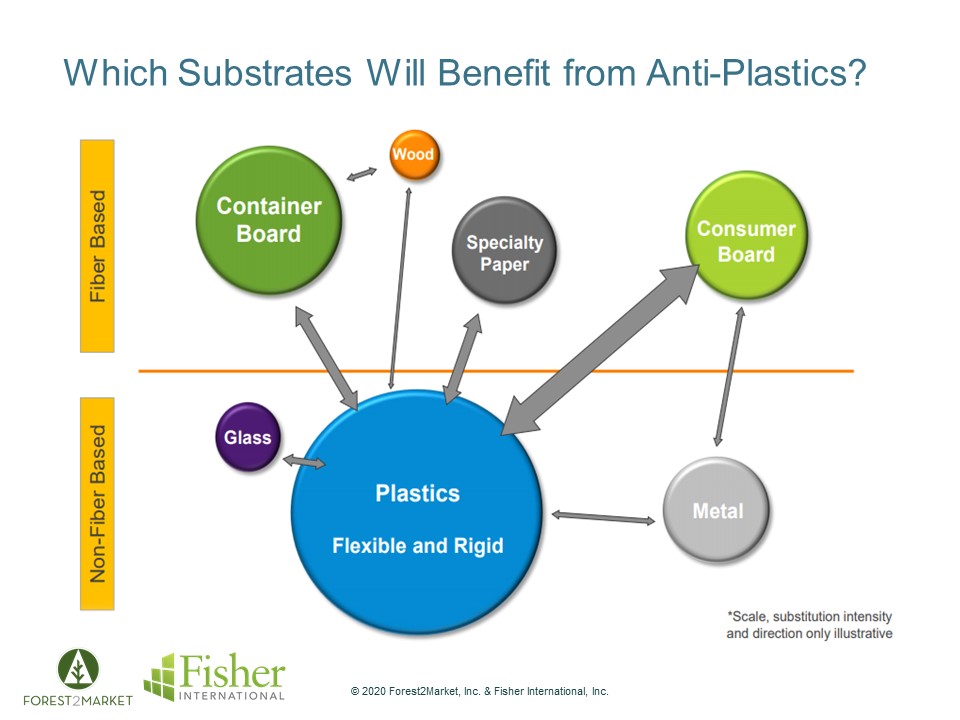 Another example of trending legislation is a restriction on cement sack weight, particularly in Latin American countries.
Considering most cement in developing countries is delivered via sacks as opposed to trucks, lowering of sack weight will require an increase in sack paper to meet the same cement quantity demands. Equally important is the need to understand the impact to other grades of paper currently being produced on extensible sack paper machines.
A third structure trend is the change in Chinese imports of recovered paper given recent government restrictions. How low will these numbers go? Who will be most affected by the continued ban? And what are the long-term ramifications to paper producers in China?
Because these types of drivers can influence structural change at differing rates (since they are dependent upon external variables), there is no cookie-cutter recipe that dictates a 'normal' cycle. And it is precisely why business owners must understand their impact.
The Value of Sound Business Intelligence
Both business cycles and structural change drivers can be predicted and turned to a business's advantage. Knowing the right questions to ask and applying the sound business intelligence and insight that can be found through a partner like Fisher International can help business owners best align their forward-thinking strategies to maximize success.