Pulp and paper professionals have been underserved by CRM (customer relationship management) suppliers. The loss in efficiency – to say nothing of the loss in sales and profitability – makes industrial CRMs a vitally important topic.
New industrial systems, including FisherSolve™ Next's iCRM Suite built specifically for the pulp and paper sector, are proving that high-quality marketplace data and tailored tools have dramatic effects on both efficiency and profitability.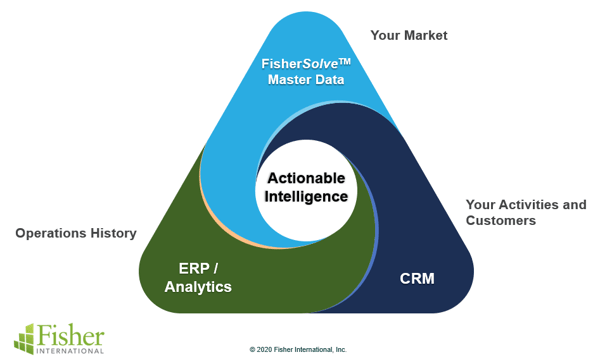 What must paper industry CRMs have and what should they accomplish?
Customer information needed by salespeople in the paper industry has far more importance and consequence than in most other businesses. Sales are typically large and often few in number, so every sales campaign has a lot at stake.
To add value in this environment, CRM tools need to be "purpose-built." They need industry-specific information and structure adapted to the industry's unique sales and marketing process. Unfortunately, when CRM systems are not in tune with the sales force's needs, CRM implementation and projects suffer significantly higher failure rates.
FisherSolve™ Next's iCRM Suite, built by Fisher International and placed directly into FisherSolve™, can be personalized and adapted to meet the needs of clients. Once connected to Fisher iCRM, salespeople are freed from master data management, allowing them to focus on their business.
The problem with conventional CRM tools is two-fold
Traditional CRM products are generally limited by a one-size-fits-all approach intended to meet the needs of every industry. Moreover, such CRM tools have neither industry-specific information nor the structure to support deeper information needs.
For example, salespeople selling to large manufacturing plants in process industries need a detailed understanding of their customers' plant layout. The typical CRM program isn't built to contain – and analyze – information on the size, type, and sequence of equipment used in production lines, nor on the raw materials used to make each product and the manufacturing costs of each line making each product.
Conventional CRMs are also limited when it comes to another critical component for success: quality of data - in terms of both accuracy and scope.
Since industrial B2B sales often have large dollar values at stake, useful CRM tools must provide a significant level of detail on each prospect and the data must be accurate. The vast amounts of required detail about complex machinery and production at each distinct site make it impractical to expect salespeople to gather, enter, and maintain all the relevant customer data.
So, useful B2B CRM systems must have high-quality data already installed and continually maintained for customers and prospects alike. This makes the CRM provider as much an industry research and analysis firm as a software provider.
"New-generation" industrial CRM solutions, such as Fisher's iCRM, are tailored to specific industries. From the IT administrator's viewpoint, they use standard technology, communicate with corporate-wide ERP systems and internal data, and are easy to implement and support.
From the salesperson's viewpoint, new-generation tools contain data and features designed specifically to serve their particular needs. Obviously, the quality of customer and industry data needs to be vastly superior to what any company can produce for itself.
Features and functionality need to be designed to make full use of the rich data, and the system must capitalize on the user's own data to enable the user to measure performance in market terms. This means the capacity to integrate seamlessly with user data.
Fisher iCRM Integration Offering
What

Data from

Fisher

Solve

™

into your CRM or ERP systems
Data from your systems into

Fisher

Solve

™

Why

Improved profitability from deeper understanding of customers, markets, and competitors
Analyze and improve organizational effectiveness
Effectively quantify and communicate value to your customers
Prioritize segments and allocate resources accordingly ​

How

Site Level Attributes Integration
Systems Integration, Single or Bi-Directional
The New Approach for Pulp & Paper Industry CRMs
When data and functionality are designed for each other in a CRM, the power of the tool can grow exponentially.
FisherSolve™ contains a database that describes every pulp and paper mill in the world in exacting detail covering people, products made, production rates, production lines, equipment type and quality, raw materials, process controls, environmental streams, news events, investment and historical trends, manufacturing costs, long-term competitive measures, carbon footprint, and much more. Data quality is so high that users can support high-value sales campaigns with information that is up to the task.
In addition to the pre-populated marketplace data, the iCRM tool integrates with the user-companies' ERPs and easily imports company data such as sales histories. Software is designed with simplicity where busy salespeople require it and with depth of data where it is needed most.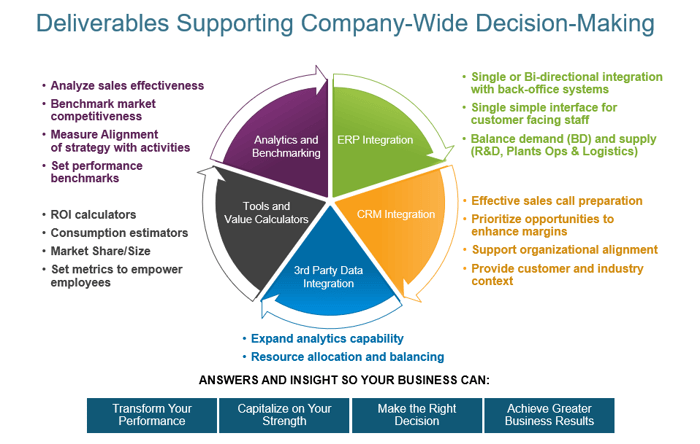 iCRM analytics provided include sales activities manager tools, ROI calculators (for use as a sales tool), and reporting capabilities for analyzing market sizes and shares, trends, and other performance patterns.
Click below to learn more about how FisherSolve™ Next's iCRM Suite can help your business.