The push for a more sustainable planet continues to drive innovations in nearly every business sector across the globe, and the forest industry is helping lead the way. We wanted to share a few of the most exciting developments in this monthly roundup of forest industry sustainability projects that are making headlines as we begin a new year.
Mondi, a leading global packaging and paper company, recently announced its 10 year sustainability action plan, MAP2030, designed to tackle global issues across the value chain. The commitments focus on three key action areas: circular-driven packaging and paper solutions; created by empowered people, taking action climate. All areas are aligned to the UN Sustainable Development goals as part of Mondi's focus on being sustainable by design.
Each action area of Mondi's Action Plan 2030 (MAP2030) has three commitments underpinned by targets and KPIs.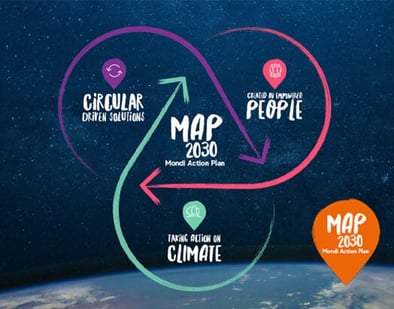 UPM has been ranked 22nd in a list of the 100 most sustainable corporations by the Canadian-based media and research company Corporate Knights. "The Global 100 Index uses determined quantitative sustainability indicators in its evaluation. The approach fits well in UPM's approach which highlights the importance of ambitious long-term targets and transparency of performance and data," says Sami Lundgren, Vice President, Responsibility at UPM.
UPM is among the 28 Global 100 companies that have signed the UN Business Ambition for 1.5°C. The company is committed to reducing its CO2 emissions, practicing climate-positive forestry and innovating sustainable alternatives to fossil-based products.
Pernod Ricard's flagship vodka brand, Absolut, recently rolled out its prototype "paper" bottle on January 25 in both the UK and Sweden. Made of a mix of paper and recycled plastic, the prototype completely eliminates glass from the design process and marks the brand's first step to achieving a "fully bio-based bottle able to contain spirits," Pernod said.
The prototype is driving the lead in the switch towards sustainable packaging, underscoring mounting pressure on companies to make environmentally impactful changes.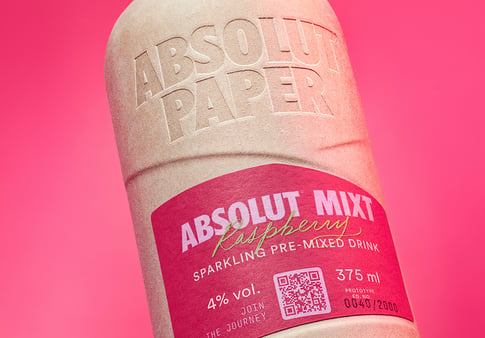 Three years after leading the packaging industry in embracing the challenge of having all of its packaging be reusable or recyclable by 2025, Amcor is laying out its roadmap to continue to meet and accelerate its sustainability aspirations.
Amcor is applying a three-pronged approach to creating a responsible, more sustainable packaging system. The company is innovating products to be recycled or reused, collaborating with others to make recycling widely available and informing consumers about how to participate in keeping waste out of the environment.
#Greensource was created in 2020 as a European-wide effort to explain how the forest-fiber industries can make the 2050 climate neutrality target a reality. Cepi, the Confederation of European Paper Industries, and EPIS, the European Pulp Industry Sector Association, kickstarted the initiative. As a natural evolution of the campaign, Pro Carton – the European Association of Carton and Cartonboard manufacturers – has joined the campaign as one of its co-leaders, bringing the perspective of the fibre-based packaging industry, a key part of the value chain.
With circularity at the heart of its purpose, #Greensource works around three key pillars to showcase the industry's climate ambitions: renewable materials, a responsible industry, and climate friendly products.
Tetra Pak has introduced a new collaborative innovation model with leading paperboard producers, a move aimed at tackling the food packaging industry's sustainability challenges. The traditional operating model of a linear supply chain has changed, and a new partnership ecosystem model is emerging, where the entire industry works in close collaboration. This brings together not only producers and suppliers, but also research institutions, universities and start-ups in an attempt to find solutions.
According to the latest research the global food supply chain system is responsible for 26% of global greenhouse gas emissions; a third of all food is lost or wasted somewhere in the supply chain; fossil fuel-based materials need to be phased out; and significant improvements are needed to the way packaging is dealt with after use.
EcoTensil is launching a range of plastic-free, extra sturdy, folding paperboard cutlery in advance of European legislation banning single-use plastic items such as cutlery, plates and straws by July 2021.
The California-based brand's AquaDot EcoSpoon is plastic-free, recyclable, compostable and compliant with the EU ban on single-use plastic cutlery. The material is sourced from certified sustainable forests.
EcoTensil's patented and award-winning paperboard utensils are well established in North America. Since 2010, the company has reportedly sold hundreds of millions of units globally, including to some of Europe's largest food manufacturers and retailers.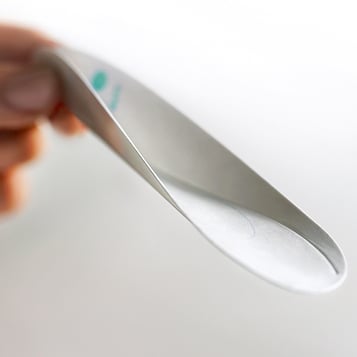 H&M is the latest retailer to replace its plastic packaging with paper, joining an increasing number of brands that are adapting their packaging materials to reduce the amount of waste plastic that ends up being thrown away rather than recycled.
The international fashion brand has introduced paper packaging to its e-commerce channels that serve millions of customers. Starting with the UK, the Netherlands, Sweden, China, Russia and Australia, the paper packaging will be rolled out to more countries in the coming year, helping the brand reach its 'circular strategy for packaging.' This strategy includes reducing packaging by 25% and designing reusable, recyclable or compostable packaging by 2025.
VPK Group, one of the founding members of the pan-European alliance Blue Box Partners, has launched ECOGRIP, a corrugated alternative to shrink wrap for the multi-packing of a wide range of bottles that builds on the growing consumer demand for sustainable packaging.
ECOGRIP is designed to replace single-use shrink-wrap for plastic bottles between 330ml and 1.5 litres, providing a recyclable and biodegradable corrugate solution for multi-packs. Adaptable to the many different bottle styles on the market regardless of diameter, it provides brands, retailers and consumers with a sustainable multi-packing solution for four, six or eight bottles. The ergonomic design makes it easy to transport, handle and store, and the corrugated board can be customized through a variety of print technologies for maximum brand and on-shelf impact.
Astarte Capital Partners LLP, a real assets-focused investment firm, and SilviPar AB, a leading forestry development and management company headquartered in Stockholm, announced the launch of the SA Impact Forestry Fund, a new investment platform dedicated to sustainable forestry, with an immediate focus on Paraguay.
SAIFF combines Astarte's proven experience in building and growing businesses across the spectrum of private markets with SilviPar's strong organizational and technical expertise to develop and manage some of the world's most efficient and sustainable forest assets globally. Astarte is providing seed capital to the fund and will act as the investment advisor, responsible for fund operations and marketing. Meanwhile SilviPar is providing SAIFF's seed assets and will manage the portfolio, with responsibility for the forestry strategy and day-to-day operations.