The forest products industry continued it's push for a more sustainable planet over the last several weeks.
Major producers have partnered with nature conservancies and iconic sporting venues to advocate for cleaner water, renewable products, and a reduced carbon footprint, while others have crafted and exceeded impressive sustainability standards.
Below is a collection of headlines from recent weeks that highlight the efforts of the forest products industry to promote sustainability:
DS Smith Continues Focus on Renewable Products, Packaging Innovation
London-based DS Smith has had an impressive run of sustainable practices and innovations in 2020. For it's recent efforts, the company was awarded its fourth Gold Award from sustainability rating agency EcoVadis in early August.
This latest honor came just days after DS Smith announced it hit three of its 2020 sustainability milestones:
Achieve an 11% reduction in emissions in 2019 compared to 2015
Ensure all sites accounting for 90% of its energy consumption are ISO 50001 certified
Source 100% of its fibers responsibly, using only recycled or chain of custody certified papers
"Sustainability is one of the defining issues for this generation and for the next one, and it's so important that DS Smith is able to demonstrate our commitment to sustainability right across the business," DS Smith's Head of Sustainability Wouter van Tol said in a release. "We also know that sustainability is a key driver of growth for DS Smith. We're working to deliver value for our customers, helping them be more sustainable by delivering sustainable packaging solutions, and accelerating the transition to a circular economy."
To keep the momentum, DS Smith is teaming up with Aquapak, an innovative developer of biodegradable polymer, to develop the next generation of packaging solutions. They have targeted the development of sustainable fiber-based packaging solutions that will replace hard to recycle packaging made from combined materials such as cardboard and plastic.
From Maine to Washington, polystyrene and single-use plastic foam containers are increasingly banned by states. Greencoat® from DS Smith offers a cooler alternative for keeping drinks and food cold this outdoor season - and beyond! https://t.co/JjdT2Bn2dG @Surfrider pic.twitter.com/rUNmTyK0t2

— DS Smith (@dssmithgroup) August 7, 2020
DS Smith also launched a recyclable cooler, using Greencoat corrugated material that is moisture-resistant and food-contact safe, earlier this month. An alternative to plastic foam coolers, Greencoat is biodegradeable, made of sustainable and renewable paper fiber that reduces waste to landfills and carbon emissions. These coolers even offer customizable printing for bespoke branding.
Lenzing Group Awarded Gold Status In EcoVadis' CSR Rating
Lenzing Group, a global leader of sustainably produced specialty fibers, has been awarded the gold status in EcoVadis' corporate social responsibility rating for the third year in a row, the company announced last month.
The assessment covers environment, fair working conditions and human rights, ethics, and sustainable procurement.
"This award makes us very proud and encourages us to continue on our path to becoming a provider of environmentally friendly specialty fibers," said Stefan Doboczky, CEO of the Lenzing Group. "At Lenzing, we look beyond fibers and take responsibility for our children and grandchildren by standing up resolutely against the shortcomings of our time. This attitude is part of our strategic principles and we will continue to work hard to make a sustainable contribution to the environment and society."
Westrock, Coca-Cola Partner on CanCollar
®
Rollout In Europe
Coca-Cola European Partners (CCEP) announced the introduction of CanCollar®, an innovative paperboard packaging solution, for multipack cans in Spain starting in November 2020.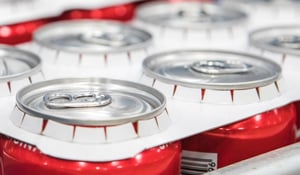 CCEP said in a release it invested 2.6 million euros in its Barcelona plant and installed WestRock's CanCollar® Fortuna™ manufacturing equipment that enables multipack cans to be grouped in a sustainable and environmentally friendly way without glue or adhesives.
The use of CanCollar® is part of CCEP's work to remove all unnecessary or hard to recycle plastic from its portfolio and avoid the use of more than 11,000 tonnes of virgin plastic a year across Western Europe.
"The agreement with WestRock exemplifies our clear commitment to reduce plastic in our secondary packaging," said Joe Franses, VP of Sustainability, Coca-Cola European Partners. "By the end of 2020, we will have removed more than 4,000 tonnes of hard to recycle plastic from our secondary packaging in Western Europe. It's through collaborating on innovative packaging solutions like CanCollar® that we are able to do this."
Ranpak Holdings Launches PadPak Guardian In North America
Ranpak Holdings launched PadPak® Guardian™ in North America earlier this month. This is a paper-based, flexible, and ergonomic cushioning that protects light to heavy goods during shipment.
Today is the day that we can official say PadPak Guardian is here for the US markets. The sustainable, compact, fast, and simple answer to your protective packaging needs.

Check out the Guardian page to learn more!https://t.co/NI9jGMrdcb$PACK #padpakguardian #thedayishere pic.twitter.com/qDq2OLclJb

— Ranpak (@Ranpak_Global) August 10, 2020
The machine is able to convert both single and double-ply paper bundles, offering versatility from one machine and providing a sustainable alternative to plastic and foam cushioning. It is 100% curbside recyclable, compostable and biodegradable, using paper that is certified by the Forest Stewardship Council and Sustainable Forestry Initiative, noted the company in a statement.
"PadPak® Guardian™ is Ranpak's latest innovation we are bringing to market to drive our mission of delivering sustainable packaging solutions that improve supply chain performance and costs, reduce environmental impact, and support our customers' growing business needs," said Omar Asali, Chief Executive Officer of Ranpak. "We're excited to introduce this technology to our North American customers to further increase their speed and performance, while enabling the shift towards environmentally friendly packaging in support of our commitment to deliver a better world."
Weyerhaeuser Focuses On Three Areas As Part Of Sustainability Strategy
Weyerhaeuser announced a new sustainability strategy in late July that focuses on three areas: combating climate change; helping provide sustainable homes for everyone; and helping rural communities thrive.
The company says it is committed to making tangible progress in all three areas by 2030 as part of its new "3 by 30" initiative. It will support the development of forest carbon markets and accounting, promote the use of mass timber and other innovative wood-building materials, and improve the Giving fund strategy, the company noted in a release.
"We know we can't solve these challenges alone, but we also know our vast forests and the essential products we make put us in a tremendous position to make a real difference," Stockfish said. "If we're able to move the dial in these areas over the next decade, we'll provide enormous value not just to Weyerhaeuser, but to people, communities and ecosystems around the planet."
International Paper Joins Savannah River Clean Water Fund
International Paper has joined the Savannah River Clean Water Fund, a coordinated effort to protect and responsibly manage forests in the river watershed.
The fund is managed by The Nature Conservancy (TNC). It is made up of representatives from five public water utilities in Georgia and South Carolina, state environmental and forestry agencies, and local land trusts. International Paper is the first company from the private sector to join the effort, and as part of Vision 2030, IP is considering applying the Savannah river model to other watersheds where it operates.
"This project is important for us, as this watershed's vast wetlands and forests contain the natural resources all of us depend on to filter clean water for all the water users in this community," said International Paper Chief Sustainability Officer Sophie Beckham said in a release. "As one of the largest users of fiber, we are committed to leading forest stewardship efforts globally. Our entire business depends upon the sustainability of forests and the ecosystems that they support."
PulPac Unveils Pilot Line of Dry Molded Fiber to Replace Single-use Plastics
In Sweden, PulPac AB has started its very first pilot line that can convert cellulose fibers into packaging that is competitive enough to replace single-use plastics at scale. The new fully automated pilot line can use all types of cellulose fibers, virgin, residue or recycled. The company's method reportedly enables high-speed manufacturing of fiber products in almost any share or use which saves energy and reduces CO2 emissions. It also presents many design and tech advantages that traditional fiber molding methods cannot reportedly meet.
"Our clients will be able to deliver what a whole world demands, a sustainable replacement to single-use plastics – and they can do so with maintained or even increased margins in several categories. The pilot line lets us showcase the advantages of the technology and fast track industrialization for clients", said Linus Larsson, CEO of PulPac.
Watch the line in action below:
Enviva Forest Conservation Fund Helps Virginia Department of Forestry Protect Sensitive Bottomland Hardwood Ecosystem and Rare Species along the Meherrin River
The Virginia Department of Forestry (VDOF) has secured a conservation easement on 618 acres located along the beautiful Meherrin River in Southampton County, Virginia. The property, which includes 269 acres of bottomland hardwood swamp, 259 acres of mixed pine and hardwood working forests, and 90 acres of open land, will be permanently protected by this transaction thanks in part to a grant from the Enviva Forest Conservation Fund (Fund). The easement will significantly limit development on the property, which is rich in biodiversity, and will promote sound upland forest management via the implementation of a formal forest management plan.
Stora Enso and Helsinki Olympic Stadium Partner to Promote Circular Economy Solutions
Stora Enso and Helsinki Olympic Stadium have signed a partnership agreement to develop low-carbon, eco-friendly operations at the stadium by promoting the use of renewable materials and circular economy solutions. Stora Enso explores reusing products as well as recycling used materials to give high-quality wood fibers a second life in new products that will be available at the stadium for different services and operations.
We partnered with Helsinki Olympic Stadium to promote the use of #renewable materials in food service packaging to enable low-carbon, eco-friendly events, meetings, visits and sport at the stadium. #storaenso @stadionhelsinki https://t.co/trtjl1uZ3C pic.twitter.com/feTZQOTvAV

— Stora Enso (@storaenso) July 22, 2020
Collins & RenewWest Announce Largest Carbon-Focused Reforestation Project in U.S. History
Collins, in partnership with RenewWest, announced a transformational new joint endeavor, the Collins-Modoc Reforestation Project. Over two million trees will be planted on approximately 10,000 acres of the Modoc Plateau in northern California, making it the largest single-site carbon-focused reforestation project in U.S. history. The site was first damaged by the 2012 Barry Point Fire, which burned 92,977 acres across federal, state, and private lands and has failed to recover.