Since December, the increase in pulp prices has directly ignited enthusiasm in the long dormant tissue market, driving tissue enterprises to send one price increase letter a week - or even eight price letters in succession for some companies. The price of tissue paper in Mancheng, Baoding, the largest production base of tissue paper in China, has risen rapidly from about 5,100 yuan per ton of paper to about 6,500 yuan currently. With the Spring Festival in full swing and the outbreak of COVID-19 in Hebei, the rise in tissue paper prices doesn't seem to be slowing down anytime soon.
With the improvement of the tissue market, the high inventory at many enterprises has not only been quickly used, but some projects that were originally planned to start up in 2021 have already been rapidly put into operation. According to incomplete statistics from Pulpaperinfo, since January 1, nine imported and domestic tissue machines at eight different tissue enterprises have been put into operation with a total capacity of about 250,000 tons.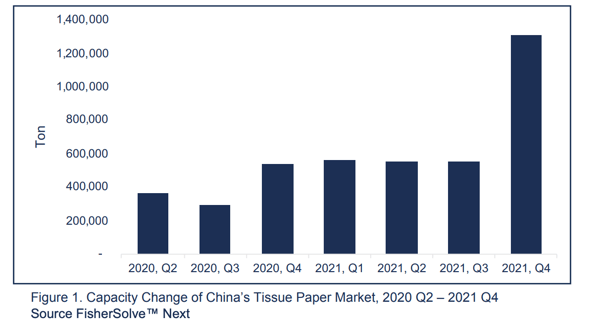 The price of raw materials such as pulp has risen by 30%, while the profit for paper producers hasn't been nearly as high. The outbreak of the pandemic in Hebei Province has caused some difficulties in the transportation of tissue paper in Baoding, and most tissue paper orders in surrounding provinces have been arranged for after the Spring Festival. In the near-term, the price increase of tissue paper will slow, but there is still no sign of any kind of long-term decline on the horizon. Before and after the Spring Festival, a number of tissue paper machines will be put into production to meet demand.
When looking at this dynamic from a demand point of view, tissue paper manufacturing has the most long-term development potential for China's paper industry. According to Fisher data, the current consumption of tissue paper in China is about 9.7 million tons, and the per capita demand is less than 7 kg, which is far behind other developed countries. For example, China uses Japan (whose per capita demand for tissue paper is about 16kg) as a benchmark (Japan is in the same East Asian cultural circle with similar living habits, frugal living trends, etc.), and when they reach the current per capita annual GDP level of Japan (about US $40,000/person), China may need an additional production capacity of about 10 million tons of tissue to meet the domestic demand based on current production capacity.
However, when looking at this in terms of time, China's per capita GDP in 2019 is about US $10,000, and if calculated according to the average annual growth rate of 5%, it will take China about 30 years to reach the current per capita GDP level of Japan.
The development of tissue paper will continue to be a long-term process as new economic levels continue to develop. Changes in consumer behavior will also stimulate the rapid growth of tissue demand. For example, the increase in business travel and tourism, the increase in takeout meals, the lack of thriftiness in the modern generation, and the enhancement of health habits in the post-pandemic era will all contribute to the rapid development of tissue. Fisher predicts that in the next five years, the average annual growth rate of China's tissue market will reach about 5.5%, and the tissue market will reach about 13 million tons by 2025.
Based on Fisher data, new production capacity is expected to be about 550,000 tons in the first, second and third quarters of 2021, and about 1.3 million tons in the fourth quarter, as seen in Figure 1. In 2021, the additional production capacity of tissue paper will reach about 3 million tons and if all the production capacity is realized, the growth of tissue capacity in 2021 will be greater than new demand. This dynamic could result in a short-term oversupply in the tissue paper sector, which could temporarily impact profitability for producers in the tissue sector.