The Pulp and Paper industry continues to excel in its push for a more sustainable planet by launching innovations and ambitious goals for the new year. We wanted to share a few of the most exciting developments that are making headlines as we begin 2022.
Tetra Pak Awards BillerudKorsnäs for Being Ahead in the Fight Against Climate Change
BillerudKorsnäs has been awarded the Climate Prize as part of the supplier engagement initiative: "Join Us in Potecting the Planet," driven by Tetra Pak. The company, which is one of BillerudKorsnäs' most important customers, launched this initiative last year to create a movement aimed to accelerate sustainability actions across its value chain.
Thanks to a long-standing ambition to phase out all fossil fuels in production processes, BillerudKorsnäs has a production that is more than 97% fossil free. In 2025, they plan to have their first mill that conducts a fossil-free production process. In 2030, all integrated mills should reach the same fossil-free status.
Proverb Skin Moves to Eco-Friendly Packaging with Compostable Paper Pouches
The British natural skincare brand has taken the first step in re-launching its entire range to make its packaging fully refillable and sustainable by 2023.
According to the brand, the process of filling a liquid serum into paper pouches was a mammoth ordeal that required a two year-long testing process. The pouches are composed of layers of paper and biofilm from wood pulp cellulose ensuring they are 100% plastic-free. They are designed to home compost at ambient temperatures back into the water, CO2 and biomass without having any ecotoxicity for the soil.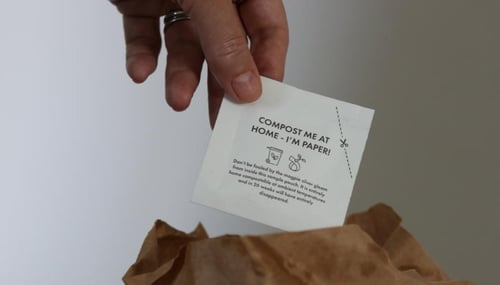 Cepi Pledges to Support a Transition Towards Sustainable Products
The European paper industry fully supports the EU ambition of making Europe the world's first climate-neutral continent by 2050 and building a European circular economy. The carbon neutrality objective requires the European pulp and paper industry to become even more sustainable, efficient and innovative.
Cepi, as the organization representing the industry at EU level, will leverage its existing networks within users of paper and forest fiber products, including many major companies with a global footprint. This will ensure that the pledge gains enough traction and has a real impact on climate neutrality, resource efficiency and circularity.
Melodea Developed a Plant-Based, Recyclable Barrier Coating for Packaged Products
Melodea Ltd. (Rehovot, Israel) developed MelOx, a plant-sourced barrier coating that protects packaged products from oxygen and oil and grease transmission; and Melodea VBcoat, which protects packaged goods from water vapor and oil and grease transmission.
The recyclable barrier coating material is sourced from wood pulp, the same raw material used to make paper, by extracting cellulose nanocrystals. This green solution helps paper and packaging producers meet their sustainability goals quicker while eliminating plastic waste.
The coatings are compostable and non-toxic for people and the environment. Once done with the package, it can be thrown away in a recycling bin.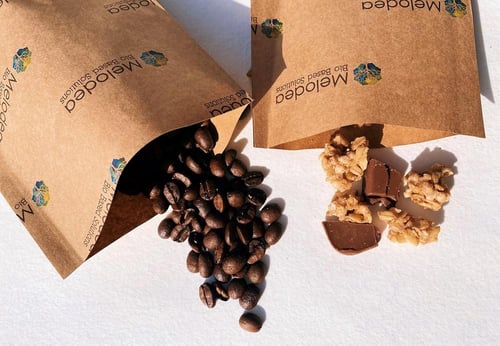 Glatfelter Announces Partnership with ALPLA to Develop Sustainable Packaging Solutions
Glatfelter Corporation, a leading global supplier of engineered materials, in cooperation with joint venture partner ALPLA Group, a global packaging solutions and recycling specialist, announced their partnership with Blue Ocean Closures (BOC), a startup based in the region of Värmland in Sweden, to develop innovative natural fiber-based closures and other molded packaging products using dryforming technology.
As part of this sustainability partnership, Glatfelter and ALPLA are joining together to develop high-quality cellulose-based products, like screw caps, that are fully biobased and potentially ocean biodegradable. This unique collaboration will support BOC in its product development and shorten time to market even further.
Iceland Freezes Use of Unnecessary Plastic with Launch of Paper Packaging from Mondi
Mondi, a global leader in packaging and paper, has teamed up with the UK's number 1 frozen food retailer to provide renewable, recyclable packaging in a move that further validates Mondi's approach of using "paper where possible, plastic when useful."
Iceland is replacing its previous packaging with Mondi's versatile functional barrier paper across a number of its ranges. The first newly packaged product to hit the shelves earlier this month was the retailer's frozen chicken dippers, which reduces the amount of plastic used per year by 80%.
EIT Food Combines Industry and Research for Environmentally Friendly Packaging Solutions
As part of an EIT-funded project, Syntegon has developed paper-based trays and cups for sensitive food products. Together with partners from industry and research, Syntegon is implementing the EIT project "PACK4SENSE" (paper packaging for sensitive foods) to develop a sustainable packaging concept. EIT Food, a large and dynamic innovation community, is supported by the European Institute of Innovation and Technology (EIT), a body of the European Union.
A recyclable barrier layer made of 95% mono-materials provides optimal product protection. The paper and the barrier layer, as well as the cover film can be easily separated, ensuring full utilization of its recyclability.
Asahi to Become First Japanese User of WestRock CanCollar® Eco Packaging
Asahi Breweries, Ltd., one of the largest Japanese beer companies headquartered in Tokyo, announced that it will be the first user of CanCollar® Eco Plus technology in the Japanese market as it rolls out a market test with its Asahi Super Dry brands in October 2021.

Made from WestRock's CarrierKote® paperboard, CanCollar® Eco Plus packaging is recyclable and comes from sustainably managed forests. The innovative can clip design uses no glue and significantly less material than a fully enclosed box.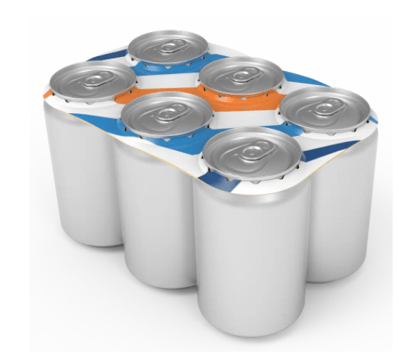 Ritter Sport Unveils New Paper-Pouched Products and Joins with Dufry in Zürich to Showcase Sustainability and Exclusivity
Ritter Sport is launching two lines – Choco Cubes Strawberry Yoghurt and Choco Cubes Whole Hazelnut – in new paper-based pouch formats next March, a continuation of the German chocolate brand's strong commitment to travel retail-exclusive expressions.
"We are fully aligned on the way to grow further the category and engage with our customers. Ritter Sport very quickly understood how important sustainability will become for our industry and while refreshing their unique colorful packaging, they opted for a more sustainable solution."
Stripping out More Than 170 Million Pieces of Plastic for Industry, Supermarkets, and Online Retailers
DS Smith has made strong progress against its plastic replacement targets as part of its Half Year Financial update to the market. The company reported 170 million pieces of problem plastic had been replaced by its paper-based solutions for supermarkets and online retailers around the world since the launch of its Now and Next Sustainability strategy last year.
The company has removed on average more than 2 million pieces of single use plastic a week from its customers packaging and store display products – equivalent to 12,000 pieces an hour – boosting their customers' packaging recyclability and reducing the impact on the environment.