Overall, capacity and demand in the Indian pulp and paper industry is growing on an average of roughly 8% ̶ matching the country's GDP. This growth is higher than that of China's and many other Asian countries, apart from Vietnam.
A Breakdown of India's Pulp and Paper Major Grades
As we can see in the image below, India falls in line with many other countries in the sense that containerboard is their number one produced major grade by a wide margin.
Capacity by Major Grade in India (Actual and Announced)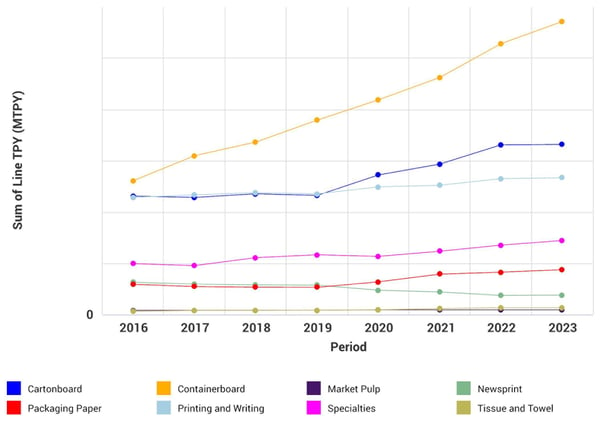 Source: FisherSolve
When looking at capacity addition and highest growth, containerboard takes the lead again with a CAGR of 9.36% between the years 2010-2021. And we're expecting to see even more capacity produced in 2023 and beyond.
In fact, JK Paper just invested in a corrugated board and boxes manufacturing unit at Dhanansu in Ludhiana district of Punjab. The new plant is expected to be completed by the last quarter of FY2022-23 and will have a capacity of 57,000 TPA. Cartonboard follows close behind with a CAGR of 6.44% during the same period.
Decline Expected in Printing and Writing
The printing and writing segment has a relatively good margin right now. However, due to the continuing advancement of digitalization in commercial spaces, we are expecting a decline over the next few years due to its limited chances to grow.
In the meantime, production in this segment will shift more and more towards virgin-based printing and writing paper and copier grades due to its low volatility and higher margins. It is also likely that we will see producers try to increase production on existing machines.
For example, Satia Industries just secured three major contracts to supply over 17,000 tons of paper to print textbooks. The company will supply paper in the fourth quarter of FY2023. This just further proves existing producers will rule the market and will increase its production to increase profitability. New projects are not expected in this segment in the future.
Growth Expected in Tissue and Towel and Coated Board Grades
Based on the current trend analysis of paper production and the current demand scenario, we expect tissue and towel and coated board grades, especially FBB, to have a higher CAGR over the upcoming years. The global tissue paper market for the period 2022-2026 is expected to experience growth acceleration at a CAGR of 5.79%. 43% of this growth will be attributed to production in the Asia-Pacific region.
Regarding tissue machine investments, we are anticipating in the Indian market that investments will be mostly in swing machines. These can produce virgin tissue, recycled tissue, MG poster, MG wrapping, kraft paper, etc.
The kraft paper market is currently saturated with oversupply and faced with low demand. The expected increase in demand was miscalculated as e-commerce's intense rise during and immediately after Covid-19 has subsided a bit, resulting in a slow-down. Another major factor has been the crash of China's demand due to the latest wave of Covid-19 cases. This is not to say that growth will not be coming, it will just occur at a slower pace than expected.
Since many sites had to temporarily halt production, less capacity was produced. This means the upcoming growth in demand will compensate for the slow-down as they will all have to increase their production and work to survive the cutthroat competition.
Export Opportunities
On top of analyzing growth and capacity addition, it's also important to consider export potential of these various grades. FBB and tissue are two major grades with great potential. With FBB, the entry barrier is high, and demand continues to rise in this segment. We will likely see bigger players come into play since potential for exports to neighboring Asian and Gulf countries is high, as there are not many investments being made on machines needed to produce FBB.
With tissue, demand is rising globally, including in Gulf countries. The global CAGR of tissue demand is almost double that of the entire Indian market. If India invests well, they can take advantage of the global growth and make use of the considerable potential to export.
How FisherSolve Identifies Opportunity for Business
Our FisherSolve platform can help industry participants strategically identify areas of investment that can be aligned to take advantage of this opportunity. With highly detailed and complete information on every pulp and paper mill in the world, clients can benefit from and leverage the information obtained from the world's most powerful proprietary database that provides deeper insight and allows them to make cost effective decisions. For more information, contact us today.