As we kick off 2Q, a number of companies have announced or launched new sustainability-driven initiatives and products, ranging from new packaging solutions to carbon-neutral goals. We've gathered some of the top sustainability projects that have occurred throughout the Pulp & Paper industry over the last few weeks and included them below.
Starbucks Plans to Phase Out Paper Cups in the US and Canada
By the end of next year, Starbucks customers in the US and Canada will be able to use a personal, reusable cup for their drinks, the company announced Tuesday. The change will apply to drinks ordered in the café, at the drive-thru and mobile orders.
"We have a bold long-term sustainability vision and ambitious goals for 2030," Starbucks President and CEO Kevin Johnson said in a statement.
Nestlé Canada's Smarties Pouch Moves from Plastic to Paper
The bag material developed by APC and converted into premade pouches for Nestlé Canada comprises Forest Stewardship Council-certified, surface-printed paper, a heat-resistant overlacquer, and a water-based dispersion coating. The key in selecting the paper was to find a grade that could meet the requirements for toughness, high print quality, seal strength, and consumer acceptance, without the addition of film. Nestlé Canada especially required the material to be durable enough to handle forming and tucking of the SUP's bottom gusset, merchandising with a hangtag, and handling.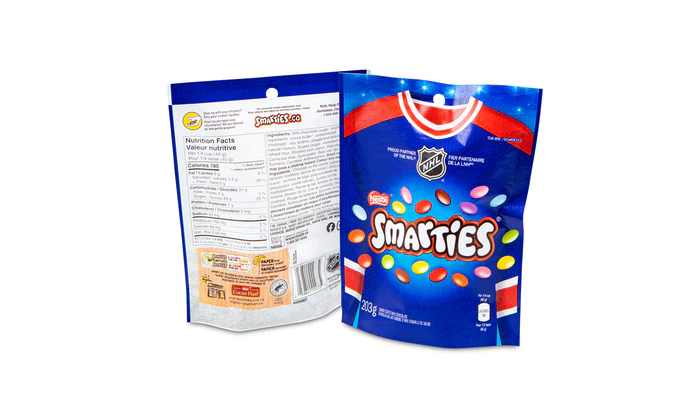 Graphic Packaging Extends Range of Sustainable Packaging Solutions for Beverage Industry
Graphic Packaging, the leading manufacturer of fiber-based consumer packaging solutions, has enhanced its range of sustainable multipack packaging for the beverage industry. In line with its commitment to ongoing product innovation in support of a more circular economy, the business has launched EnviroClip™ – a minimal material, paperboard alternative to plastic rings and shrink film for standard beverage cans.
"EnviroClip enables beverage companies to significantly increase sustainability by replacing plastic packaging for can multipacks with a recyclable and renewable solution," explained Ricardo de Genova, SVP global innovation and new business at Graphic Packaging.
Skutskär Mill's Road to Carbon Neutral Operations
Skutskär Mill in eastern Sweden is a modern pulp mill focusing on the production of fluff pulp for absorbent hygiene products such as diapers, other hygiene products and air-laid nonwovens. Skutskär Mill has a long history of continuously reducing the environmental footprint of its operations and products.
Today, all the energy, heat and power produced at Skutskär Mill is based on biofuels. Recent measurements made in December 2021 showed that the mill was also 93% self-sufficient in electricity. At times, the mill is able to sell excess energy to the national grid as production exceeds the mill's own needs.
Avallen Launches Paper Bottle with Frugalpac™
As they continue their drive to be the world's most planet positive spirits brand, Avallen have launched a paper bottle in partnership with FrugalPac. The Frugal Bottle, made from 94% recycled paperboard with a food grade pouch, has less than 1/5 of the CO2 emissions of a standard glass bottle and weighs only 85g, with lower transportation emissions as well. This results in a Carbon footprint of -3.16kg/CO2e per bottle compared to -2.73kg/CO2e for Avallen's lightweight glass bottle, a significant improvement in performance.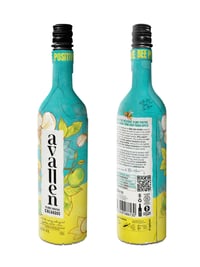 Diamond Named 'Best' at EcoVadis Sustainability Leadership Awards
Diamond Packaging has been named Best Performer the Americas in the EcoVadis Sustainability Leadership Awards 2022 dedicated to Small and Medium Enterprises (SMEs).
The award recognizes companies that are leading the charge in sustainability practices around the globe. With a Platinum rating on its 2021 EcoVadis assessment, Diamond is among the top performers of all SMEs assessed in 2021 in the region and one of only 12 companies worldwide to receive this distinction.
Borregaard Asa: New Long-Term Sustainability-Linked Loan Agreement
Borregaard has entered into a ten-year sustainability-linked loan agreement with the Nordic Investment Bank (NIB). The USD 50 million loan will contribute to financing Borregaard's investments to reduce CO2 emissions and water effluents.
NIB and Borregaard have agreed on three key performance indicators (KPIs) to be achieved. The KPIs are closely linked to Borregaard's sustainability strategy.
Kite Packaging Reinvents Hivewrap with a New System
The bestselling paper wrap that provides a recyclable and biodegradable alternative to bubble wrap is now available as a sustainable void fill option named Hivefill. Kite has designed a purpose-built dispenser that expands and compresses the strong hive-shaped cells to form cushioning pads ideal for absorbing impacts and protecting the contents of a box.
The dispenser features a funnel that the user manually pulls the paper through as it is configured into a resilient format where the hexagons are expanded and interlinked together. The paper is hand torn and arranged to fill the empty space within a carton where objects might otherwise have collided with the edges and become damaged.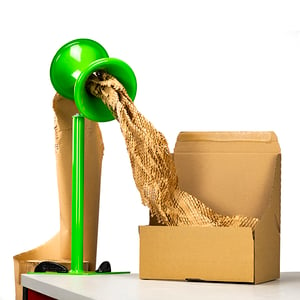 Solenis Partners with BIO-LUTIONS to Produce Sustainable Disposable Alternatives to Single-use Plastic
Solenis, a leading global producer of specialty chemicals, is partnering with BIO-LUTIONS, a Hamburg-based CleanTech company, to develop more sustainable disposable products to replace various single-use plastic products in food packaging applications. BIO-LUTIONS mechanically converts agricultural residues into unique, self-binding, durable fibcro® natural fibers. This patented method eliminates the need for binding agents or chemical cellulose isolation, as the fiber itself is used. From these fibers, BIO-LUTIONS creates a variety of sustainable single-use disposable products and packaging.
Robinson Develops Packaging for Holdsworth's Easter Chocolates
UK-based packaging company Robinson has developed sustainable and recyclable packaging for confectionery brand Holdsworth's Easter chocolate gifts. The company has produced two limited-edition Easter boxes for Holdsworth's Easter bunny treat bag and popping candy egg.
The packaging is made entirely from post-consumer recycled paperboard. Recycled water bottles were used to produce the packaging's clear viewing window, which adds to the solution's sustainability. Robinson said that the sustainable packaging is printed using six colors and is finished with foil blocking to add a 'luxurious' feel to the design.