This year, we have seen a number of price increases occur within the pulp and paper industry. Most recently, the price for old corrugated cardboard (OCC) and mixed papers (MP) has increased sharply as the national average price for OCC has gone up about $20 since last month to $183/ton, a $90 difference from last year's average — leaving many left to wonder how much longer this will last.
As global lockdowns spurred a huge increase in online shopping in 1Q2020, demand for corrugated packaging increased as well. Though that shift in purchasing was largely compelled by government mandates, we continue to see a structural change in buying habits as consumers have become more accustomed to, and even prefer, online shopping. The index measuring corrugated prices increased to 369.4 in May compared to 342.1 for the same month in 2020, according to the Bureau of Labor Statistics' Producer Price Index for corrugated and solid fiber box manufacturing.
This increase in corrugated prices could pinch many companies that rely on packaging to deliver goods to online consumers, especially as demand remains high and subsequent rounds of lockdowns are now developing across the globe.

Source: FisherSolveTM Next 2021 Fisher International, Inc.
Figure 1- US Containerboard Capacity
As we can see in the image above, containerboard (corrugated medium and linerboard – the papers used in producing boxes) capacity has generally increased at a slow and steady rate from 1Q2015 to 1Q2020. However, the most recent data illustrates that paper manufacturers are responding to the spike in demand for corrugated boxes by ramping up their capacity at an unprecedented rate, and these papers will subsequently be converted into corrugated board. The current breakdown in capacity for corrugated board by wall type and flute type can be seen in Figure 2 below.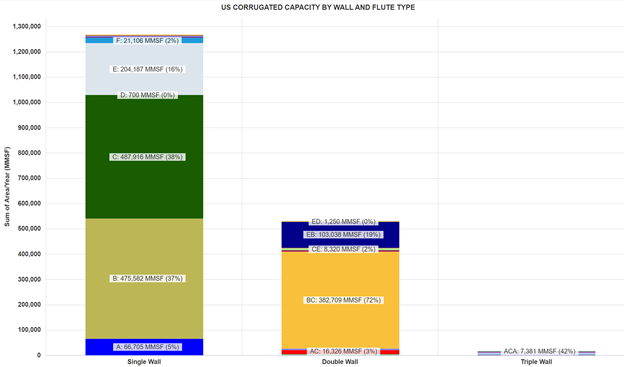 Source: FisherSolveTM Next 2021 Fisher International, Inc.
Figure 2- US Corrugated Capacity by Wall Type, Flute Type
Impacts on the Corrugated Market
The increased demand for corrugated product has resulted in price increases to new all-time highs – eclipsing those previous highs that were reached in the fall of 2020. These price increases are occurring alongside record high fiber prices. Increasingly, global economies are implementing import regulations that are directly impacting this segment of the industry. China's ban on imported OCC at the beginning of this year is a prime example.
However, the increase in prices for raw materials, along with the increase in demand, is what is ultimately driving the increase in containerboard prices. We can see this in the change from last month's benchmark grade average of about $153/ton increasing about $20, raising it to an average of about $183/ton. Additional price pressure has come from transportation, which increased by roughly 15% between 1Q2019 and 4Q2020.
A look at the raw materials used in the production of containerboard (the paper that is fed to box plants) shows the impact of price increases for recycled fiber in particular. This is affected primarily by the fact that collection rates of recycled materials (OCC, etc.) dropped during the pandemic; big box stores were not seeing the in-store traffic volume they did pre-pandemic, and collection from homeowners is more expensive and doesn't produce the same volume.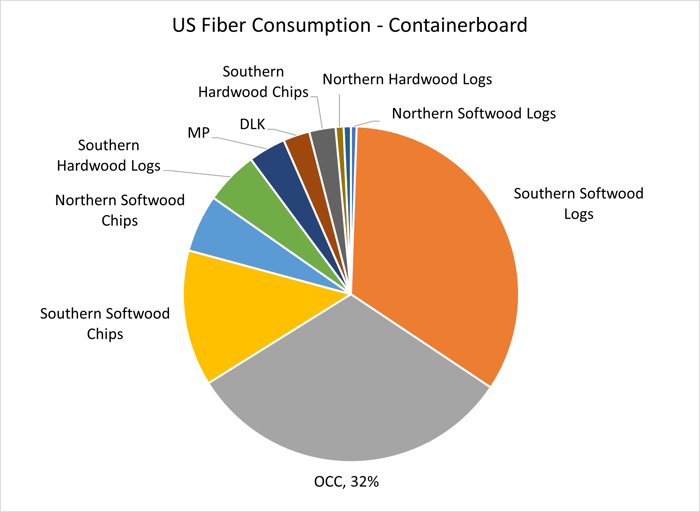 Source: FisherSolveTM Next 2021 Fisher International, Inc.
Figure 3- Raw Material Fiber Usage in Containerboard
Global markets continue to be extremely uncertain and fluid, and global OCC prices will most likely remain high in the near term as countries adjust to new regulations and ongoing reactions to the pandemic's evolution. However, corrugated growth will come at a much slower rate than in 2020 and OCC prices are not expected to stay high for an extended period of time. Fisher International expects them to peak in the coming few months before they begin to fall.
For a deeper dive into OCC price dynamics, check out our Fisher-STE Forecasts. Our unique product offers exceptional capabilities for predicting market behavior (such as OCC prices in the US and Europe), the impact of companies' actions on their markets, and how they can optimize strategy for income. Our models are reliable because they simulate the markets' key drivers and how they impact different segments, such as supply, demand price, import, exports, and much more.
Three Unique Benefits of Fisher-STE Forecasts:
We predict price turning points - not just price levels - for pulp, paper, and energy markets

We perform sensitivity analysis, testing proposed strategic plans against real market dynamics

We explain market movements in verifiable, fact-based, common-sense terms that industry professionals find useful
Talk with an expert at Fisher International about all the remarkable benefits our Fisher-STE Forecasts have to offer.