Environmental, Social & Corporate Governance (ESG) initiatives are poised to reshape the global economy from top to bottom within the next few decades. As individual governments attempt to engineer new behaviors among manufacturers and citizens that are in line with ESG goals, some have implemented legislation that either bans or enforces a fee for the use of single-use plastic. For example, China banned certain single-use plastic products, the European Union implemented a €.80/kg tax on non-recycled plastic packaging waste, 23 states in the US have some form of plastic bag legislation enacted, Kenya has banned single-use plastic bags, etc.
In the US, the Democrats' major social spending legislation (known as "reconciliation") includes a proposal for the first federal fee to drive a more comprehensive, nation-wide attempt to reduce plastic pollution. As of this writing, Senator Sheldon Whitehouse and Representative Tom Suozzi are in talks to include the Rewarding Efforts to Decrease Unrecycled Contaminants in Ecosystems (REDUCE) Act as a source of revenue in the bill.
Broadly, the REDUCE Act would impose a new fee structure on the sale of virgin or new plastic for single-use products such as plastic bags. The goal of this act is to compel plastic producers to use more recycled content and direct their revenue toward a fund to support recycling and address plastic marine debris and other pollution.
Lofty political platitudes rarely result in policy that drives lasting change, but there is reason to believe that the current environment is different. Senator Whitehouse notes: "Since the 1950s, over 8 billion tons of plastics has been produced globally, yet even the wealthiest countries fail to recycle more than a tiny fraction of their plastic waste. In 2016, the United States accounted for 4 percent of the world's population, but produced 17 percent of global plastic waste. Only 9 percent of plastic waste in the United States is sorted for recycling, and less than 3 percent is actually recycled."
More specifically, the REDUCE Act would:
Establish an excise tax on virgin plastic resin. Plastic resin is the base material that makes up plastics. Manufacturers, producers, and importers of virgin plastic resins would pay $0.10 per pound in 2022, increasing gradually up to $0.20 per pound in 2024. This fee would apply to virgin plastic used to make single-use products, including plastic packaging, beverage containers, bags, and food service products. Exported virgin plastic resin and post-consumer recycled resin would be exempt.

Provide rebates for certain products. Companies that use virgin plastic to make medical products, containers or packaging for medicines, personal hygiene products, and any packaging used for the shipment of hazardous materials would not have to pay the fee and could qualify for a full rebate for any fees paid on the plastic they use for such products. Virgin plastic used to make non-single-use products would also qualify for this rebate.

Establish a Plastic Waste Reduction Fund. The bill would direct revenue from the virgin plastic fee into a Plastic Waste Reduction Fund. Funds would be available to carry out plastic waste reduction and recycling activities, including making improvements to recycling infrastructure; to carry out marine debris reduction, detection, monitoring, and cleanup activities; and to address environmental justice and pollution impacts from the production of plastic.
According to a 2017 study by researchers from UC Santa Barbara, University of Georgia and Woods Hole, more than 90% of plastic produced gets dumped or incinerated because there is no cheap way to repurpose it. A significant portion of this then ends up in waste streams that find their way into natural resources such as oceans, which then resurfaces in food chains.
Unsurprisingly, objections have been raised to the proposed tax by the American Chemistry Council, the AFPM and several plastic industry associations in the US. Their complaints are that the proposed taxation measures have not been adequately thought through or debated in public, and there has been no consultation with the plastics industry.
The infrastructure to collect and sort post-consumer plastics waste is currently inadequate and removing or reducing plastics packaging will cause upheavals at most retail outlets, especially regarding food supplies in supermarkets. Often, there is no alternative packaging available. Liquids and pastes could be packaged in glass instead, but the high energy content of glass involves increasing the carbon footprint.
Even paper, cardboard and natural fiber fabrics can involve higher energy consumption in their life cycle. The plastics industry maintains that if the tax were to be implemented, it needs to be accompanied by a concerted plan to achieve productive recycling and circularity of single-use plastics packaging. However, as political winds continue to favor more sustainable solutions for our planet, what might this mean for the paper industry?
The sustainable packaging trend is here to stay, and brands are making serious commitments to act upon demand for alternative options. Several well-known consumer goods companies have already committed to reducing plastic content in their packaging:
Nestlé released its plan to make 100% of its packaging recyclable or reusable by 2025.

Apple has a comprehensive paper and packaging strategy, which explains how it reduced plastic content of its iPhone 7 package by 84% versus the iPhone 6s, with a switch from plastic trays to fiber-based packaging.

Samsung announced plans to replace plastic packaging with paper and other renewable materials, even if the alternate materials are higher cost.
Due to its significant reliance on a number of packaging solutions, the food and beverage segment has been at the forefront of this transition, especially in areas that have banned plastic cutlery and replaced it with wood or paper products. Multinationals across the food/bev segment — Nestle, Aldi, Dunkin', and Absolut — have developed plans to phase out single use plastics where feasible. As the trend catches on and becomes more affordable, more companies in this segment will follow suit and demand paper alternatives. The raw materials needed to create these products will increase and advances in material properties for paper being used for product protection continues to grow, making this a trend that companies within the Pulp & Paper industry need to stay ahead of.
Cartonboard, packaging paper and specialties are three grades that will see growth opportunities as replacements for plastic within food applications (food packaging, containers, etc.). The chart below illustrates the predicted food grade packaging capacity per year for each grade globally. As illustrated, cartonboard especially is expected to increase in capacity in the near term as demand for more replacements increases.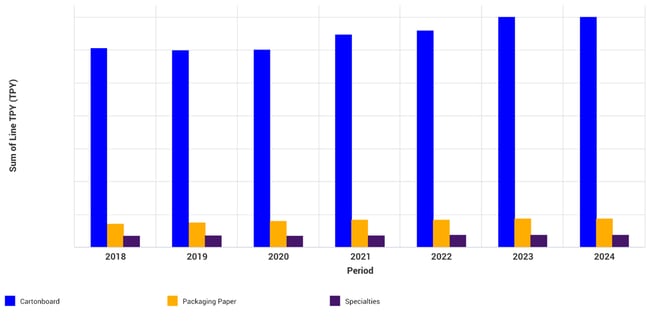 Source: FisherSolve™ Next
While packaging paper is likely to see marked growth as bubble wrap and Styrofoam peanuts are increasingly displaced, the food-use and packaging segments will experience higher demand. However, the raw material furnish that is used in producing these grades presents a pricing challenge.
As illustrated below, all regions of the world that produce Cupstock and Plate primarily use Chemical/Kraft furnish, which is reliant on the availability of wood fiber or market pulp made from wood fiber.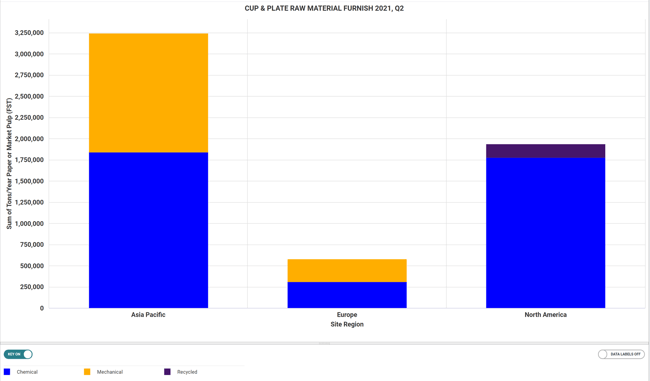 Source: FisherSolve™ Next

Source: FisherSolve™ Next
To learn how sustainability trends could affect the pulp and paper industry, read Fisher International's complete study "Plastic Replacements Driving Sustainability Trends in Pulp & Paper Industry."
The rise of proposed plastic taxes and bans could provide an indirect boost to the Pulp and Paper sector as paper producers continue to innovate and provide packaging solutions that are viable alternatives to plastic-based products. Answering the myriad questions related to supply, price and demand in these value chains will be imperative for manufacturers looking to scale and develop lower cost options to better compete in the footrace to displace plastics. Fisher International offers unparalleled data services and insights that allow innovative and forward-looking companies to identify new opportunities that drive business success. Talk with one of our experts today.