The past 10 months have been anything but ordinary since the global COVID-19 pandemic struck in nearly every corner of the earth. Global populations had to completely alter their lifestyles as lockdowns, mask mandates, work-from-home orders and online schooling became the new normal for most of 2020. In March, 2020 — when the virus was fairly new and we had no idea what to expect— we published a post in which Fisher International experts described how the pandemic was impacting daily life and the pulp and paper markets in their home countries.
Nearly a year later, we thought it would be informative to see just how much has changed – or not changed - in response to COVID-19. As we revisit this topic, Fisher experts once again offer unique insights into what is happening in various spots around the world as a second wave of lockdowns, new vaccine developments, and shifting political dynamics are making headlines and impacting the lives of billions of people.
Brazil
In Brazil, we are facing the second wave as the virus continues to spread. Manus City, the Capital of Amazon State, has resembled a scene out of a horror film over the last few days. Without enough available oxygen for patients on respirators, the number of COVID-related deaths has increased. The average daily oxygen consumption rate has increased from 12,000 cubic m/day prior to the coronavirus crisis to 28,000 cubic m/day during the first wave, to currently 80,000 cubic m/day. There was no possible way to forecast this, and since the city can only be accessed by planes and boats (which can take a few days), the help took longer than anticipated to arrive. Brazil's vaccine program began last Sunday in Sao Paulo with only 6 million doses available, which will be administered to 3 million people out of the country's 200,000,000 plus citizens. Even though vaccine availability will continue to increase, materials from China and India are not coming as quickly as needed. A significant political rift between "believers and negationists" also makes the situation more contentious than it needs to be.
China
China has done a great job in controlling COVID-19 so far. Our economic performance has shown a V-shaped recovery demonstrating growth of 2.3% in 2020. However, we are experiencing another outbreak that began at the end of December in Northern China and has impacted several cities. The city of Shijiazhuang, capital city of Hebei province and not far from Beijing, was the center of this outbreak. The government has initiated mass testing and strict lockdowns, moving entire villages into centralized quarantine facilities in an attempt to curb the spread of the virus. Currently, China is reporting over 100 new daily cases. I believe the government is reacting very quickly to this outbreak and people are being very cooperative. Based on this reaction, I'm not worried about a large-scale spread of the virus like last year. However, some negative impacts on certain cities will have lasting effects from the losses accrued during lockdown.
Millions of people have now taken vaccines. Things are back to normal here in Shanghai with tightened protections. People wear masks and test body temperatures when entering public places such as railway stations, schools, etc. Our Lunar New Year begins in February, which means hundreds of millions of people will be traveling across China. This year, the government is advising people to stay home and not go outside to gather during the Chinese New Year festivals. I believe this could be a driver to boost e-commerce sales over the holidays. There is no real negative impact of the current outbreak on the Chinese paper industry. However, local tissue manufacturers in Hebei province might be affected since the lockdown impacted logistics there. There is news reporting a tissue price increase due to the lack of raw materials. But this is temporary, and we have enough inventory in stock, so there won't be any panic associated with running out of tissue in nearby cities.
North America
North American tissue supply continues to strongly shift to consumer formats from commercial formats. Some spot shortages of household kitchen towel rolls were reported in the past several months in Canada. COVID-19 cases accelerated after the end of November holidays and have continued to remain high. Vaccine rollouts are first being administered to medical workers and emergency responders and has been underway since the beginning of January. The discussion now is about vaccinating other essential workers such as those directly involved in the food distribution channel. We have not yet heard if tissue mill workers will continue to be "essential" and will thus have priority access to the vaccines.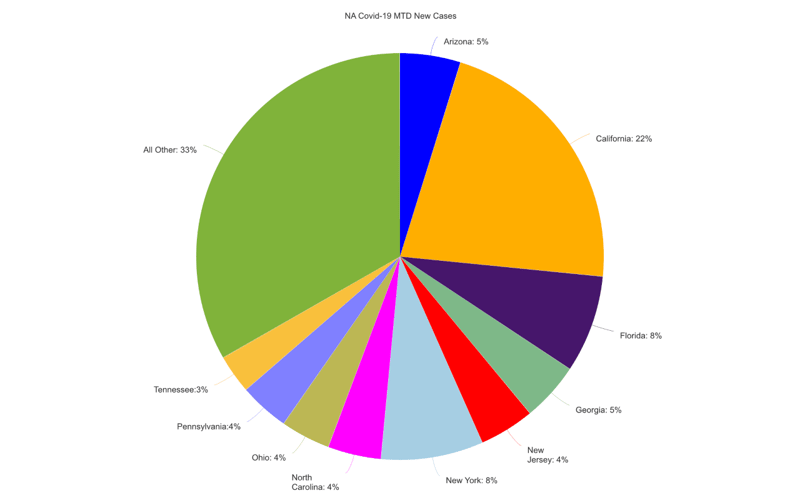 Month to date, the percentage of new cases is strongest in California, New York, Florida, and Arizona. There are few tissue machines in these states.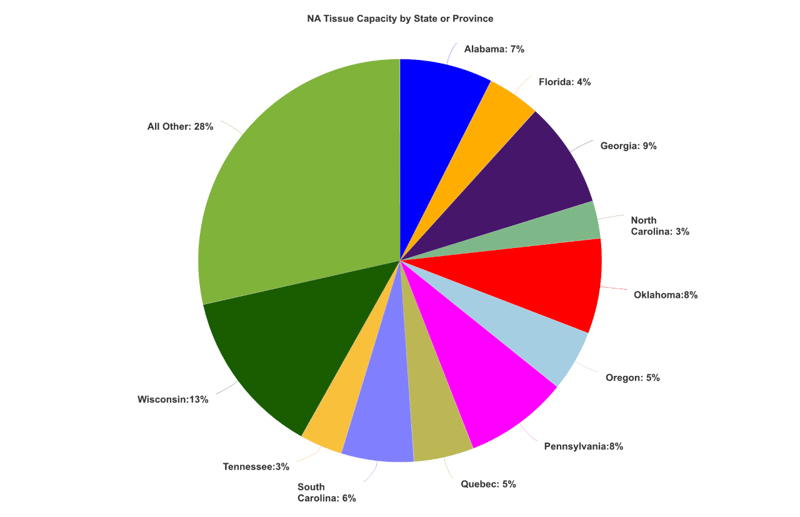 Tissue supply capacity is led by Wisconsin, followed by Georgia, Oklahoma, and Pennsylvania. We do not see these production areas being disproportionately impacted by worker illness at this time.