Since the global Covid-19 pandemic supercharged the popularity of e-commerce, packaging and corrugated have been the hottest sectors in the Pulp and Paper industry since early 2020. Between the US containerboard sector reaching record production levels in 2021 to the overwhelming number of boxplant investments, there is a lot of promise for this sector. Today, we're going to focus on the Consumer Packaged Goods (CPG) space and how FisherSolve can provide participants in this space with the data-based insights necessary to create transformative advantages.
Consumer Packaged Goods are merchandise that is consumed and replaced on a routine basis by average consumers such as food, beverages, personal care products, cleaning supplies, etc. While consumer demand for CPGs remains relatively constant, it is still a highly competitive sector due to high market saturation and low consumer switching costs – meaning consumers can easily and cheaply switch their brand loyalties. According to Absolute Reports, the global CPG industry is projected to reach USD 2.3 trillion by 2027, up from USD 1.9 trillion in 2020, at a CAGR of 3.0% during 2021-2027.
P&P companies within the CPG space need to consider a number of areas in which they can create opportunities as they look toward future growth, including:
Potential for cost reduction – understand producers' cost of manufacture to empower purchasing negotiations and find the most cost-effective producers.

Forecast and plan – predict changes to demand and pricing for key raw materials, in addition to analyzing supply/demand balance by region.

Sustainability – understand carbon emissions and fuel sources, find a potential to reduce transportation within your individual supply chain.

Long-term partnerships and supply agreements – consider integration from paper production to corrugating to converting. Understand producer viability and create appropriate agreements.

Redundancy – reduce risk by dual sourcing and having back-up suppliers
How can Fisher International help both retailers and producers in the CPG space identify these opportunities?
Our business intelligence system FisherSolve contains highly detailed and complete information on every pulp and paper mill in the world. So, when looking for new partnerships, potential cost reductions or ways to adhere to sustainability initiatives, you can utilize FisherSolve's expansive knowledge to easily identify what geographically advantaged mills can help fulfill your production needs. By minimizing transportation, you lower costs, shorten lead times and reduce carbon emissions.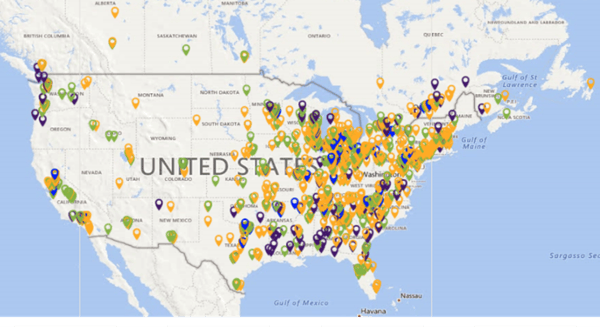 Source: FisherSolve
With our Benchmarking Module, as demonstrated in the image below, you can also compare the cost of manufacture, see the value of integrated supply and monitor raw material pricing – all of which will help you improve negotiating power.

Source: FisherSolve
In fact, you can even retain this negotiation power for long-term agreements since FisherSolve gives you the big picture and focuses on short-term AND long-term effects instead of solely looking at what's happening right at this moment. For example, in the image below, we can see where the cost of the contract supplier lies and where the guaranteed floor price for the supplier lies. From there, we can also see the allowed max price. Price pipeline is based on variable cost quarterly changes at the supplier's mill, which is available through our Benchmarking Module.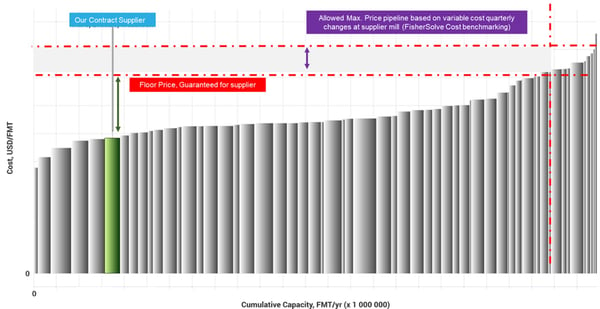 Source: FisherSolve
Accessibility to insight on technical capabilities you can't get anywhere else gives you a major competitive advantage against other producers who are trying to capitalize on the growth within this sector. For example, you can use FisherSolve to analyze the gap between modelled basis weight (low) and calculated burst strength (high), which allows you to identify high performing machines with certain factors taken into consideration – such as the future demand for lower weight corrugated boxes, as exemplified in the image below.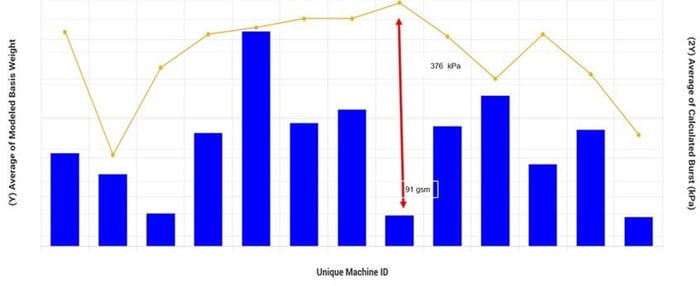 Source: FisherSolve
Access to such specific and crucial data, coupled with our exceptional consulting services, can help provide participants across the CPG value chain with the leverage needed to excel in this volatile industry. For more information about how FisherSolve can benefit your company, talk to an expert at Fisher today.