As we recently discussed, total containerboard production hit record numbers in 2021 with a 5.6% increase compared to 2020. Containerboard (which is made up of linerboard and corrugated medium – the papers used in producing boxes) was greatly impacted as the COVID-19 pandemic supercharged the e-commerce segment and fueled the need for more shipping boxes.
Current and announced containerboard capacity continues to grow with each passing quarter and, as a result, companies within the Pulp and Paper industry have focused new investments on the containerboard and corrugated sectors. As illustrated in the graph below, containerboard capacity skyrocketed in 1Q2021 as producers tried to keep up with demand – adding more than 2,200,000 TPY of containerboard into the market.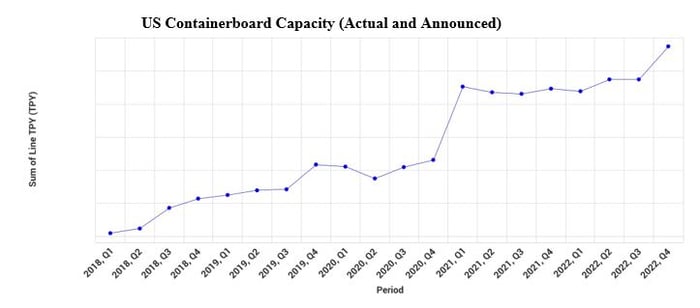 Source: FisherSolve Next
And while capacity ebbed and flowed for the remainder of 2021, it's expected to reach even higher numbers in 2022 – with more than 43,700,000 TPY of total capacity by the end of 2022. With all this new containerboard capacity coming online, will investments in expanding domestic corrugated capacity keep up with it? So far, some new boxplant investments that have been announced include:
WestRock in Longview, Washington

– On February 1, 2022, WestRock announced plans to build a new corrugated box facility in Longview, Washington. This decision was made in order to meet growing demand from regional customers in the Pacific Northwest as WestRock's corrugated packaging business continues to perform well. CEO David B. Sewell commented, "Our new corrugated plant will enable our team in this region to serve these customers even better in the future, with a state-of-the-art manufacturing facility that will provide new capabilities and efficiencies for our customers."




Pratt Industries in Carlisle, Pennsylvania

– Pratt Industries opened a new box plant in Carlisle, PA in May 2021 and the $150 million facility is the company's most recent investment in America. As the world's largest, privately-held producer of 100% recycled containerboard, the company operates an extensive recycling division to supply five state-of-the-art paper mills with recovered fiber in order to supply its corrugator and sheet plants with 100% recycled containerboard to create custom packaging and display materials.



International Paper in Atglen, Pennsylvania

– International Paper announced on December 15, 2021 plans to build a corrugated packaging plant in Atglen, PA in order to meet growing customer demand in the region. "We are excited to expand our footprint and continue serving our customers with the highest level of safety, operational excellence and customer service," Senior VP, North American Container Greg Wanta stated. Construction of the box plant is set to begin in the first quarter of 2022 and the plant is expected to be fully operational by 2023.



Kruger in Elizabethtown, Kentucky

– Montreal-based Kruger Packaging has announced the opening of a 400,000 square-foot box manufacturing facility in Elizabethtown, KY. This $114.2 million investment will be the company's first US corrugated box plant.



Green Bay Packaging in Fort Worth, Texas

– Green Bay Packaging announced at the beginning of the year its plan to build its new "super plant" in Forth Worth Texas. The 600,000-square-foot corrugator plant will replace GBP's existing 200,000-square-foot corrugator plant in Fort Worth. Startup operation is scheduled for the second quarter of 2023.



Georgia Pacific in Centralia, Washington

– Georgia Pacific acquired property in Centralia, Washington with the intent to expand its corrugated packaging operations out in the Pacific Northwest. While expansion plans are still in the early stages, the newly acquired property would help meet the needs of customers in the region and would complement the company's existing operation in Olympia.
While the P&P industry is quickly reacting to market signals, there is one question major players are asking: With production already at record levels, what will happen when all of this announced containerboard hits the market?
Other important questions include:
Is this a sector worth investing in right now?

Will there be an oversupply of containerboard?

Will we start to see new entrants into the corrugated market as containerboard production rises and demand for corrugated capacity increases?

Most of these recent investments have been by integrated companies, will the growth of established integrated producers dominate the already limited number of independent converters?
Fisher International provides consulting services that supports strategy development and implementation through the use of our proprietary data and business intelligence platform FisherSolve Next. Our consulting services help provide you with answers to important questions by explaining market movements in verifiable, fact-based and common-sense terms that industry professionals find useful. To learn more about how Fisher's consulting team can help you prepare for new opportunities, contact us today.