What Is the EU's New Tax on Imports Based on GHG Emissions?
At the beginning of December 2022, the European Union reached an agreement to impose a tax on imports based on the greenhouse gases emitted to make them. This marks the first time that climate change regulation has been inserted into the rules of global trade.
For years, the European Union had a program in place that charged companies for the pollutants they emit to encourage them to cut emissions. This program was known as a cap-and-trade ETS.
Under the new law, however, only countries adopting similar emission restrictions would be able to export to EU countries without paying additional fees. The objective of this change is to level the playing field for carbon pricing. This carbon border adjustment mechanism also aims to encourage other countries to adopt similarly ambitious emissions rules.
How Will the Legal Process Implement the New Restrictions?
While the bill has yet to undergo legal checks and receive final approval, EU officials said they expect it to easily clear the final hurdles. The new law is expected to be approved by the European Parliament in early 2023. The plan would be implemented starting in October 2023, with a transition period until 2026 or 2027 to give companies time to prepare.
The law would potentially affect some EU trade partners in the targeted sectors, such as Turkey, China, Britain and, to a lesser extent, the United States. Critics in these areas have already opposed it.
How Does the EU's Carbon Tax Affect the Pulp and Paper Industry?
For several years, Fisher has paid close attention to developing global carbon markets to better understand the various ways they might affect the global Pulp and Paper industry. As we've consistently stated, it's not a matter of if carbon costs are coming, but when they are coming – and as we are seeing, they have arrived.
The P&P industry makes up one of the top five industrial categories that contribute to the most greenhouse gases emitted. Accordingly, these carbon costs could have a significant impact industry-wide.
As we can see in the image below, the amount of carbon emissions produced per ton of paper in several regions remains relatively high and hasn't decreased significantly over the last three years. Some countries such as Turkey have even increased levels over the last three years: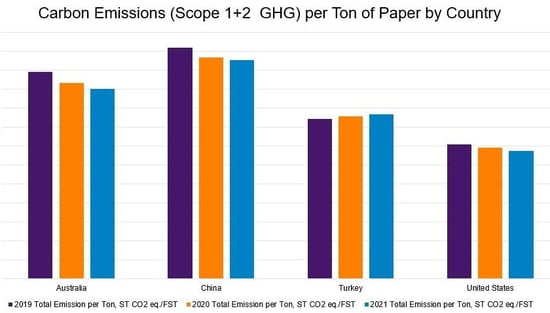 Source: FisherSolve
With the rise of carbon pricing mechanisms, the cost of doing business will ultimately increase for manufacturers located within these high emitting regions – and carbon is already impacting the bottom line of many global manufacturers.
In addition to higher prices, these manufacturers could also potentially lose the business of retailers and companies who are focusing on their own individual carbon footprints. This encompasses everything from who they select as their supplier to transportation and packaging to achieve sustainability goals.
How Can You Help Your Business Transition?
Decreasing your carbon footprint begins with an accessible, accurate measurement. However, this is easier said than done. Precise reporting is difficult. Emission calculations can and are being reported over or under by as much as 50%.
"The measurement, target-setting, and management of Scope 3 is a mess," said Anant Sundaram, a finance professor at Dartmouth College's Tuck School of Business. "There is a wide range of uncertainty in Scope 3 emissions measurement… to the point that numbers can be absurdly off."
So, what are some attributes of reliable carbon benchmarking for participants in the pulp & paper value chain?
Modeling is consistently applied.

The model is based on the fundamentals of pulping and papermaking: a mill's assets and process (no individual mill ever runs the same year-to-year).

Modeling enables segmentation by product and company and considers various supply chain configurations.
At Fisher, we believe this problem can be solved by applying sophisticated analytics to our comprehensive datasets that describe every pulp and paper mill in the world. By taking a systematic approach and basing our models on fundamentals, we can correct the issues found in much of the carbon emissions reporting and provide an "apples-to-apples" comparison for consumers.
Fisher's Unique Approach
Our model starts with a fundamental view of a mill's capacity, grade mix, and process flows' given constraints. Once a carbon benchmark is built from the primary principles, methodology is applied consistently to all paper machines in the database. By linking mill and asset data together, it enables us to understand the "why" of it all.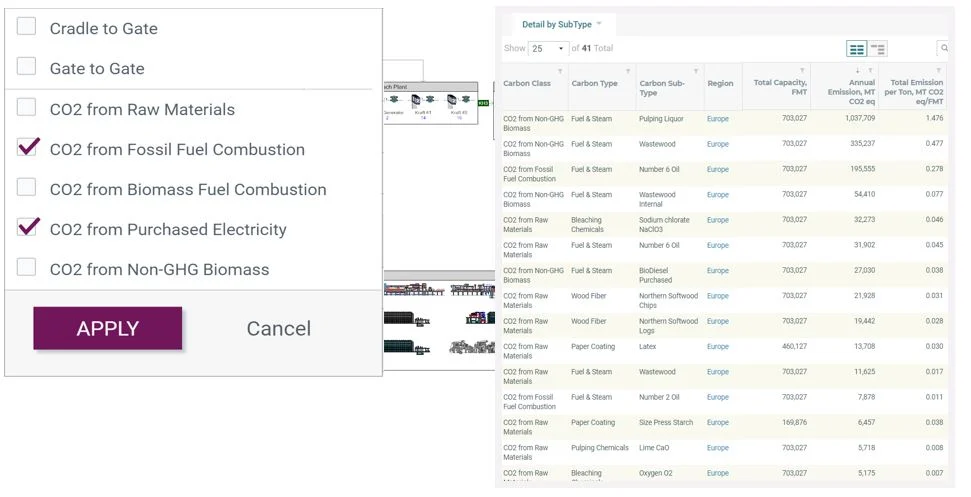 Buyers of pulp, paper and resulting converted products are increasingly seeking reliable carbon data to incorporate into their strategic planning and decision-making. But as we learned from our discussions with end users, existing datasets are often not sufficient as they are not granular enough and lack the apples-to-apples comparison that is needed. This is especially true when sourcing from myriad countries.
FisherSolve's carbon and cost models are used by stakeholders to address these issues. Year-over-year, we're seeing an increase in demand for the data.
We provide real-use information on the carbon footprint of every pulp line and paper machine for each of the products they produce. From cradle to destination, our customers now have more information than ever at their fingertips to ensure their procurement practices match their corporate visions.