Market pulp is a critical global commodity within the pulp and paper industry. As such, market pulp is a constant fixture in global trade flows because of its primary role in manufacturing numerous paper grades.
Market pulp prices have always been volatile and kraft market pulp, in particular, saw some of its lowest prices in the last 10 years in 2020. However, 2021 has brought price increases with skyrocketing spot prices in February and early March. Between December 1, 2020 and late February 2021, bleached softwood kraft futures were up 48% on the Shanghai Futures Exchange (SHFI), and additional price increases have been announced, leaving buyers wondering what has happened and when it will end.
What Factors are Influencing These Price Increases?
Ocean freight shortages and freight price increases – The lack of containers and the challenges of ocean freight have been getting a lot of attention as of late, along with price hikes in shipping rates. The good news for paper manufacturers, however, is that market pulp typically ships via breakbulk, so there is no competition for the currently hard-to-come-by containers. However, if ships aren't going to sea due to a lack of containerized freight, then breakbulk market pulp shipments will likely also remain at port until there is sufficient cargo to travel on the same ships. Also, with competition increasing for cargo vessels, these vessels are getting priority for berthing spaces at port terminals ahead of other breakbulk vessels in order to turn the cargo vessels, and the containers on them, around. While market pulp price is not generally directly impacted by freight price increases related to container shortages, the overall ship availability is adding pricing pressure.


Increased at-home tissue demand – With the numerous waves of lockdown orders, work-from-home, and remote learning put in place to help contain the spread of the COVID-19 pandemic, at-home tissue demand increased while away-from-home demand experienced a decline. Countries, like China, are also seeing a shift toward premium toilet tissue and paper towels with the growth of the middle-class (Fig. 1). Premium, at-home toilet tissue and paper towels are composed of more virgin fiber, whereas commercial tissue and towel producers use less virgin fiber and more recycled fiber to economically manufacture these basic products. In fiber-short countries like China, this results in increased demand for kraft market pulp in order to produce these premium tissue grades.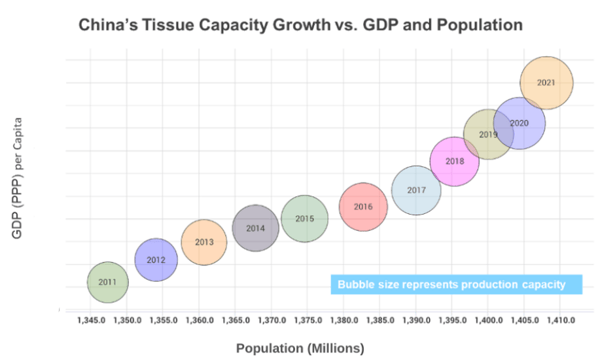 Source: FisherSolveTM Next 2021 Fisher International, Inc.
Figure 1
Chinese ban on sorted office paper – In 2017, China implemented a ban on mixed papers before implementing a complete ban on the import of all solid waste, which took effect on January 1, 2021. This latest ban includes sorted office paper. Without this recycled paper stream coupled with being in a wood-short region, many Chinese producers will have to use virgin market pulp, as the amount of recycled market pulp available currently is insufficient to meet production needs.
Inventory levels – Companies that use market pulp most likely bought as much as possible while prices were at a record low last year. This inventory is probably running low or has even completely run out by now. The resulting demand, combined with other factors, contributes to price increases.
Mill closures – Although Printing & Writing (P&W) mills in North America and Europe are typically integrated while making their own pulp, some do require bleached kraft market pulp, as well (Figure 2). This market was hit hard in 2020, which resulted in a lack of order downtime and even permanent closures. While there was also some lack of order downtime and closures of market pulp lines in 2020 in response, it was not nearly at the same percentages as P&W. These changes to the supply/demand balance for market pulp factored into last year's low prices. The return of some P&W demand has, in turn, contributed to the current demand for kraft market pulp returning.
Source: FisherSolveTM Next 2021 Fisher International, Inc.
Figure 2
Due to the global nature of the pulp market coupled with these developing – and ongoing - factors, pulp producers will end up selling to whomever and wherever they can get the best price, assuming that freight options are available. For example, why send market pulp to Europe if you can get a better price in China? Such a competitive market dynamic will create a shortage of supply in Europe, driving the prices there higher. Market pulp consumers are also limited by what they can utilize as substitutions, as this can impact finished product quality and machine runnability.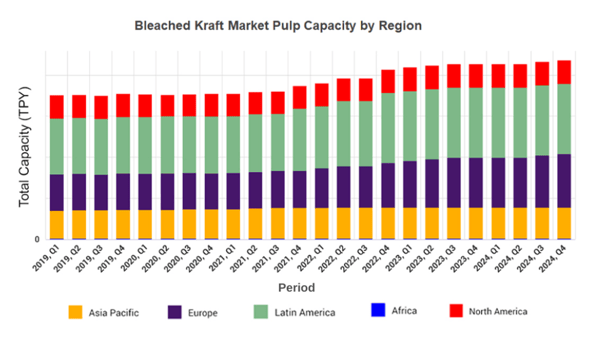 Source: FisherSolveTM Next 2021 Fisher International, Inc.
Figure 3
New pulp capacity is going to be coming online, however this will not happen anytime soon (Figure 3). We expect prices will continue to increase in the near-term, although perhaps at a slower pace, after the next set of announced price increases are released.
In a global market, it's important to stay on top of these trends - especially those that are so critical for manufacturers in the paper industry. To see what's happening in the pulp market around the world or in your own backyard, talk with a Fisher expert today about the unique modules available via FisherSolve Next that are designed to help you improve your decision-making process with the most robust pulp and paper data available to the industry.
---
About the Author: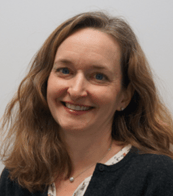 Joanna's experience in providing project management guidance and leadership for cross-functional and cross-division projects makes her a strong asset to the Fisher team. She balances diverse competencies including manufacturing processes, audit and metrics tracking, needs assessment, training, and team-building with a keen ability to meet or exceed budget and cost-saving goals on the various projects with which she is involved.
With over 20 years of paper industry experience, Joanna Wilhelm brings exceptional project management and operational leadership skills to her position as Senior Consultant.