Pulp and Paper companies are making headlines as awards are received, new products are rolled out and initiatives are launched to meet sustainability goals. Each month, the industry continuously proves its dedication to creating a greener world, and we've rounded up some of the top headlines over the last month.
James Cropper Turns Waste Jeans into Luxury Paper for Packaging
A Cumbrian paper maker is giving used jeans new life as beautiful paper for packaging. James Cropper, in Burneside, is taking pre-worn denim and converting it into denim to create its new Rydal Apparel range of recycled papers. Eight billion pairs of jeans are produced globally each year contributing significantly to textile waste.
The Rydal Apparel range of recycled papers is comprised of 20% post-consumer denim fiber and 80% recycled fiber from sources such as used coffee cups. The paper is 100% recycled, but also globally recyclable. As a cellulose-based product, cotton-based paper can be recycled in standard waste streams, giving the fiber not only a second life, but also a potential third and even fourth life.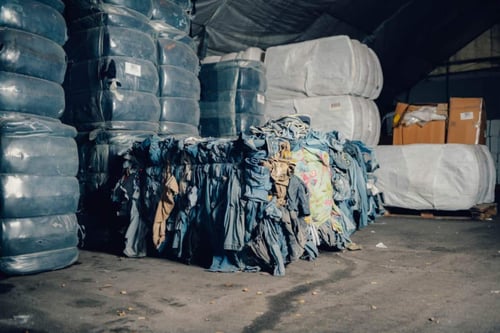 Georgia-Pacific's GP PRO Launches Recycled Fiber Paper Plates and Bowls
Foodservice owners and operators are broadening their focus beyond hygiene to include additional customer and brand priorities, such as sustainability. As the industry pivots, GP PRO, a division of Georgia-Pacific, launched Dixie ecosmart 100% Recycled Fiber Paper Plates and Bowls at the 2022 National Restaurant Association Show.
Dixie ecosmart recycled fiber paper plates and bowls are made of 100% post-consumer recycled fiber. The products are durable, soak-proof, microwavable, and recyclable in facilities that accept paper products containing food waste.
Kellogg's, Sustana and Sonoco Partner to Prove Recyclability of Paper Containers
Sonoco, one of the leading global sustainable packaging companies, announced favorable results from a recent study trial with Sustana in collaboration with Kellogg's, providing new opportunities to recycle paper containers.
Through three third-party sortation trials, Sonoco confirmed that paper containers with steel bottoms can be recycled in the steel stream. The next step was to further increase the recyclability of paper containers in the paper stream. There was already proven success in producing 100% recycled paperboard with up to 85% post-consumer fiber from bales of mixed paper at all Sonoco US paper mills, but it was still unknown if paper containers could be recycled further.
Eco-Products Introduces New Compostable Sandwich Wrap
With more restaurants seeking carryout and delivery options, Eco-Products® is introducing a new compostable wrap that is ideal for swaddling sandwiches, snacks and more.
The new wrap is made from wax paper, is ASTM D6868 compliant, and is certified by the Biodegradable Products Institute (BPI) as compostable in commercial facilities. It conveniently works as a basket liner, food wrap or as a scale or pick-up sheet.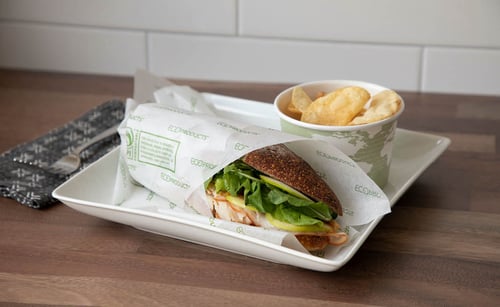 Sainsbury's Announces New Packaging Ban that Affects Every UK Store
Sainsbury's has announced the removal of plastic packaging on its bananas in a move that will affect every UK store. The supermarket got rid of the plastic covering on its own-brand five-pack Fairtrade bananas starting May 22. The fruit will instead be packaged with just a paper band as part of Sainsbury's plans to tackle plastic waste.
Sainsbury's says the move will remove 25 million single-use plastic bags, which equates to 75 tonnes of plastic, from its stores. The supermarket has aimed to cut its use of plastic packaging by 50% by 2025.
Kimberly-Clark's Industry-Leading Decarbonization Initiatives Recognized at UK Paper Industry Gold Awards
Kimberly-Clark, the parent company of leading household brands including Andrex®, Kleenex® and Huggies®, has won the Net-Zero Award at the first ever UK Paper Industry Gold Awards. Selected as the winner by a panel of judges, Kimberly-Clark demonstrated excellence and innovation through its pioneering UK net-zero strategy and overarching net-zero vision for the Europe, Middle East and Africa region.
As a global manufacturer of essential products, Kimberly-Clark's tissue business is classified as an energy-intensive industry in many markets, which reflects the challenge of decarbonizing. However, the company has made significant progress towards more sustainable operations, establishing a net-zero strategy aligned to four key pillars, including energy conservation, manufacturing footprint optimization, alternative and renewable energy, and energy supply.
Walki Part­ners with Dolea to Make Re­cy­clable, Durable and Print­able Pa­per Straws
Walki has invested in the Finnish start-up Dolea. Together the two companies will start the production of recyclable and printable paper straws in Ylöjärvi, Finland and in Garstang in the UK.
There have been some quality challenges with the current paper straw alternatives on the market as they tend to get soggy in hot drinks, making them not only unpleasant to use but also dangerous for children. Dolea has innovated a recyclable and durable fiber-based straw that uses 25% less material and stays intact in all sorts of drinks including hot beverages. Dolea has developed a proprietary machine technology for producing the straws in an efficient manner that also enables the manufacturing of printed straws based on end customers' design.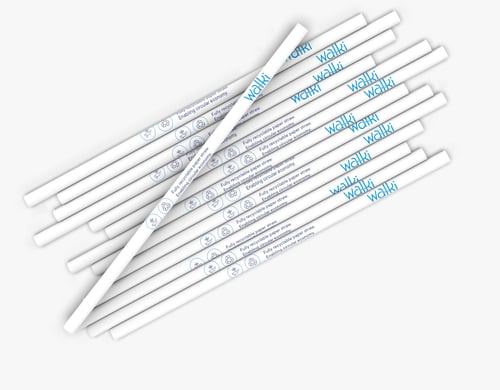 Huhtamäki Oyj Publishes Sustainability-Linked Bond Framework
Huhtamaki launches a Sustainability-Linked Bond Framework and incorporates sustainability in the company's financing The SLB Framework is designed to support the future issuance of sustainability-linked securities by Huhtamaki. For the securities issued under the SLB Framework, the interest rate, or other financial characteristics, of a security will change if Huhtamaki fails to meet the predefined sustainability performance target at an agreed testing date for a designated sustainability performance indicator.
"The SLB Framework enables us to place our sustainability ambitions also at the heart of the financing strategy. By directly linking sustainability performance to our financing cost, we send a most convincing message to investors on our commitment to the company's sustainability agenda" says Thomas Geust, CFO, Huhtamäki Oyj.
Sorbafreeze Responds to Customer Demand with 100% Recyclable Insulated Box
Sorbafreeze, the chilled packaging division of Pitreavie Packaging Group, has responded to customer demand by creating an insulated packaging solution that is 100% curbside recyclable. Chilltek Ecotek is a curbside recyclable box with chill chambers made from 100% corrugate and absolutely no plastic. Ecotek is flatpack delivered, reducing shipping requirements and minimizing carbon emissions as a result. It's also BRCGS accredited, ensuring quality and safety within the food industry and providing full confidence that temperature sensitive goods will stay safe for up to 48 hours.