Printing and Writing Papers
For most of 2020, the pulp and paper industry experienced fluctuations in different segments due to the global COVID-19 pandemic that struck in March. Many industry trends developed that were unexpected, however some were expected and took shape at an accelerated rate, such as the decline in demand for printing and writing papers.
The printing and writing papers segment has been declining for a number of years as the digital age has seemingly taken over. However, due to new restrictions - such as work-from-home orders created to contain the spread of the virus - demand for printing and writing paper has been rapidly declining since 1Q2020. As more and more can be accomplished online, the remote lifestyle has resulted in a lack of consumption of printing and writing paper, which has significantly accelerated the market's downward trend — especially in North America.
However, as more businesses and schools are returning to in-person attendance, it's predicted that the rate at which printing and writing paper is declining will slow and possibly begin to reverse course and increase towards the end of 4Q2020 and into 2021.
As seen in the figure below, in North America the volume of printing and writing paper production was 14,809,802 tons in 1Q2020, 13,398,857 tons in 2Q2020, and 12,374,084 tons in 3Q2020, a 9.52 and 7.65 percent decline, respectively, over 1Q. A course reversal to 12,432,153 tons is projected by the end of 4Q2020, a 0.47 percent increase.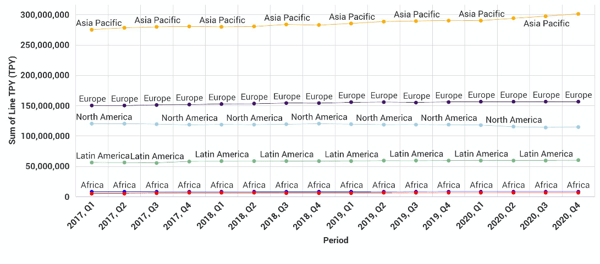 As Companies Abandon Work-From-Home Trend, Will Printing & Writing Bounce Back?
Many employers are eliminating dedicated offices and moving to a shared space "hotel" model in which employees occupy whatever open office is available for the day. While this qualifies as being on-site, this mode of work also requires reliance on electronic filing and sharing systems, which could diminish the need for printing and writing papers. Will workers operating in such arrangements return to printing/copying as much as they once did, or have they become accustomed to sharing 100% of their information via the cloud?
Likewise, a hybrid or part-time return to K-12 schooling will likely create some demand in the printing and writing papers segment. Many universities, on the other hand, are still largely operating remotely, and assignments are typically filed electronically. Will a wholesale return to school result in pre-COVID demand trends?
While the hybrid approaches may be more sustainable for all organizations moving forward, time will tell where, exactly, the balance between work-from-home vs. at-the-office or school will land. These fundamental shifts will continue to impact the printing and writing segment of the industry as this balance settles. Predicting the future with certainty is always hard to do, but we certainly can envision different likely scenarios in which we are more prepared and agile for whatever may come.
Mill Closures in 2020
COVID-19 Creates Rippling Effects in the Paper Industry
The North American paper products industry has endured a ranging number of negative effects due to the COVID-19 pandemic — mill closures being one of them. Many mills are enforcing either permanent closures or temporary ones that will range from two weeks to 31 months.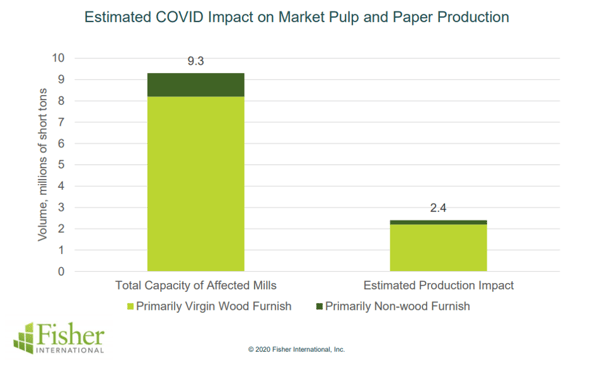 As seen in the figure above, by August, COVID-induced mill closures had reduced paper and market pulp production by roughly 2.5MM tons.
With the global decline in printing and writing paper, a number of manufacturers discovered that the only way to respond to this acute shift in demand was to shut down their mills. The historic Consolidated Papers mill in Wisconsin Rapids faced this dilemma as they closed at the end of July. This was the first time a full shutdown had occurred in the history of this mill, which dates back to 1904.
The Nordic paper industry followed suit and closed eight machines across the region's 19 paper mills following a 29% decline in second-quarter sales due to the steady decrease in printing and writing paper demand. This resulted in the loss of almost 2,000 jobs.
These unexpected mill closures created a rippling effect across the P&P industry, and with the unpredictability of the market right now, it's hard to tell if and when these mills will open back up.
China's Growth
Major Chinese Paper Manufacturers Seek Lower Cost Destinations
Mirroring China's larger economy, the country's pulp and paper industry boomed from 2000 to 2018. While packaging production has remained stable over the last 18 months, total growth in the larger P&P segment has slowed since last year.
The primary reason for this shift in production is rooted, paradoxically, in the tremendous growth of China's economy: As its economy has flourished, the overall standard of living has increased and driven wages higher.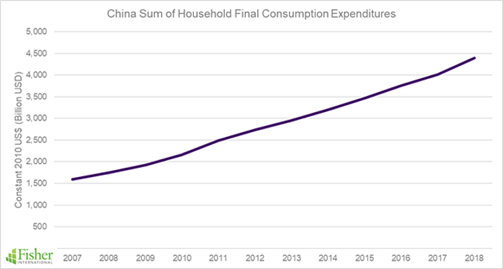 As a result, the establishment of a much broader middle class has, in part, prompted some paper manufacturers—and components of the manufacturing supply chain—to move to lower-cost countries. The central government's ban on imported recycled paper has forced many producers in this space to relocate and, in certain cases unique to the P&P industry, the paper mills are themselves moving so they can also be closer to end customers.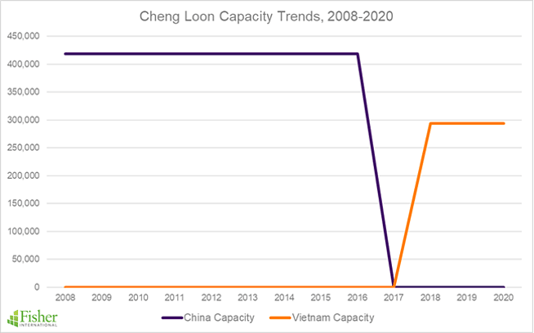 According to Fisher data, eight leading Chinese paper companies have announced investment projects overseas with combined capacities of around 20 million tons/year. Of these, the projects by Nine Dragons, Shanying, Sun, Lee & Man, Xinshengda, Jingxing and Chunhui have either been brought into operation or are on schedule, while APP has no definitive timeline for its project.
To take advantage of competitive dynamics at the right time, global manufacturers need to have a sound understanding of end-user trends that drive demand for pulp and paper products. More importantly, they need to have the flexibility to quickly react to market and regulatory signals in a global economy that is accelerating at an ever-quickening pace.
China's Paper Industry Boom: Leading Enterprises are Speeding up Development
On September 13, Shanying Paper, one of the largest containerboard producers in China, issued a fundraising plan with a goal to raise just over 5 billion yuan, which will mainly be used to increase production capacity at its Zhejiang facility and its new facility in Jilin.
As China's economy has grown over the past 20 years, the country's paper industry has experienced unparalleled growth in production capacity. With plans of high-quality economic development proposed by the central government of China, the transformation of the country's paper industry has already begun. A series of policy-oriented driving forces such as the ban on imported RCP, ban on plastics, and coal to gas transition all point to a new dawn for China's paper industry, which is transitioning from being a large energy consumer at a low efficiency rate to energy-saving and highly efficient.
The recent industry downturn in some sectors (printing and writing) has provided larger manufacturers with an opportunity to seize more market share and expand into viable categories, and Shanying's expansion is in full swing.
Tissue and Towel
COVID-19 Poised to Structurally Alter Tissue & Towel Sector
Demonstrating the nimble nature of the P&P sector, many mills added shifts and converted machines to meet the surge in demand for household tissue and towel products, and consumers seem to have put a newfound premium on personal hygiene that will likely impact production capacity going forward.
As frantic consumers well remember, toilet paper became one of the world's hottest commodities just a few short months ago. Toilet tissue is a staple in North America, but when state-enforced "lockdowns" took effect in April, it caused a significant change to the existing supply chain.
Trends to Watch
Commercial tissue demand in highly affected areas will continue to see more outages. The Tissue Machine production numbers will remain steady or increasing as tissue base sheet paper can be diverted, but the converting machinery devoted to only commercial product formats can be expected to see layoffs. This trend could be moderated partially by increased hand towel consumption in food prep and health care, but it is unlikely to make up for closed schools, offices, and travel facilities.

North American consumers continue to demand mostly ultra-premium products at home. Roughly 55 percent of at-home tissue use in North America is ultra-premium, which is astronomically higher than it was 15 years ago. This trend is likely to continue for high-end brands or private labels from club stores.
Since widespread delivery of the new vaccine is likely months away and we are unsure where exactly we are in the virus's lifecycle, we're also not sure where the tissue and towel sector will settle. The best estimates are that the effects will continue for another 12 months as vaccines are developed and approved across significant populations.
These habits will continue to drive strong demand for at-home, ultra-premium tissue products, which will also continue to negatively impact demand for certain formats such as dispenser napkins and hand towels as restaurants, bars, and retail establishments remain closed or operate at limited capacity.
That said, a newfound emphasis on hygiene in public spaces is poised to drive significant demand for tissue and towel products.
Post-COVID Focus: Hygiene
While we don't know what life in the post-pandemic world will be like, it is reasonable to expect there will be wholesale changes to our routines and behaviors, and an increased focus on cleanliness will be one of them. We are now very aware that soap and water destroy the virus with no need for anti-microbial additives.
The figure below shows the global commercial hand towel production capacity for the top four producing countries. Going into 1Q2020, the United States produced 57 percent of all commercial hand towels.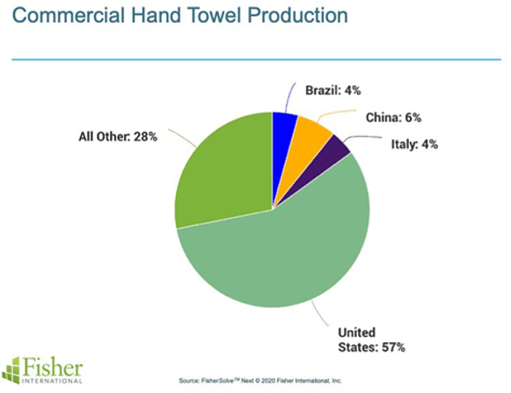 American hand towel capacity grew at a CAGR (compound annual growth rate) of 6.5 percent from 2007-2019. The capacity additions shown below include grade changes, rebuilds, and new machines over that period.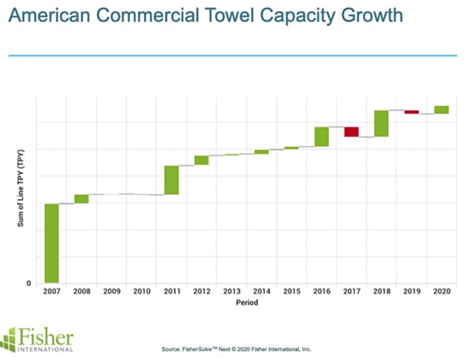 Tissue makers should be proud of the role they play in maintaining public health, and they should pay close attention to new opportunities on the horizon as we inch closer to a post-pandemic future.
Even though 2020 was certainly not the year anyone expected, including the pulp and paper industry, we are cautiously optimistic about improved prospects in 2021. Despite all the uncertainty this year has doled out, it has also created new opportunities for different industry segments in the upcoming year, such as tissue and specialty papers. As we've learned this year, there is no certainty for predictions about the future. However, we're entering 2021 with optimism and excitement as we look forward to the countless opportunities on the horizon for the pulp and paper industry.