A new brand of sustainable toilet paper has been launched in the UK. The Nurturing Co (TNC), which owns and operates the sustainable plastic-free home goods brand Bambooloo, explains they have achieved their goal of breaking into the UK market after successfully completing a crowdfunding campaign through Seedrs. The capital will be used to finance Bambooloo's expansion into the UK in 2021, as well as to launch its new products.
Bambooloo provides customers with 100 percent plastic-free packaging. Its main goal is to provide cost-effective, safer, healthier daily essential products that help reduce water usage and carbon impact.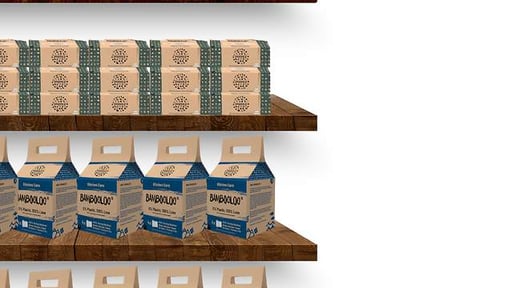 Renewable energy, forestry and rural economic development organizations applaud the passage of the bipartisan Consolidated Appropriations Act of 2021 by lawmakers, which is expected to be signed by the President. The sweeping legislation includes a new investment tax credit (ITC) for high efficiency home heating equipment that utilizes wood pellets, chips and cordwood, which was part of a broader tax package extended by Congress to continue the expansion of clean energy technologies, such as wind and solar.
The Biomass Thermal Energy Council (BTEC) and its coalition have worked with Congress since 2009 to amend the tax code to incentivize modern wood heating systems through the Biomass Thermal Utilization Act (BTU Act). The Alliance for Green Heat, Forest Energy Corporation, Innovative Natural Resource Solutions, Maine Energy Systems, Orion Advocates, Pellet Fuels Institute, Renewable Heating Solutions, Sustainable Northwest and many more organizations played integral roles to achieve this commonsense tax reform, making renewable wood heating more affordable.
Innovation is key to corporations' success, allowing companies to identify and respond to new market opportunities. In a new analysis, researchers from North Carolina State University compared companies ranked among the world's most innovative with the largest pulp and paper companies to understand how diversity among company leaders may affect innovation.
The study, published in Humanities and Social Sciences Communications, analyzed the gender, ethnicity, age and educational background of members of the boards of companies in the pulp and paper industry. Researchers then compared those findings with the composition of the boards of companies considered to be among the world's most innovative according to Boston Consulting Group's 2018 annual survey and ranking. The study uncovered differences in diversity trends that researchers say could be important to a company's ability to innovate.
Navigator on Tuesday said that it will reduce carbon dioxide (CO2) emissions by 30% in 2021 with the new biomass boiler at the Figueira da Foz industrial complex, district of Coimbra, an investment of €55 million.
"This investment will allow the company to reduce CO2 emissions at the Figueira da Foz industrial complex by around 150,000 to 200,000 tonnes per year, which represents 30% of the group's emissions as early as 2021," a press release said.
The Navigator Company is an integrated producer of forest, pulp and paper, tissue and energy. In 2019, it had a turnover of €1.68 billion.
In response to industry developments driven by the international sustainability agenda as well as changing consumer behavior, AFRY is placing even greater strategic focus on Bioindustry as one of its core focus areas. With a strong forest industry heritage, AFRY will leverage its wide range of offerings to provide a holistic set of services across management consulting, engineering, projects, operations and digital solutions.
Growing sustainability awareness is calling for continuous development of new value-added solutions in traditional pulp & paper industry as well as in biofuels, biochemicals and other advanced bioproducts such as biomaterials, and biogas. Resource scarcity is increasing the pressure to fully utilize raw materials, which calls for a circular economy approach supported by digital solutions throughout the value chain.
Sappi North America, Inc., a leading producer and supplier of diversified paper, packaging products and pulp, was named a recipient of the Leadership in Sustainability – Water Award from the American Forest & Paper Association (AF&PA) as part of its Better Practices, Better Planet 2020 Sustainability Awards program. Sappi was recognized for its "Caustic Reclaim and Reuse" project at its Somerset Mill in Skowhegan, Maine.
The "Caustic Reclaim and Reuse" project aimed to reduce the volume of purchased chemicals required to meet the mill's boiler flue-gas desulfurization (FGD) environmental goals, as well as offset the acid usage in its onsite waste treatment plant. The Somerset Mill operates a large steam plant and utilizes demineralized water as a main makeup water source for its recovery boiler and two multi-fuel power boilers.
Cellugy, the Danish-based biotech startup replacing single-use plastics with 100% natural bio-cellulose, announces the securement of €2.38 million in seed round funding from the European Innovation Council Accelerator Pilot Phase 2.
The company, which was founded in 2018 by Isabel Álvarez-Martos, Deby Fapyane, and Paruntungan Sihombing, has been developing a biomaterial to sustainably replace fossil-based plastic in the packaging industry.
Plastic waste is a huge problem for the environment. India alone generates around 9.46 million tons of plastic waste annually, according to a recent study by Un-Plastic Collective (UPC), of which 40 percent remains uncollected and 43 percent is used for packaging, mostly single-use plastic.
To help improve the situation, Ayodhya-based 40-year-old paper and packaging company Yash Pakka launched a brand called CHUK in 2017. The startup offers a range of compostable packaging tableware that is safe to eat from and is 100 percent biodegradable.
The startup was launched by Ved Krishna, who wanted to turn his family business into something that saves the environment, with an aim to replace single-use plastic and Styrofoam products. The tableware produced by CHUK are made from sugarcane fibre called bagasse.
The grasspaper company - Creapaper - has been awarded a €1.7-million EIC Accelerator grant from the European Union's Innovation Council to further scale its highly sustainable and ecological grasspaper business.

"We are honoured that the EIC experts and jury awarded our mission to reduce plastic pollution and CO2 emissions on a global scale," says Michael Schatzschneider, CFO of Creapaper. "The grant funding will significantly accelerate the roll-out of our grasspaper products and will enable Creapaper to meet the logistical requirements of global brand owners."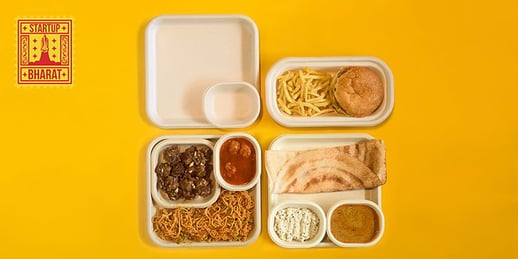 Drax Power Station signaled the end of 2020 by projecting a Happy New Year message onto one of its 12 cooling towers on December 30. The projection coincided with sustainable biomass generation in the UK hitting a new record, generating 3.6 GW during peak electricity demand, beating the previous record of 3.54 GW, set on 9th of December.