As we enter 3Q2022, many companies have been recognized for their work towards meeting their sustainability commitments, while many others have announced new eco-friendly product developments and initiatives. From forming new partnerships and alliances to developing new product replacements for plastics, the pulp and paper industry has been booming, and below are some of the top stories from the last month.
Mondi and Fiorini International Team Up to Develop New Fully Recyclable Paper Packaging for Premium Pasta
Mondi, in partnership with world leading converter and packaging producer Fiorini International, has successfully created and launched a new fully recyclable paper packaging for a premium Italian pasta brand.
Following a complete overhaul of its packaging design, Antico Pastificio Umbro decided to combine the expertise of Mondi and Fiorini International to design and produce a paper bag for its premium pasta ranges. After the complete roll out, this new packaging solution will support the company's sustainability goal of reducing plastic by saving up to 20 tonnes of plastic per year. The successful partnership has resulted in an innovative paper bag design with a large window made of transparent, recyclable and biodegradable cellulose that allows the end user to see the contents and is fully recyclable while offering the same protective properties as the previous plastic packaging.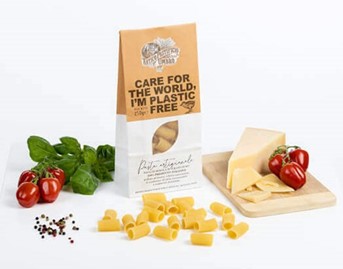 Major Gin Brand Greenall's Launches Paper Bottle and Climate Action Partnership
Greenall's, The Original London Dry Gin, is one of the first major gin brands in the UK to launch its product in a paper bottle format. The new paper bottle format (70cl) is now available for UK customers across all channels to order.
Made from 94% recycled paperboard with a food grade pouch to contain the gin, the paper bottle is not only five times lighter than a normal glass bottle, but its carbon footprint is six times lower, and its water footprint is four times lower. The result is a carbon footprint of 91.9kg/CO2e per bottle compared to 558.2kg/CO2e for a traditional glass bottle — a reduction of up to 84%. The new paper bottle is also fully recyclable with the outer paper casing and cap recycled curb side and the soft plastic liner at major supermarkets and recycling centers.
FEFCO Announces 'Significant' Reduction in Corrugated Industry's CO2 Footprint
FEFCO reported that the CO2 footprint for the corrugated board industry currently stood at 491 kgCO2e/t, which demonstrates a "significant improvement" compared to 531 kgCO2e/t in 2018. According to FEFCO, this result reflects the efforts made by the European corrugated industry and its paper suppliers to reduce their environmental impact.
A recent life cycle assessment commissioned by FEFCO found that corrugated board has comparative benefits in the climate change category when compared to reusable plastic crates, although the research concluded that the performance of each packaging type depends on a range of factors and cautions against one-size-fits-all decision making.
Unilever Targets Carbon and Plastic Reduction with Laundry Capsules and Packs
Household goods giant Unilever has unveiled a new laundry capsule complete with updated packaging, which it claims is its "most sustainable" yet. The capsules will feature in Unilever's laundry brand Dirt is Good also known as Persil, Skip, OMO and Surf Excel. The capsules will be packaged in cardboard boxes created by Graphic Packaging International, and the FSC-certified boxes have been developed to lock out moisture better than current plastic packaging and prevent capsules from sticking to each other.
Unilever said that the new capsules will "prevent over 6,000 tonnes of plastic entering the waste stream every year." The new formula contains biodegradable active ingredients that are 65% derived from plant sources, reduces its carbon footprint by 16%, and when used in cold, short cycles can save up to 60% energy per use.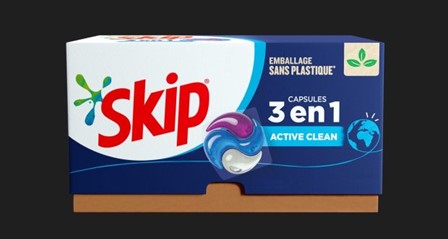 Resolute Receives Green Energy Award
Resolute Forest Products is once again turning heads towards its Thunder Bay plant after their thermal energy project was awarded the 2022 Environment + Energy Leader Award. The plant was recognized for combining technology, conservation measures and fuel switching to reduce annual greenhouse gas (GHG) emissions.
According to one of the award judges, it was determined that Thunder Bay's thermal energy project has demonstrated its achievements in decarbonization with the use of thermal energy technology to recover and recycle lost heat by returning it through the manufacturing process. This resulted in a 20% reduction in greenhouse gas emissions at the plant.
Resolute's actions to reduce greenhouse gas emissions are a cornerstone of their sustainability strategy. In 2021, they achieved a 34% reduction in greenhouse gas emissions across company operations compared to their 2015 levels.
Beaver Paper Enters the Sustainable Packaging Field with New TexSeal™ Eco Pouches
Beaver Paper, a leading manufacturer of sublimation media and sewn paper products, is excited to announce the launch of their new TexSeal™ Eco Pouch sustainable paper packaging. The new TexSeal™ Eco Pouches are an innovative, earth-friendly paper-based packaging solution suited for today's market. TexSeal™ Eco Pouches are what protection packaging should be all about – protection for customers' content and protection of the environment.
TexSeal™ Eco Pouches are ideally suited for the packaging of textiles and apparel and can be formatted into pouches, bags, flow packs and sheeted lining – along with offering excellent printability for all your branding purposes. TexSeal™ Eco Pouches offer excellent heat sealability and provide an exceptional barrier to aromas, oxygen, and water vapor. It also comes in a range of thicknesses from 40 gsm up to 80 gsm to meet a wide variety of applications.
Just Eat Introduces Biodegradable Packaging at Euro 2022 Final
Just Eat has linked up with UEFA to provide biodegradable food packaging at the Euro 2022 final. The move is claimed to be the first time biodegradable food packaging was introduced at a major football match. Seaweed-coated packs were used at Wembley Stadium on 31 July during the women's final between England and Germany. Just Eat said that the packs are "both recyclable and home-compostable" and said to "biodegrade within four to six weeks."
Jaz Rabadia, head of responsible business and sustainability at Just Eat Takeaway.com, said: "Using our global sponsorship partnership with UEFA is a perfect way to showcase this sustainable packaging initiative within the football industry, giving Just Eat the chance to drive and test new innovations with football fans. We're committed to using our scale and influence to drive a more sustainable future for the food delivery industry."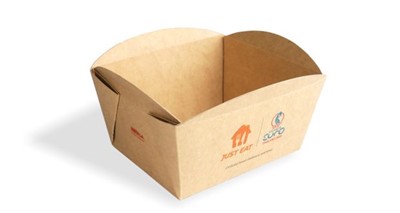 Carbon Neutral at Sandland Packaging
West Midlands, UK-based Sandland Packaging has continued its environmental journey to become the one of first corrugated sheet plants in the UK to become fully carbon neutral by measuring and offsetting all carbon emissions across Scope 1 and 2 and all 15 categories in Scope 3. This means all boxes produced by Sandland Packaging are certified carbon neutral and emissions free for their customers.
Martin Hickman, Managing Director, said, "Not only can our customers benefit from buying the best bespoke boxes, they can now do so with zero carbon emissions, reducing their impact. We're also approaching our supply chain to challenge them on their environmental program. Climate change is real and happening and we have to make a difference now."
Sealed Air Expands Sustainable Portfolio with Launch of Innovative Paper Bubble Mailer
Sealed Air, the company that invented the iconic BUBBLE WRAP® brand cushioning, announced it has launched a BUBBLE WRAP® brand paper bubble mailer, which is a fiber-based padded mailer that can be recycled in curbside bins.
The inner padding is made of a paper material that mimics the original BUBBLE WRAP® brand cushioning, with benefits including smaller and lighter material than traditional boxes, reducing shipping costs and dimensional weight; competitive durability, tested in International Safe Transit Association certified labs that assess packaging durability through the rigors of shipping; and certified curbside recyclability.
The mailers will first be available to customers in SEE's North America market, before expanding globally by early 2023.
100% Recyclable Paper Pouches Are the New Superheroes of Flexible Packaging
SunDance USA, a leading producer of printed packaging in the Southeastern US, is pleased to introduce a new super-green paper pouch packaging that is 100% recyclable, biodegradable, and compostable.
The 100% recyclable paper pouch combines superior fiber strength with a super-green profile and consumer-friendly features. For example, fiber or paper mesh windows can be added to the front, back, or sides of the paper pouch to offer views of the product inside. These unique windows also provide ventilation for products requiring it, such as certain grocery produce. The seams of the paper pouch are secured with a unique heat-sealable adhesive that is also recyclable and compostable.