Shortly after President Joe Biden was sworn into office, we wrote a piece discussing the possible impacts the new administration could have on the industry — specifically the potential effects of new carbon regulations. We speculated and discussed certain topics related to the change in Washington, such as how California's Emission Trading Scheme (ETS) has impacted tissue and what would happen if a California-style ETS system was applied to the entire US.
The new administration has not yet provided a clear and decisive vision surrounding this topic, so any analysis still falls under the category of "speculation." However, we believe it is always best to prepare for potential future developments rather than be caught completely off guard.
Watch Matt Elhardt's Recent Presentation on this Topic
One major question being asked surrounding this issue is whether or not increased climate regulation will create trade-offs at the consumer level. Consumers buy their products based off certain factors, including emotional attachment, performance, value, etc. — and the emotional factor includes increasing environmental concerns. This trend is also impacting the corporate sector via ESG initiatives and, more pointedly, the manufacturing sector.
Could a Border Adjustment Tax Change the Viability of Asian Tissue Imports into the US?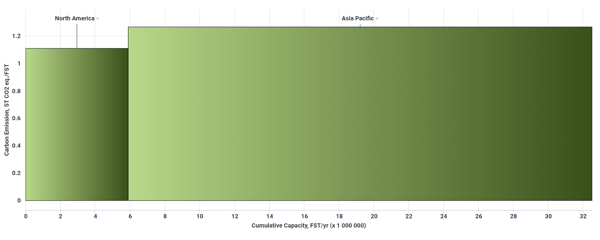 Additional regulatory changes by the new administration could also significantly influence foreign trade. For example, a border adjustment tax could change the cost competitiveness and viability of Asian tissue imports into the US. As we can see in the figure above, on average, Asian conventional tissue to Los Angeles has a 30% higher carbon footprint. If new laws and regulations are implemented that include a border adjustment tax, prices could increase on imports.
Each Year, the US Imports 300,000 MT of Tissue from Asia

A possible border adjustment tax would carry market implications because each year the US imports 300,000 MT of tissue from Asia, and regulations that carry additional taxes (or a carbon tax on imports) could benefit domestic tissue producers.
When trying to determine whether US tissue could really be threatened by new carbon legislation, we also must look at the level of impact the consumer holds. Consumers are increasingly seeking out companies who understand the alignment between personal value systems (including minimizing a carbon footprint) and purchases. These criteria are especially top-of-mind among millennials and Gen Z, who represent the first cohorts with considerable purchasing power in history to make decisions based on environmental factors.
In the graph below, the horizontal axis shows the average statistical case cost for every tissue machine in North America categorized by premium, ultra and value product capability; the Y-axis illustrates carbon emission. As we can see, the lower cost machines are mainly premium and there is a 20lbs/case difference between the highest and lowest costing machines. This is important to recognize because these are two extremely valuable factors to consumers, especially in near term when it will be increasingly important for mills to ensure they are in the right range.
Cost and Carbon of North American Consumer Tissue Machines by Quality Tier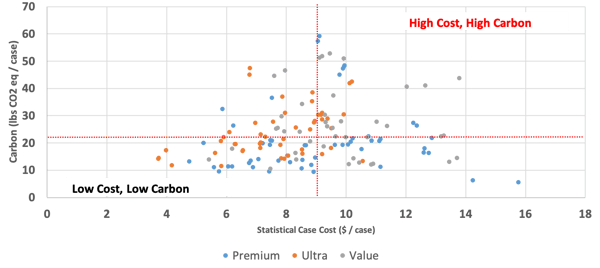 The Unclear Future
So, what do we actually know about potential carbon legislation? We know that a new administration will likely bring some changes to US climate change policy, which could also prompt an increase in the number of states who decide to join California in implementing systems that regulate carbon emissions. We also know that an ETS like California's could create a $35/mt cost of production impact between the highest and lowest GhG emitting tissue mills in the US per FisherSolve, and an ETS with a border adjustment mechanism could ultimately threaten Asian imports of tissue.
With respect to possible climate change regulation, the pulp & paper supply chain must be aware of what could potentially be coming down the pike moving forward, especially with the backdrop of younger generations who are more prone to make buying decisions based on environmental concerns. As the most discerning customers in history, will they care if a tissue product creates 20 lbs. more GhG emissions per case than the other? We don't know the answer to this question yet, but tissue manufacturers need to be prepared to satisfy consumers with a broader range of decision-making criteria that address such concerns.
While we're not exactly sure what Washington has in store for us at this point, we're fairly certain there is going to be a combination of consumer-driven factors and regulatory factors, and any number of outcomes is possible. No one can predict the future, but FisherSolve Next can help give businesses a pretty good idea by providing detailed information on every pulp and paper mill in the world, as well as industry insights and developing trends.