Thankfully, the toilet paper shortages seen during the beginning of the COVID-19 pandemic should be balancing in most places as the supply chain catches up and hoarding behavior tapers off.
However, we can expect supply chains in some countries to be challenged by a tissue product mix shift driven by stay-at-home orders. This has the potential to disrupt supply as people stop working outside the home, dining out, and traveling.
(Read more: Are We Really Running Out of Toilet Paper During Coronavirus Crisis?)
The chart below shows the global tissue product mix for consumer, commercial, and industrial tissue products. Global consumer bath accounts for 51 percent of the total capacity. Commercial bath provides an additional 7 percent capacity to total 58 percent. This is the total bath tissue volume that the supply chain is set to deliver.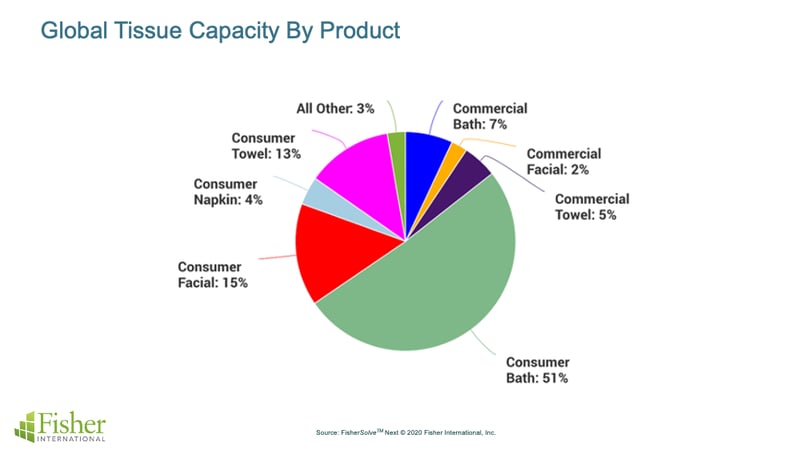 Some commercial bath tissue is produced in familiar consumer formats for away-from-home use in hotels or lower-traffic restrooms — the wrapped single rolls that are usually slightly higher in sheet count. However, a significant portion of the commercial tissue production is converted in formats that cannot be readily adapted for at-home use.
The giant 9-inch (or greater) diameter rolls on big cores used in large venues such as factories or stadiums are not perforated into individual sheets. The equipment that makes these rolls is not capable of making smaller or perforated product. Therefore, the true availability of bath tissue for stay-at-home use is somewhat greater than 51 percent and less than 58 percent.
The mix of normal at-home and away-from-home product application varies by country, as does the breakdown of the commercial formats into at-home applicable units. Many other grades use base sheets and can't create rolls of bath tissue. Folded product converting machines designed for folded facial and napkins cannot be switched over to bath tissue production. Commercial hand towels for washroom application generally do not use a compatible base sheet or converting process that can be converted to bath tissue.
The next chart shows a product mix breakdown for the top global tissue producers. China and the United States produce the largest shares of both consumer and commercial bath tissue.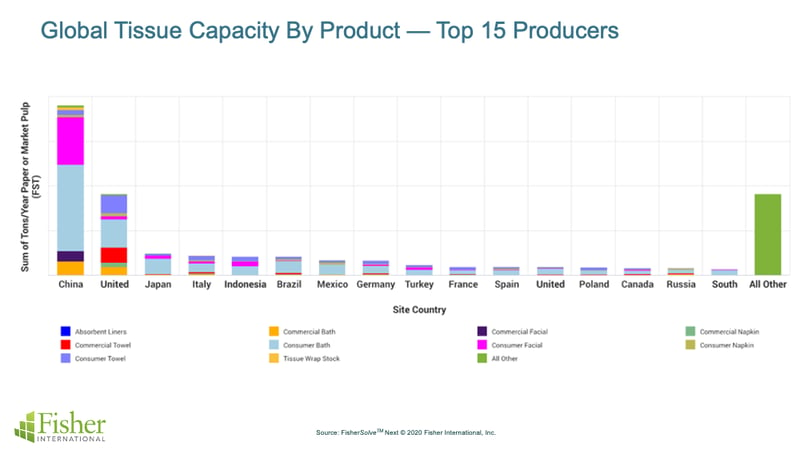 The next chart filters the global tissue data to show only consumer and commercial bath tissue capacity. The top 10 producers are shown and the "All Other" bar at the end provides a perspective of the rest of the world combined. The blue section on the bar shows the commercial grades portion of each of these countries. This is the amount that must be reduced to account for some proportion of the commercial formats being unusable at home.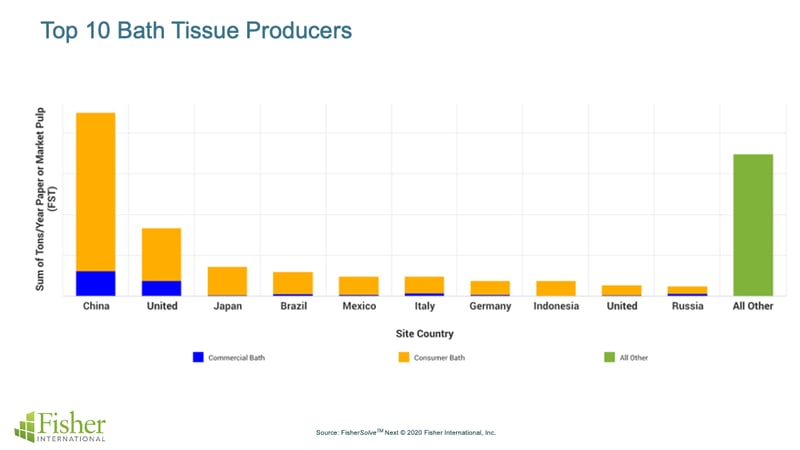 Again, China and the United States make up the greatest amount of each of these formats with Italy a distant third.
Some converting operations run five-day and/or two-shift operations. This is especially true of independent or non-integrated converters. These systems could increase staffing on compatible converting equipment to produce additional bath tissue rolls that can be used at home. This could prevent serious at-home supply chain disruption.
Beyond bath tissue mix and demand disruption, COVID-19 infection of tissue mill and distribution chain workers represents a potential disruption in supply.
Fisher International has added global, regional, country, and local infection data to the FisherSolve™ Next analysis platform. This provides the opportunity to check the same producer countries vs. their populations' infection impact.
(Read more: Fisher International Launches Free Interactive COVID-19 Map)
Below shows the same producing countries as our previous graph but now includes virus infection rate per 1 million persons. The United States, Italy, Germany, United Kingdom, Russia, and Canada all show high levels of active cases. Over time, this should indicate where production could be impacted.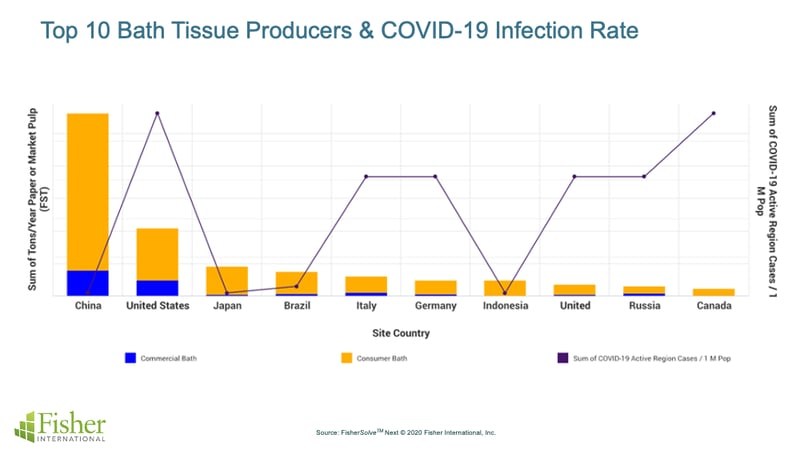 The next graph provides a view of the severity of the impact on each country. The line is now plotted as percent of cases that have resulted in death. Italy, Indonesia, and the United Kingdom have the highest percentage of infection cases resulting in death among the top producers. This probably represents the best projection of where to expect tissue supply disruptions.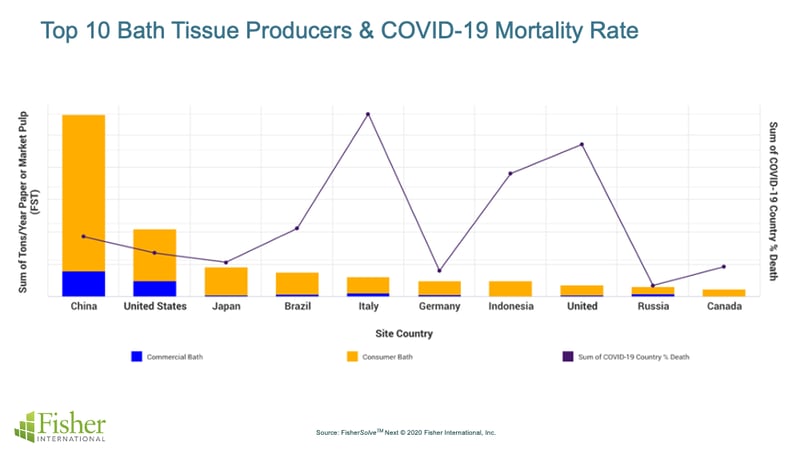 Finally, on a more hopeful note, let's map the percentage of reported infection cases that have recovered. China, Germany, and Canada appear to be leading in this metric. We expect that production risk will diminish as the percent of recovered cases grows and supply chain workers become immune or protected by their coworker's immunity.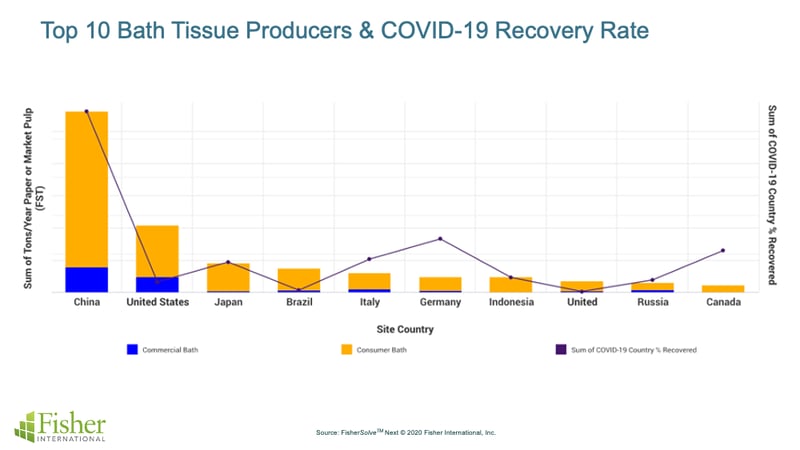 The hard truth is we can expect some short-term minor disruption in the bath tissue supply chain in some regions. The industry will not make it through this pandemic unscathed.
Luckily, FisherSolve™ Next allows us to track how the pandemic is evolving in critical producing areas using up-to-date infection and capacity data. With that, we can better prepare for life during and after COVID-19.
Bruce Janda has over 40 years of experience in the paper and non-woven industry, specializing in tissue and towel products and processes, from concept through manufacturing and commercialization. Bruce has a BS in Chemical Engineering from Michigan Technological University and earned his MBA from the University of Wisconsin. He is a TAPPI Fellow, holds 19 US tissue and papermaking patents, and writes a regular column for Tissue World Magazine.