ESG (Environmental, Social, and Governance) is a hot topic – both in the investment world and the world of consumer brands. And within the realm of ESG, the topic of climate change is at the top of the list. Broadly speaking, climate change refers to long-term shifts in global temperatures and weather patterns and, for the purposes of ESG initiatives, is relegated to man-made climate impacts largely accelerated by the rapid industrialization that occurred during the first half of the 20th century and what has more recently become a stubborn addiction to cheap fossil energy. This "man-made" impact is difficult to quantify individually, but it is often measured by corporations as a "carbon footprint," which is a byproduct of business activities.
Obviously, certain business sectors create larger—and deeper—carbon footprints than others. Energy-intensive industries like manufacturing and transportation often have significantly larger carbon footprints than other industries with lower energy demands.
In response to increased expectations at the consumer level, several major brands like Apple and Microsoft have announced ambitious goals to cut corporate carbon emissions in half (or less) in just a few decades. In addition, regulators and lawmakers are getting in on the action too, with legislation already passed in several parts of the world, such as the EU's 'Fit for 55' package. Also, in the US the SEC is considering establishing a requirement that ESG related disclosures be included in normal financial filings.
As new environmental standards become an embedded cost of doing business, selecting suppliers based on ESG/carbon performance is not the primary problem. Rather, it is the ability to obtain reliable environmental data on their raw material supply chains. According to the Wall Street Journal, Microsoft has halved its greenhouse gas emissions in just three years. In 2017, the corporation was responsible for 22 million metric tons of carbon. Since then, the level has been reduced to 11 million metric tons of "Scope 3 emissions" as of June 2020.
Scope 3 emissions make up a significant amount of an organization's carbon footprint, however there is still a wide range of uncertainty around the defining criteria. The WSJ states, "Many companies don't calculate Scope 3 emissions at all. Those that do are generally forced to rely on estimates and assumptions. Likely holes in the data include suppliers who don't measure their emissions and estimates of employees' commuting patterns and how exactly customers use and then dispose of the products."
Procter & Gamble Co. had to resort to numbers dating back to 2016 to calculate its Scope 3 emissions for the fiscal year ended June 2020. While McDonald's has stated in a report that they are waiting for more mature verification standards or processes.
At Fisher, we believe this problem can be solved by applying sophisticated analytics to our comprehensive data sets that describe every pulp and paper mill in the world. By taking a systematic approach and basing our models on fundamentals, we can correct the issues found in much of the carbon emissions reporting and provide an "apples-to-apples" comparison for consumers.
Using bleached paperboard grades in the US as an example, these grades include solid bleached sulphate and folding boxboard, among others. Finished products are used for and within beauty packaging, the food service industry (think a Starbucks or McDonald's cup), blister packs, and end-user packaging — such as the bleached paperboard packing for Apple's iPhones.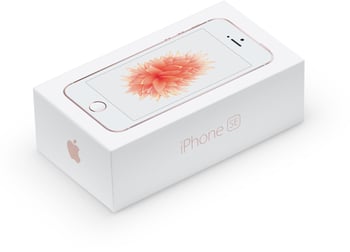 Globally, demand for bleached paperboard capacity has been growing, especially in Asia, and cost-competitive excess capacity could look for new opportunity in markets like North America. Intuitively, we can imagine that shipping paper all the way from Asia to North America might have a large carbon impact, but how is a large end-user supposed to measure with confidence? With Fisher's ESG carbon benchmarking, accurate carbon footprint impacts can be projected to any one of the hundreds of destinations worldwide.
Our unique example below shows the carbon footprint (cradle to gate) of bleached paperboard to Mobile, Alabama. In this example, we show the carbon intensity (measured in ST CO2 eq / ST of production) for the average ton produced in Asia compared to that of two major producers in the US – WestRock and Graphic Packaging. Let's assume our hypothetical buyer can purchase 10,000 st of product per year.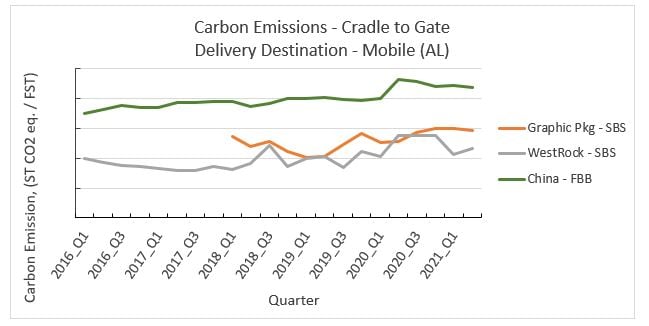 Source: FisherSolve Next
As illustrated in the chart, while WestRock and Graphic are relatively close in CO2 emissions, Chinese imports are noticeably higher – about a full short ton of CO2 per ton of product imported. Therefore, in this case, this same consumer that has promised reductions in greenhouse gas emissions would create 10,000 st more CO2 if it purchases Solid Bleached Sulphate Board (and derivative products) from the average Chinese mill as opposed to one of the two domestic suppliers.
The next question to consider is this: Will low carbon global pulp and paper companies be rewarded for proactively taking steps to reduce their carbon footprints? Are big brands willing to "put their money where their mouth is"?
With global carbon benchmarking and related ESG indices from Fisher, consumers now have more information than ever at their fingertips to ensure their procurement practices match their corporate visions.