On July 14, 2021, the European Union (EU) Commission dropped a massive piece of legislation on energy and climate laws known as the 'Fit for 55' package, which has already stirred debate across individual industries and countries. The goal of this package is to reduce greenhouse gas emissions by 55% by 2030 in order to make the 2050 carbon neutrality objective achievable. Previously, the goal was set at a 40% reduction by 2030 which, at the rate the EU is currently going, is estimated to reduce emissions by only 60% by 2050.
The implementation of this new package not only increases the feasibility of the target, but it also smooths the trajectory, which helps relieve the heavy burden that would be placed on future generations to catch up and achieve carbon neutrality. The Fit for 55 package is comprised of a set of initiatives that target different sectors of the European economy to ensure this goal is met. Some of the revised initiatives include:
Energy Efficiency Directive: Currently, the EU's energy efficiency target is set at 32.5% for 2030 with hopes that using less energy will save money, help those who struggle to heat or power their homes and avoid burning dirty fossil fuels.
Renewable Energy Directive: The current renewable energy target for 2030 is set at 32%, which means changes to some current rules, such as those that consider woody biomass as renewable and eligible for support from public money.
Land Use, Land Use Change and Forestry Regulation (LULUCF): The LULUCF currently states that the amount of carbon absorbed by the sector must not be less than what is emitted by the sector. However, as part of the new initiative, the regulation is undergoing revisions to set specific targets.
The Effort-Sharing Regulation: This initiative sets national targets for emissions reductions in sectors such as transportation, building and agriculture.
The Emissions Trading System (ETS): An ETS sets benchmarks for carbon trade emissions

for individual industries. If a single manufacturing facility exceeds its allotted benchmark, a penalty is administered in the form of a fee. Previously, the carbon price wasn't high enough to make any meaningful impact, but it has now been revised to a higher price.



Source: European Commission
What Does This Mean for the P&P Industry?
Overall, the Pulp & Paper industry is well positioned to adapt to the Fit for 55 mandates, as many companies already have targets that exceed the general EU targets. However, those who are lagging will be forced to accelerate their existing goals in order to catch up. While individual company goals to reach carbon neutrality also align with the industry's sustainability goals, there are still some challenges this legislation creates, such as:
Significant but necessary large investments

A suggested forest resource strategy that favors the use of forest products for long-term applications rather than in short life products such as paper

Uncertain rules, as suggested by the EU, on whether wood-burning energy can be classified as renewable and count towards sustainability goals

Implementation of CO2 emission payments for transportation

Compliance of ETS rules and carbon import tax with WTO free trade principles
This is a very demanding package, and there's no doubt that it will impact the industry. As we can see in the figure below, a number of grades within the Pulp & Paper industry emit varying levels of carbon emissions — with the Tissue and Towel segment emitting the most, and Market Pulp emitting the least per ton of produced pulp or paper.
EU Carbon Emissions by Major Grade – Gate-to-Gate 1Q2021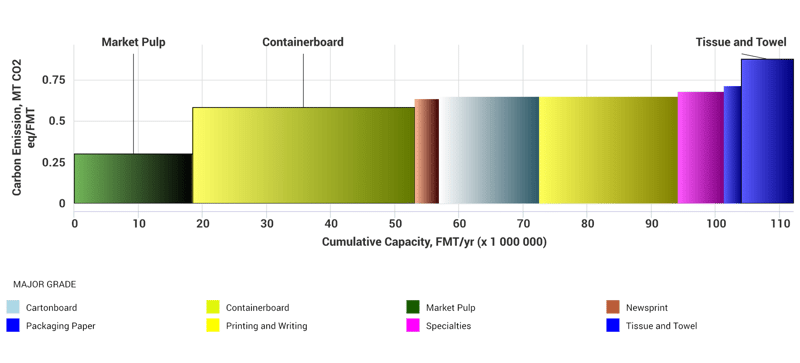 Source: FisherSolve™ Next
However, the degree of these impacts will vary depending on location as well. As we can see in the chart below, there's a significant difference in the relative amount of carbon emitted in different countries. This, in combination with the capacity of each grade produced in each country, will create a range of effects across Europe.
Carbon Emissions by EU Country – Gate-to-Gate Q12021

Source: FisherSolve™ Next
There is still a long road ahead for the EU before implementing the Fit for 55 package, especially as the plan garners criticism for not going far enough in terms of replacing/eliminating fossil fuels. However, it is still crucial for industry participants to keep an eye on how this package develops in the coming months and what — if any — changes are made to the final product. While there's no definitive answer as to how this legislation will impact the Pulp & Paper industry, it's important to start planning now for potential outcomes and situations that could impact your company's performance and bottom line.