With an increasing consensus that plastic usage needs to be reduced to meet broadening climate and "green" targets, both civic and legislative initiatives are being implemented across the globe in an attempt to enact lasting change. At the forefront of political developments is the European Union's tax on plastics.
The policy raises a number of questions for manufacturers and consumers, including the Pulp & Paper industry and its ability to drive scalable innovations that will result in new opportunities.
What Initiatives are Being Taken?
While there are numerous initiatives being taken within individual companies, independent states and countries, a central initiative has been the €.80/kg tax on non-recycled plastic packaging waste that was set in place January 1, 2021 by the European Council. However, the tax rate can be adjusted by country to assure alignment with economic conditions.
The genesis of the tax is to motivate those who haven't been as willing to pay the extra price for alternative substitutions such as biodegradable paper, which are generally more expensive than plastic. At a municipal level, the tax will also hopefully spur member states to expand and improve their recycling systems to reduce the amount of plastic waste that is landfilled.
Plastic recycling rates have generally been low, resulting in significant "end-of-life-cycle" externality costs. Since many types of plastics are not recyclable, a significant portion of it ends up in waste streams that find their way into natural resources such as oceans, which then resurfaces in food chains. Since plastic can take over 500 years to decompose, opposed to natural fiber paper substitutions which take less than a year, it makes ecological sense to pursue more sustainable solutions.
Why is Plastic Still Being Consumed at High Rates?
For all its environmental drawbacks, plastics do have a lot of enticing qualities for myriad uses. Plastics maintain strong barrier properties and are cost competitive, and they offer lots of versatility that covers both the industrial and consumer spectrum. While plastics certainly have a spot in the modern economy, there is also a lot of unnecessary plastic in circulation that can be easily replaced with more sustainable alternatives that might be better fulfilled by the pulp and paper industry.
As we can see in the chart below, as of 2015, the packaging industry generated more plastic waste than any other industry by a substantial amount. Since packaging tends to have a lower product lifetime than many other products, it's also more dominant in terms of annual waste generation and is responsible for almost half of global plastic waste.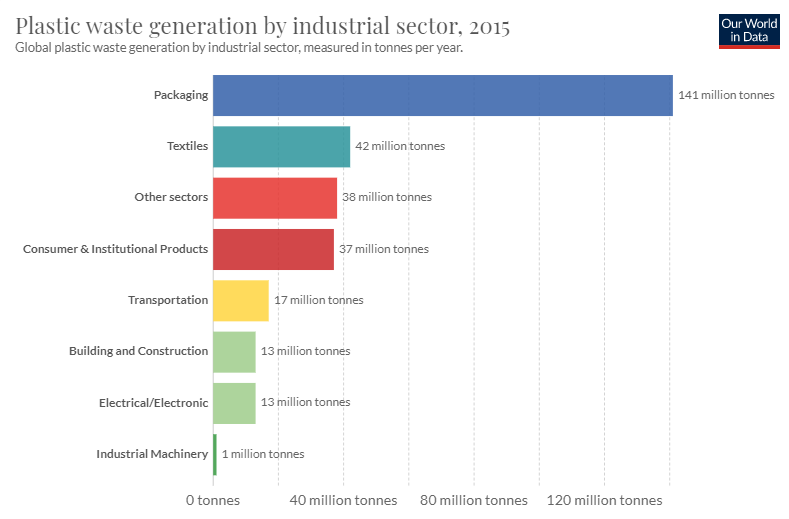 Source: Geyer et al. (2017)
For many, "plastic waste" tends to be equated with plastic bags or plastic straws, leading many people to believe that restrictions or bans on these two specific products are sufficient for regulating plastic waste. However, as of July 2018, 66% of countries globally had legislation in place restricting only retail distribution of plastic bags, but 86% of countries did not have legislation in place restricting single-use plastic items such as plates, cups, bottles, etc.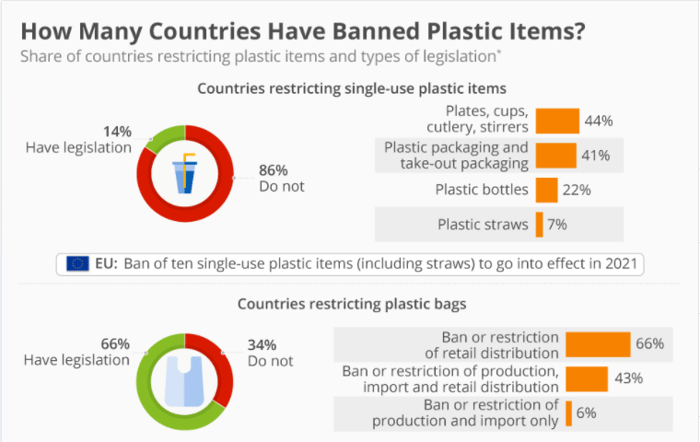 Source: United Nations Environment Programme
Recently, however, the food and beverage segment has been at the forefront of this transition, especially in areas that have banned plastic cutlery and replaced it with wood or paper products. Multinationals across the food/bev segment — Nestle, Aldi, Dunkin', and Absolut — have developed plans to phase out single use plastics where feasible. As the trend catches on and becomes more affordable, more companies in this segment will follow suit and demand paper alternatives and the raw materials needed to create it will increase, as advances in material properties for paper being used for product protection continues to grow, making this a trend that companies within the Pulp & Paper industry need to get in front of.
Cartonboard, packaging paper and specialties are three grades that will most likely see growth opportunities as replacements for plastic within food applications (food packaging, containers, etc.). The chart below illustrates the predicted food grade packaging capacity per year for each grade globally. As illustrated, cartonboard especially is expected to increase in capacity in the near term as demand for more replacements increases.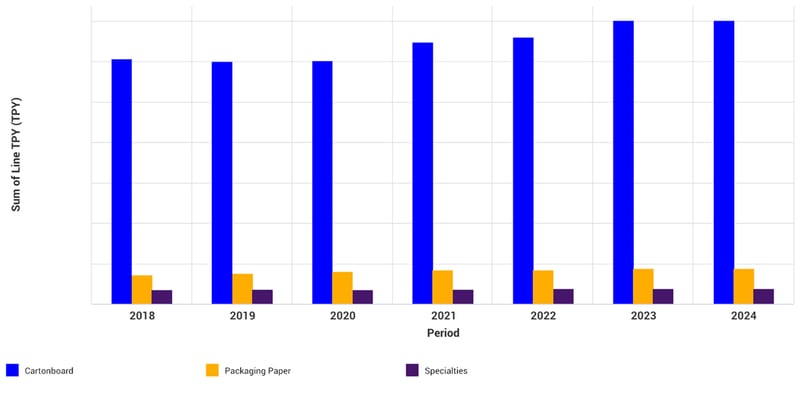 Source: FisherSolve™ Next
While packaging paper is likely to see marked growth as bubble wrap and Styrofoam peanuts are increasingly displaced, the food-use and packaging segments will experience higher demand. However, the raw material furnish that is used in producing these grades presents a pricing challenge.
As we can see below, all regions of the world that produce Cupstock and Plate primarily use Chemical/Kraft furnish, which is reliant on the availability of wood fiber or market pulp made from wood fiber.
Interested in regional fiber trends? Our partners at Forest2Market covered recent impacts to the Lake States fiber market after the closure of two large mills. Read More.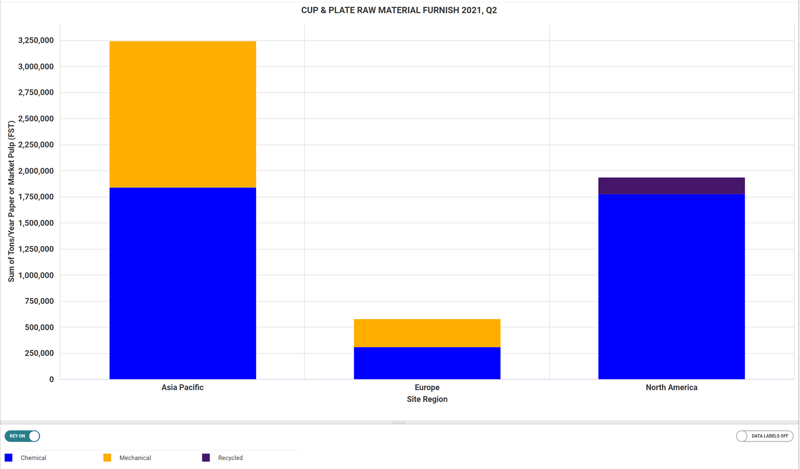 Source: FisherSolve™ Next

Source: FisherSolve™ Next
Finding the answers to questions regarding supply, price and demand of these raw materials and whether or not manufacturers can scale to develop lower cost options to better compete is crucial during this footrace to displace plastics. Fisher International offers unparalleled data services that allow companies to identify new opportunities that drive business success. The comprehensive modules available via FisherSolve™ Next are designed to help you improve your decision-making process with the most complete pulp and paper data in the world, or you can talk with one of our experts today.