As we put 1Q2021 in the rearview mirror, the Pulp & Paper industry continues to make strong progress via sustainability projects and company announcements. From new paper packaging for an array of products to the addition of new mill equipment to reduce CO2 emissions, we've broken down some of the top sustainability initiatives making headlines across the industry.
Cepi Joins ENZA, the Cross-Sector Alliance for Climate Neutrality in 2050
ENZA (the European Net Zero Alliance), an alliance of 17 associations advocating for cross-sectoral and cross-vectoral climate neutrality solutions, was recently. ENZA brings together European associations representing different industries – pulp and paper, buildings, mobility, agriculture – and energy providers from liquid and gaseous fuels, to heat, and including electricity distribution.
Cepi has joined ENZA because reaching climate-neutrality by 2050 requires simultaneously deploying different solutions in different regions. Almost all of the carbon emissions in the pulp and paper industry today come from the combustion of fuels. Ultimately energy will be needed, but it will have to be carbon-neutral and cost-competitive.
Aldi Set To Replace All Plastic Straws With Recyclable Paper
Aldi has announced its plan to introduce fully recyclable paper straws across its own-label Kids Smoothies and Orange/Apple Juice Cartons. The move will see more than 4.5 million single-use plastic straws removed from Aldi's 145 Irish stores each year, which equates to a savings of three tons of non-recyclable plastic.
The initiative supports the Irish government's plan to fully remove all plastic straws from circulation in Ireland by July 2021 under its Waste Action Plan for a Circular Economy, it added. "Switching to new fully recyclable paper straws across our own-label products is another step towards our sustainability goals," said John Curtin, group buying director, Aldi.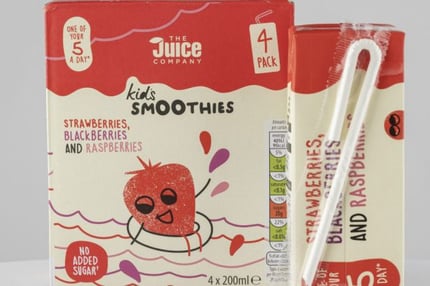 Smarties Becomes the First Global Confectionery Brand to Switch to 100% Recyclable Paper Packaging
Nestlé recently announced that its popular Smarties brand is now using recyclable paper packaging for its confectionery products worldwide. Smarties is the first global confectionery brand to switch to 100% recyclable paper packaging, removing approximately 250 million plastic packs sold globally every year.
The new Smarties paper packaging is sourced sustainably and is made of a coated paper, paper labels or carton board. Information about how to properly dispose of Smarties paper packaging is also included on its labels to raise consumer awareness.
Mondi's New Packaging for Bell Germany's 'Abraham' Ham Range Requires 37% Less Material and Saves 35 Tons of Plastic
Mondi, a global leader in packaging and paper, has produced recyclable packaging for Bell Germany's 'Abraham' range of thinly sliced gourmet ham that ensures perfect conformity with existing recycling guidelines.
Bell Germany launched a mono-material recyclable WalletPack in March for over 30 products including Seranno, Prosciutto and Savoy sliced ham. The new solution will replace a multi-material non-recyclable plastic solution, using 37% less material compared to standard modified atmosphere packaging. This switch will also reduce plastic waste for Bell Germany by 35 tons per year thanks to the lightweight solution. It will also lower waste disposal fees for Bell Germany and meets the design for recycling guidelines of leading retailers.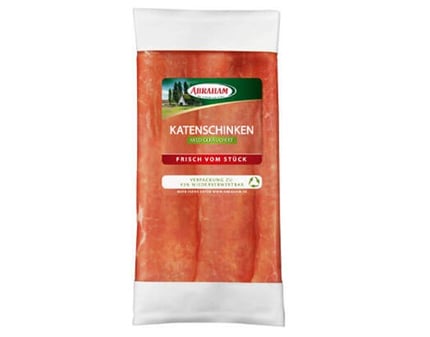 Resolute Sets Target to Reduce GHG Emissions by 30%
Resolute Forest Products Inc. announced its commitment to reduce absolute greenhouse gas (GHG) emissions (scope 1 and 2) by 30% against 2015 levels by 2025. This new target builds on the company's 83% reduction in absolute GHG emissions from year-2000 levels, two-thirds of which reflect reductions in emission intensity. By achieving its target, the company will have reduced its emissions by nearly 700,000 metric tons of CO2 equivalents per year compared to its 2015 level.
Some of the more recent projects on which the company is relying to achieve its commitment include:
An efficiency enhancement at the Saint-Félicien (Quebec) pulp mill to improve production capacity and reduce fossil-fuel use by up to 20%.

A modernization of the cogeneration turbine at the Coosa Pines (Alabama) pulp mill to reduce purchased electricity use by 6%.

The installation of a sophisticated heat recovery unit at the Thunder Bay (Ontario) pulp and paper mill to recover waste heat and, as a result, decrease the use of fossil fuels by over 20%.
NORPAC Adds Recycling Equipment to Turn Waste Paper Into Packaging Products
North Pacific Paper Company is pushing further into the recycled paper market, adding a new drum pulper that will support an existing 400 mill jobs and produce recycled packaging papers from waste material previously sent to China.
"We're excited to reach a big milestone in our work to achieve our vision of opening new markets, providing low-carbon, recycled packaging papers and retaining our talented, innovative workforce," NORPAC CEO Craig Anneberg said in a prepared statement. "This new machine is up to the tough job of keeping wastepaper out of landfills and turning it into new, recycled products — that's good for jobs and our environment." The drum pulper will break down waste paper by adding water and agitating it into a uniform pulp that can be transformed into new products.
Quesada to Launch Biodegradable Packaging for Burritos
Canadian restaurant chain Quesada Burritos and Tacos has announced it will launch biodegradable burrito packaging beginning next month. The company will start using biodegradable paper for its packaging instead of aluminum foil.
The move will enable Quesada to divert around 100,000 lbs. of aluminum from landfills over the next five years. Aluminum foil, which is typically used for packaging burritos, takes around 400 years to fully break down. It also takes a significant amount of energy to manufacture. Producing one ton of aluminum requires around 170 million British thermal units (BTUs), equivalent to around 1,400 gallons of gasoline, and releases around 12t of greenhouse gases. If this move is successful, Quesada will be Canada's first Mexican food chain to eliminate foil wraps from its operations.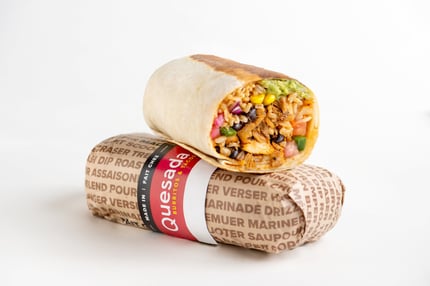 Cepi, the European association representing the paper industry, has been closely monitoring market developments in reaction to the material waste import ban by Chinese authorities including paper for recycling, the redirection of global flows of paper for recycling and structural changes in paper consumption and collection during the COVID-19 crisis.
While secondary raw materials markets are volatile by nature, Cepi emphasizes that there is healthy demand for paper for recycling in Europe and worldwide. Even in the light of severe global disruptions, the value of paper for recycling for the circular paper industry enables its collection to remain sustainable with only short-term imbalances in supply and demand.
Belgium-based beverage company Anheuser-Busch InBev (AB InBev) has launched a new sustainable packaging design for its world-famous Corona beer brand. The design uses leftover barley straw from farmers' harvests to create a paper board for producing packaging.
To make the packaging, the straw is combined with fully recycled wood fibers in a unique pulping process that takes the straw's relative fragility into account. For this design, AB InBev has used technology and processes that its Global Innovation and Technology Centre (GITEC) had been developing for the past three years. The company claims the packaging is as strong and durable as a regular six-pack, but more environmentally friendly.
Tetra Pak & Shimla Municipal Corp. Raise Awareness About Waste Segregation and Recycling
Students of Government Senior Secondary School in Kasumpti, India will soon return to their classrooms with brand new sturdy desks that carry an important message – the power of recycling. Tetra Pak India, together with the Shimla Municipal Corporation donated 20 desks in the presence of Suresh Bhardwaj, Minister - Urban Development, Town and Country Planning. The desks are made from recycled carton packages, and the donation is part of Tetra Pak's ongoing efforts to raise awareness about waste segregation and recycling.

In addition, over 20 garden benches and 10 bins made of recycled cartons will be installed along the Mall Road in Shimla and other prominent locations. The intent is to inspire citizens to start looking at used cartons not as waste but as a valuable resources. The company has been promoting the recycling of carton packages for many years and with donating thousands of recycled items to beneficiaries across the country.