We now live in an era where the world has come to the realization that we cannot keep consuming our natural resources in the way we once did. As a response, governments all over the world have begun adopting net zero targets and enforcing plastic bans in hopes that we can prevent further damage. The European Union is currently the forerunner as it has implemented new regulations, driven new innovations, and supported the changes with financial incentives.
Wood fiber is the world's largest source of fully renewable natural resources, which can be reused multiple times across a wide array of applications. As a major consumer of wood-based feedstocks, the transition towards a greener economy has opened many doors and opportunities for the Pulp and Paper industry to expand. Regulatory changes facilitating a more sustainable use of resources has helped drive demand for pulp and paper products and enabled producers to get creative with solutions to replace plastic in everyday life.
As illustrated in the graph below, a significant percentage of plastic packaging can be replaced without compromising functionality, and there are a number of different consumer sectors that present opportunities for the P&P industry in the EU to create and market substitution products.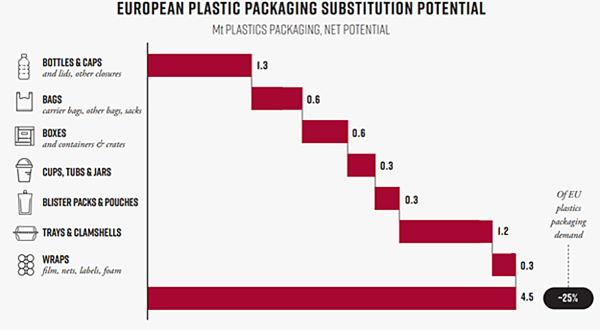 Source: Sustainable Packaging - Material Economics
The EU has even gone a step further and begun
developing taxonomy management standards
that are designed to support the transformation of the EU economy to meet its European Green Deal objectives – including the 2050 climate-neutrality target. As a classification tool, it seeks to provide clarity for companies, capital markets, and policy makers on which economic activities are sustainable financial investments. This regulation will require for the first time that asset-management companies provide information on their investments' environmental, social, and governance (ESG) risks as well as its impact on society and the planet.
Going forward, this will become the norm as
companies will need to implement ESG principles
into their growth strategies and operations when seeking financing. Many operations will already not finance investments that are not considered sustainable or meet the EU taxonomy criteria and ESG standards, primarily due to the fact that there are increasing volumes of global capital pursuing sustainable targets. This will also drive changes in the pulp and paper supply chain – from forest management to asset investment, to understanding and following the lifecycles of final materials.
One vitally important aspect of the transition to a greener economy is energy consumption. Pulp and paper production is a highly energy intensive industry, and it is therefore
vulnerable to energy price volatility
. While Europe has been in the process of phasing out fossil fuels, post-covid activities have ultimately increased energy consumption, resulting in an increase in natural gas (NG) prices, which are even more volatile due to Russia's invasion in Ukraine.
European Natural Gas Price Index (5 Years Trend)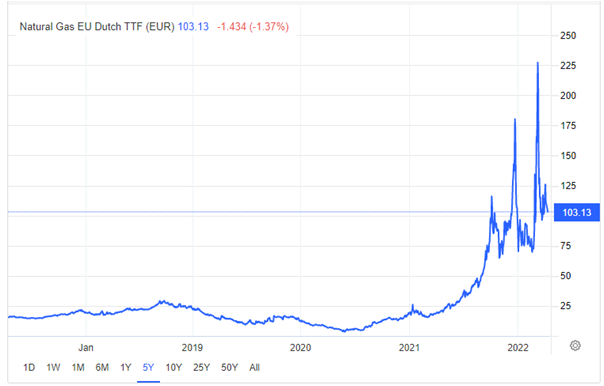 Source: Trading Economics
The Pulp and Paper industry still largely relies on fossil fuels, so this price escalation is likely to speed up industry decarbonization – but at what speed and total cost?
Pulp and Paper Industry Fuel Types Consumed in EU Countries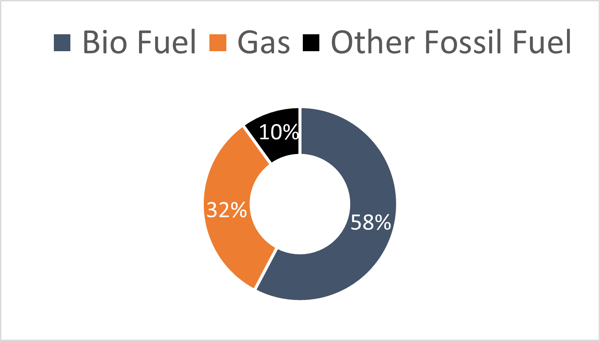 Source: FisherSolve™ 2021
Due to its significant reliance on natural gas, higher prices disproportionately impact the pulp and paper industry. Not all mills use NG, but some exclusively use it to generate the steam and power required to operate a facility. However, of all purchased fuels, NG represents almost 60% in the EU. When comparing NG consumption in different countries, Germany and Italy are impacted the most, which comes as no surprise as these countries rely heavily on gas overall.
Gas Consumption by Country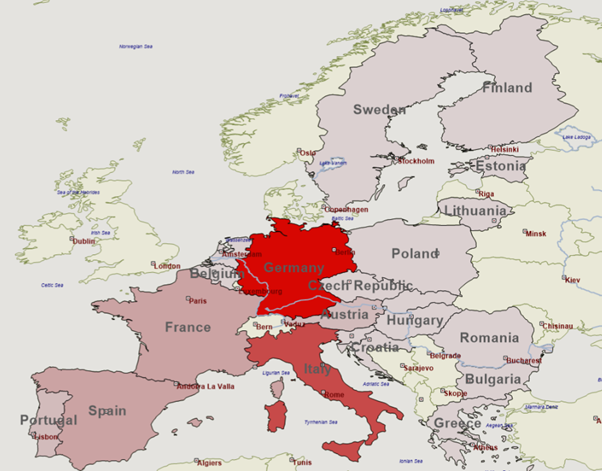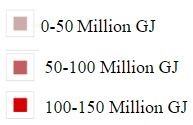 Source: FisherSolve™ Next 2021
The current natural gas price index is now four times higher than it was last year. The overall cost for the EU Pulp and Paper industry was €3.7 billion in 2021, but having a new natural gas price level of 100 €/ Mwh as a modern standard will inevitably trigger a couple of changes within the market.
Higher NG prices have driven the P&P industry to become a greener industry at a pace nobody would have believed even just a couple of years ago. This is because many mills using gas could no longer produce paper profitably, which could lead to a shortage of paper-based products that would trigger price increases. This change would drive solutions towards less sustainable packaging — most likely fossil-based plastic.
In packaging, many corrugated sites also use NG as a source of power generation. This intensifies the difficulty for companies who first make containerboard with gas and then continue using gas in corrugated and box production. As a result, we are likely to see political intervention and/or compensation by the EU to prevent high gas prices from suddenly disrupting businesses while supplies of LNG can be replenished and other alternative fuel solutions can be developed. If not, many otherwise good sites and companies with advantaged locations and asset bases will shut down, which would be a tremendous waste of resources that would ultimately hinder the progression towards a greener economy.
So, what are the short- and long-term solutions for replacing natural gas? Some possible solutions include:
Making the production processes less energy-intensive and recycling fibers more efficiently.




Utilizing new ways of generating energy like investing in industrial heat pumps and on-site solar power.




Increased consumption of coal and other available fossil fuels. Mills using coal as fuel will have a competitive advantage for the time being, as NG will either be unavailable or will be high in cost.




Increased use of hydrogen power.
Fisher International can help businesses make adjustments through this transition to a greener economy while accomplishing their ESG goals. The FisherSolve business intelligence platform and its various modules such as the Carbon Module and Water Intensity Index can provide unmatched insights into the natural resource metrics that are driving change within the modern P&P industry. In combination with our consulting services, we can provide the answers to important questions by explaining these market movements in verifiable, fact-based terms that industry professionals find useful. To learn more about our capabilities and how the Fisher consulting team can help you prepare for the coming challenges and opportunities, contact us today.